Press room
Barbican announces further EFG London Jazz Festival dates, focusing on the Chicago avant-garde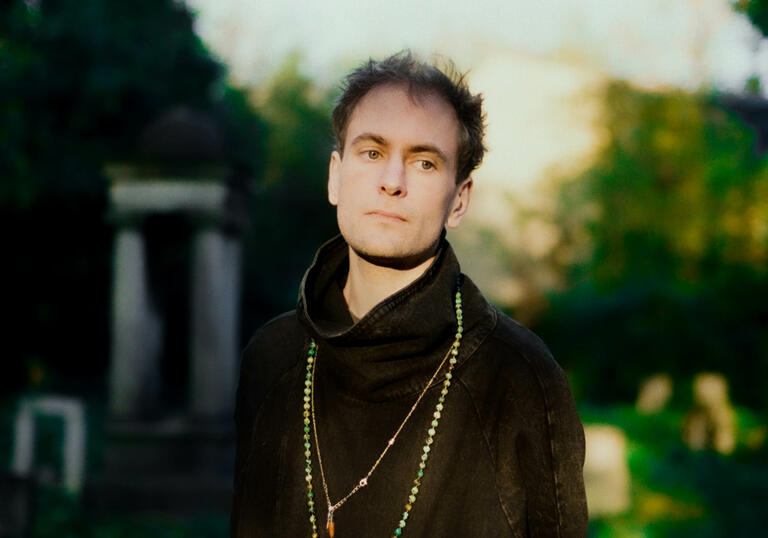 EFG London Jazz Festival presents a special weekend at the Barbican this November, focusing on generations of Chicago avant-garde, redefining the future of jazz
International Anthem presents:
CHICAGO x LONDON
Part of EFG London Jazz Festival
The musical and spiritual connections of Chicago's and London's jazz scenes come together in this EFG London Jazz Festival Barbican date. The line-up features Chicago avantgarde artists from pioneering label International Anthem alongside London artists from Total Refreshment Centre's circle in special one-off collaborations and performances:  
Alabaster DePlume – London-based Mancunian poet, saxophonist and composer, and mastermind of the legendary Peach series at TRC, hot on the heels of his critically lauded new album GOLD.
Chicago's spiritual jazz oracle Angel Bat Dawid who makes her third appearance at the EFG London Jazz Festival, putting together a one-off collaboration with some of her closest London-based friends and musicians in advance of her next album. 
Ben LaMar Gay – the versatile and prolific multi-instrumentalist, vocalist, and composer – and his quartet performing his latest album Open Arms to Open Us, channelling a radical array of sound, colour, and space through the universal language of folklore. 
Guitarist Jeff Parker of Tortoise and Chicago Underground fame (amongst others) joins the bill with a delicate solo set to perform material from his latest album Forfolks.  
Joining them will be a number of guests from both sides of the Atlantic. CHICAGOxLONDON 2022 continues the beautiful spirit of cross-border collaboration that has been building so gloriously since its first iteration in 2017. 
Total Refreshment Centre vibe returns to the Barbican's music programme following Dreaming The City, a concert hosted with Boiler Room in April 2019, which saw over 30 musicians on the Barbican stage, paying tribute to the past, present and future of London's vibrant jazz scene.
Produced by the Barbican in association with EFG London Jazz Festival
On sale to Barbican patrons and members on Wed 22 June 2022 
On general sale on Fri 24 June 2022
Henry Threadgill's Zooid and Anthony Braxton
Part of EFG London Jazz Festival
This evening as part of the EFG London Jazz Festival at the Barbican is a double-bill of all-encompassing improvisation from two icons of the Chicago-avantgarde jazz movement, Henry Threadgill and Anthony Braxton.
Composer and woodwind player, Henry Threadgill has been at the forefront of creative, improvised music across his 40-year career span. He was awarded a Pulitzer Prize for In for a Penny, In for a Pound – the latest album by unconventional quintet Zooid, performing their first London show in a decade.
Free jazz musician, woodwind improviser and composer, Anthony Braxton has engaged in nearly every conceivable area of creativity throughout his career. He was the first to record an entire album of unaccompanied saxophone music (For Alto, 1968). At the Barbican, he will be performing his New Acoustic Quartet with bassist and multi-instrumentalist Carl Testa, drummer Maria Portugal and trumpeter Susana Santos Silva.
Produced by the Barbican in association with EFG London Jazz Festival
On sale to Barbican patrons and members on Wed 22 June 2022 
On general sale on Fri 24 June 2022
Support Announced:
Matana Roberts: Coin Coin Chapter IV band
+ Slauson Malone 1
Part of EFG London Jazz Festival 2022
As part of this year's EFG London Jazz Festival, composer, band leader, saxophonist, sound experimentalist and mixed-media practitioner Matana Roberts performs their landmark 2019 album Coin Coin Chapter IV: Memphis with a full live band for the first time. Memphis is the fourth instalment of Roberts' extraordinary Coin Coin album cycle, a project that has garnered widespread critical acclaim. Memphis unspools as a continuous work of 21st century liberation music, oscillating between meditative explorations, melodic themes and free-improv suites, quoting from various folk traditions along the way. Led by Roberts' conduction and unique graphic score practice, their consummate saxophone and clarinet playing, and punctuated by singing and speaking various texts generated from their own historical research and diaristic writings, Coin Coin Chapter IV is a spellbinding new instalment in this projected twelve-part album series for Canadian label Constellation Records.
Matana Roberts returns to the Barbican's music programme and to Milton Court following their appearance alongside free jazz collective Irreversible Entanglements in February 2019.
The performance piece Slauson Malone 1 by artist and musician Jasper Marsalis, whose work explores the possible intersections of popular music and performance art, will open tonight's concert.
Produced by the Barbican
Find out more
International Anthem presents: CHICAGO x LONDON Part of EFG London Jazz Festival: Sat 12 Nov 2022, Barbican Hall, 7.30pm Tickets £20 – 30 plus booking fee
Henry Threadgill's Zooid and Anthony Braxton Part of EFG London Jazz Festival: Sun 13 Nov 2022, Barbican Hall, 7.30pm Tickets £30 – 49.50 plus booking fee  
Matana Roberts: Coin Coin Chapter IV band + Slauson Malone 1 Part of EFG London Jazz Festival 2022: Thu 17 Nov 2022, Milton Court Concert Hall, 7.30pm Tickets £25 plus booking fee