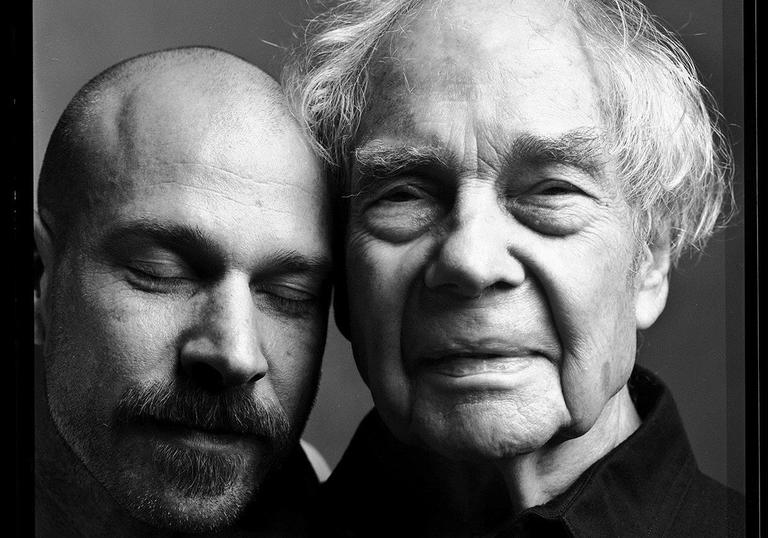 Performers & Creative team
Performer and co-creator Trevor Carlson
Co-creator, Director and Choreographer Ferran Carvajal
Dramaturg Albert Tola
Writers Trevor Carlson, Ferran Carvajal and Albert Tola
Video Designer Miquel Àngel Raió
Composer Jaume Manresa
Set Designer Max Glaenzel
Costume Designer Alejandro Andújar
Lighting Designer María Domènech
Sculpture Designer Casey Curran
Photographer (Merce Cunningham's hands) Mark Seliger
Executive Producer Anabel Labrador
Tour Manager Álvaro Bartolomé
Technical Director and Lighting Adrià Pinar
Video Technician Tomeu Fiol
Technician Assistant and Carpenter Pau Sagalés
Assistant Director Octavi de la Iglesia
Movement Coach Joan Palau
Promotional Videographer Guayarmina Amador
Graphic Designer Carol Pérez
Part of the official celebration of the Merce Cunningham Centennial
Presented by the Barbican
Produced by Thorus Arts
Co-produced by the Barbican and Mercat de les Flors 
Commissioned by Nancy Dalva, Katherine Hayes, Mary Rice and Sutton Strack
Supported by the Robert Rauschenberg Foundation, ICEC Generalitat de Catalunya and Consorci Institut Estudis Balearics
Major supporters: Sandra Cornelius, Kim Cullen & David Taylor, Nancy Dalva, Molly Davies, Carolina Nitsch, Judith Pisar, David Quinn, Pamela Schaeffer, Mark Seliger, Holly Sidford and Patsy Tarr.
Residency partners during the creation of Not a moment too soon included El Graner and La Caldera.
Special thanks to Arnie Apostol, Deborah Ceballos, Marta Filella, Kathleen Fluegal, Fractured Atlas, Santiago Latorre, Merce Cunningham Trust, Marta Oliveres, Toni Racklin, Kevin Taylor; and very special thanks to Laura Kuhn.
Thorus Arts would like to thank the entire team at the Barbican, especially Leanne Cosby, Marie Curtin, Simon Bourne, Angela Dias, Alex Jamieson, Caroline Hall, and the technical and administration teams. 
Thorus Arts is a Fractured Atlas sponsored project
Dedicated to the memory of Albert Sanagustín
Unfolding memory: the genesis of Not a moment too soon
I met Trevor Carlson in Australia in October 2007, during the Melbourne Festival. I was performing as an actor with the company of Teatre Lliure from Barcelona, and he was presenting a number of events in the same festival with the Merce Cunningham Dance Company. My first image of Trevor was of a tall man with a dazzling smile, poised behind Merce Cunningham's wheelchair. I haven't separated from him since. 
Thanks to my relationship with Trevor, I was privileged to observe from a cautious distance some of the work that Merce was able to realise during his last years, alongside Trevor, who would also never separate from Merce's side. Through my somewhat nomadic presence following the Company's tours and passing quite a bit of time in New York City, I came to know more about Merce's character, including more personal moments: dinners in his apartment where Trevor cooked for him on an almost daily basis or, on a couple of occasions, going shopping with him at the Whole Foods store. I learned later that the trip to Whole Foods was meant as a type of diversion for Merce between the studio and home, and it also allowed Merce and I to get to know one another in a different environment. Merce would try to communicate with me, but at that time, I did not know enough English to understand what he was saying and regretted missing the opportunity to really talk with him.
Trevor's role with Merce, beyond being the Executive Director of his Company during the last years of his life, took on an intimate purpose. I confess that at the beginning it wasn't easy to understand the relationship between the two of them. Trevor's life was not only subject from morning to night to the rhythms and necessities of the management of the Company, but also to Merce. These two men related to each other, doing things together beyond just work which were small acts of great importance for someone like Merce who lived principally for and through his work. They shared jokes, laughter and confidences and they were there for one another in more difficult times. Little by little, I began to understand that Trevor's approach centred on finding the best way to overcome different obstacles that Merce confronted with his Company, with his health, and even emotionally, so that Merce could find a way to continue moving forward. It was a kind of unspoken pact in which these friends knew that by making Merce's work possible, in facilitating this continuity, it would be assured that Merce could go on. Once, Trevor told me how he couldn't avoid thinking that maybe one day Merce would die just after taking his last bow on stage. I don't know if perhaps he had a dream about it.
 
After the closure of the Company following Merce's death, Trevor chose to join me in Barcelona. He was no longer traveling at Merce's side, I was no longer the nomadic observer. In encounters with friends it became almost inevitable that Trevor would be encouraged to do something with the fabulous stories of his time with Merce. A book didn't seem to be the right format for Trevor, so I proposed that we would film a series of interviews in which we could collect some of these experiences, and decide what to do with them later.
At every turn the process became more complex, and we have discovered step-by-step a world of particular and personal connections, accompanied by emotions and symbols that we feel inclined to continue exploring. I invited my friend Albert Tola, a dramaturg I have previously collaborated with, to join the project and take part in these investigations. The focus of his work is related to identity, memory and the passage of time, and he has a great deal of experience working with non-actors to gather, put in order, and rewrite their words, providing the means to present them in a theatrical setting.
I had the impression that the material we had in hand was interesting enough to propose to Trevor that we go further with this exploration. It occurred to me that Trevor could be on stage: without doubt, he was the right person to tell his own story. And so we continue, without any interest in making an autobiography but rather in using the poetics of Trevor's memory to conceive a new landscape, or possibly a tribute.
© Ferran Carvajal, 2019
Merce Cunningham
Celebrating 100 years since the birth of one of the most influential American choreographers of the 20th century, we invite his contemporaries, collaborators and performers to share their memories and explore the legacy of Merce Cunningham.
Handprints: the stories behind Not a moment too soon
When I started working for Merce Cunningham it was suggested that I keep a journal. I loathe writing and somehow there never seemed to be enough time to write. However, I love telling stories; and the number of stories that I accumulated during that very special time with him seem to spring out more and more frequently. I never thought I could tell them without having to put pen to paper.
Ferran Carvajal suggested transforming some of these stories into the basis of a theatre piece. I liked the idea. After all, Merce was a man of the theatre, and all of the time I spent with him was to enable him to make work for the stage. I wouldn't be interested in pursuing this project if it weren't for my trust in Ferran with the sensitive material we are now exploring.
I want to tell the stories about Merce that involved being doubled over in fits of laughter – both of us; the really young-at-heart Merce with his adventurous spirit, who once agreed to play Mickey, Rocky Balboa's coach, for a birthday party in a loft apartment on the lower Eastside of Manhattan with me playing the role of Rocky; or the footloose and fancy free choreographer who once went to a gay tea dance with me in San Francisco and from his wheelchair, tapped his feet to house music as I spun him around on the dance floor while some queen vogued around him. We seemed to find laughter in everything. It wasn't uncommon for me to be asked to 'keep it down' by company members on tour because they could hear me laughing from his room after a late performance.
Maybe I had an unfair advantage in that I got to be outside of his work, outside the choreography. Our relationship was so unlike any other. I want to share the personal side of Merce that I got to experience, because it helps me live a richer life today. Merce was young-spirited, he was forever surrounded by people from different generations. He had friends of his age who he had known since they were young, but he also had a continuous cycle of people in their 20s and 30s who danced for him, making it possible for him to observe closely each generation that followed his own. He had constant contact with the changing times through the people who were creating them. With me, differently to his company members, he was able to play with someone younger who pretended to be just as risk-taking as he was. 
The majority of the time I spent with Merce was either in a car, on a plane, in a theatre, at his home, in a hotel room, or walking down the street. We talked a lot. Once, after we saw a movie together, I realized that he liked a character that filmed things with a camcorder. So I bought him one. Merce filmed like mad. I've been looking at these tapes and many of them remind me of memories that I would like to share with others.
Most of all, I would love to share the amazing bond I felt with one of the last century's greatest artists. Merce and I shared a special relationship: he really opened up to me and I did to him as well. He was a bit like the father I never had, a best friend. My challenge was to help him feel as comfortable with his infirmities as he did when he was agile. I'm sure that among the reasons we became friends was the simple fact that he depended on me. I'm not sure he ever realised how much I was depending on him.
© Trevor Carlson, 2019
Discover
Three shows in London, New York and Los Angeles will be live-streamed in April, on what would have been the choreographer's 100th birthday
Read The Guardian's obituary for Merce Cunningham, 'one of the greatest choreographers of the 20th century, he revolutionised modern dance'.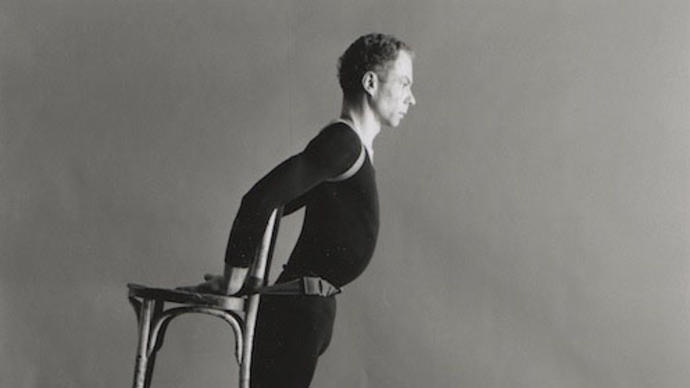 Listen: Richard Alston on Merce Cunningham
Choreographer Richard Alston reflects on the infuence of Merce Cunningham on his career and the Richard Alston Dance Company. 
Biographies
Trevor Carlson
Performer and Text
Trevor Carlson is regarded as a leader in the field of arts management, and throughout a career of over twenty years he has supported numerous artists, most notably the dancer and choreographer Merce Cunningham. In the final years of Merce Cunningham's life and artistic career, he served as Executive Director of the Cunningham Dance Foundation during which time he initiated the creation of the Legacy Plan, a precedent-setting strategic planning initiative to confront, in accordance with the artist's wishes, the organisation's transition to a post-founder existence. The Legacy Plan included an $8 million fundraising campaign to support the Company in a two-year farewell world tour, technology-driven preservation initiatives, and career transition packages for all artists and staff. Trevor Carlson graduated from The Juilliard School in New York City with a BFA in Dance. He appears in Tacita Dean's film Merce Cunningham performs STILLNESS (in three movements) to John Cage's composition 4'33 with Trevor Carlson, New York City, 28 April 2007 (six performances; six films),  2008 (in addition to instigating their subsequent collaboration Craneway Event). Trevor Carlson forged and curated major collaborations between Cunningham and other artists such as Robert Rauschenberg, Ernesto Neto, Radiohead, Sigur Rós, Richard Hamilton, Olafur Eliasson, Mikhail Baryshnikov, Romeo Gigli, and Darren Almond among others. He now serves as a Trustee of the Merce Cunningham Trust as well as the John Cage Trust. From his home in Barcelona, he co-founded Thorus Arts in 2012 with Ferran Carvajal, which is committed to producing theatre, dance, and film works.
Ferran Carvajal 
Director, Choreographer and Text
Ferran Carvajal is a multidisciplinary artist who works as director, choreographer and performer. Carvajal produced, directed, choreographed and performed in Goldberg, presented at Mercat de les Flors, Barcelona and in Vesalii Icones by Peter Maxwell Davies. Choreography includes the operas Der fligende Holländer Anna Bolena at the Gran Teatre del Liceu; and Simon Boccanegra at the Gran Teatre del Liceu, the Grand Theatre of Gèneve, and Teatro Real in Madrid; The President at Teatre Nacional de Catalunya; and Tragèdia at Teatre Grec in Barcelona. He has also choreographed and staged Saint Joan of the Stockyards, Cancionero de Palacio, and Julius Caesar, all directed by Àlex Rigola and presented internationally. As a film director Carvajal co-created the series Pindoles Isocràtiques. Carvajal studied acting with Txiki Berraondo and Manuel Lillo, scenic dramaturgy with Rafael Spregerburg and Jorge Sánchez in Buenos Aires and dance/movement at Movement Research in New York, physical theatre with Lloyd Newson and Lyan Styl of DV8 Physical Theatre in London, and contemporary dance with Àngels Margarit, Joan Palau, Jeremy Nelson, and Jennifer Monson, among others. Ferran also works as an actor in film, television, and theatre. TV includes El Enigma Giacomo, El caso de la novia dividida, Infidels, and he was a lead role in El cor de la Ciutat for over seven years, winning his first Especial APEI Catalunya award. Acting on stage includes: The Stranger, Our Class, European House, Julius Caesar, Romeo and Juliet, Some Explicit Polaroids, Kiss of the Spider Woman and Caligula; and, with the company La Fura dels Baus, Le martyre de Saint Sébastien and La Atlántida. He recently completed a two-year run as Detective Trotter in Agatha Christie's The Mousetrap at the Apolo Theatre in Barcelona, directed by Victor Conde.
 
Albert Tola 
Dramaturg and Text
Albert Tola is a playwright, writer, teacher and translator; with six authored and published dramatic texts (Ediciones El Astillero and Editions la Diputació de Barcelona) and a collection of dramatic work which includes Granddaughter Olivia (Editorial Verbum) as well as 32 other works, and plans to release a screen version of a recent script. Albert Tola has worked on adaptations and dramas from German and Italian to Spanish and has worked as dramaturg and translator in those languages as well. His work has been presented in theatres nationally in Spain and internationally in Switzerland, Germany, France and Portugal. He has significant experience in dance-theatre and is particularly interested in memory, identity and the passage of time, which are constant themes in his own literary work as well as in Not a moment too soon. 
Miquel Àngel Raió 
Video Artist
Miquel Àngel Raió is a filmmaker, theatrical video artist, theatre director, playwright and screenwriter. He co-founded the company The Aviator for which he has written and directed four works. Raió has collaborated on 13 audio visual projects presented nationally in addition to producing in alternative theatres in Spain and Germany. As a filmmaker, he has directed three documentaries, three short films and four experimental pieces. He specialises in audio-visual works developed for live dance, video-dance and dance-theatre. His in-depth knowledge of dance and documentary-style projects brings an intuitive fusion of the archival images by Merce Cunningham and the aesthetic landscape of Not a moment too soon.
Jaume Manresa 
Composer
Jaume Manresa was a member of the pop band Antonia Font from 1997 until 2013. He trained in acting, as well as dance and movement with Tomeu Verges, María Muñoz, Pep Ramis, Oliver Mariantònia, Philippe Gaulier and Eric de Bont. His work as composer and sound designer includes The Crucible, Medea, From Berlin, and Le Malentendu, all directed by Andrés Lima; The Balcony, directed by Rafel Duran; Hedda Gabler 2015, directed by José Martret; Fit 2015, directed by Mariantònia Oliver; O 2014, directed by Joan Fullana; Subtalk 2011, directed by Catalina Carrasco Gabriela; Stream Project, directed by Margarita Grimalt Lluqui Herrero; La Vida Didicil by Carles Pujol, and Les aventures d'en Tres i Mig, directed by Frederic Roda.
Max Glaenzel 
Set Designer
Creator of more than a hundred theatrical designs, Max Glaenzel studied Art and Design in the Massana School of Barcelona. He began working as a theatre set designer in 1993. His works have been performed regularly in venues such as Sala Beckett, Teatre Lliure and the National Theatre of Catalonia. He has worked with directors including Sergi Belbel, Carlos Alfaro, Alex Rigola Gerardo Vera, Josep Maria Mestres or Carlota Subirós, among others.
Alejandro Andújar 
Costume Designer
Alejandro Andújar has a Bachelor of Fine Arts from the Universidad Complutense de Madrid, and also studied Set Design at the Real Escuela Superior de Arte Drama, and Research Proficiency at the ETS Architecture of the Polytechnic University of Madrid. He currently works as a set and costume designer in Spain and internationally with directors including Alfredo Sanzol at the Teatro Abadía, Guillermo Amaya at the Teatro de la Zarzuela Madrid, Jose Luis Gomez at the National Classical Theatre Company, Gerardo Vera at the Teatro de la Abadia, Lluis Pascual at the Teatre Lliure, Juan Carlos Martel for the Grec Festival, Cesc Gay at the Teatre Romea, Juan Mayorga at the Teatro Valdes Aviles, Josep Maria Flotats at the Teatre Lliure, and Helena Pimenta at the Teatre Nacional de Catalunya. This is his first collaboration with Thorus Arts and with Ferran Carvajal.
María Domènech 
Lighting Designer
A theatrical lighting designer who studied Art History at the University of Barcelona  and at the School of Dramatic Art, l'Institut del Theatre de Barcelona, María Domenèch has designed lighting for the theatre over the past two decades. She has worked with distinguished artists including Carme Portaceli and Alex Rigola. Her work has been presented in a variety of festivals and she conducts masterclasses internationally. She has been Professor at l'Institut del Teatre de Barcelona, l'Institut Europeu de Disseny and l'Escola de Disseny Artidi. She won AECID's Best Lighting Design in 2004 for Barcelona mapa d'ombres and in 2006 for Festen. In 2009 she received Best Lighting Design from ADE for La Casa de Bernarda Alba. Her designs have appeared in a number of museums and exhibitions including James Joyce's Dublin for which she received the FAD Design Award in Temporary Spaces.
Casey Curran
Visual Artist
Casey Curran is a visual artist, who has won eight awards for his seven solo exhibitions and 29 distinct collaborations in the form of spatial or artistic interventions for theatre works, performance pieces and exhibitions. At the heart of his collaborative work is an authenticity that not only meets the show's dramaturgical needs while always valuing the integrity of his own work and its place in these theatrical environments. His participation in Not a moment too soon echoes the Merce Cunningham Dance Company tradition to invite collaborators from the visual art world.