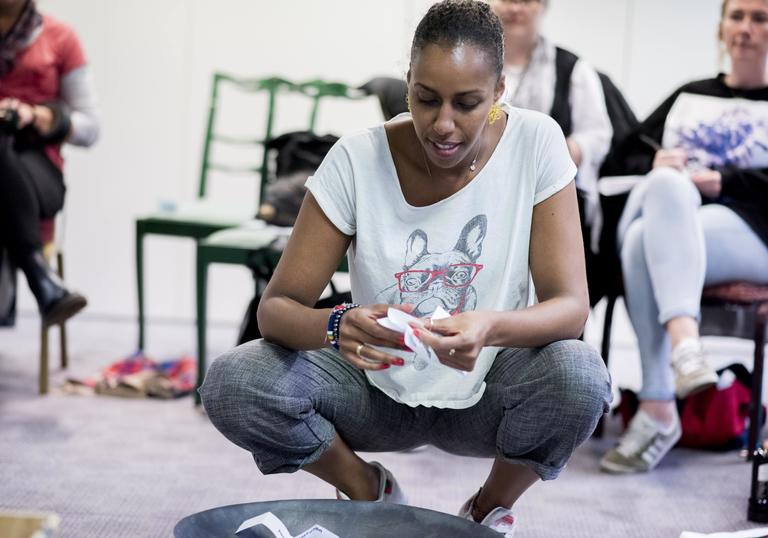 About the Box
Each Barbican Box is filled with everything students and teachers need to create original and exciting theatre or visual art. Barbican Box schools will become part of Coney's Playful Secret Agency: an introduction to playful activism in schools built on three principles of play: adventure, curiosity and loveliness. It aims to prompt creative responses to the passion and challenges young people are experiencing - emotional health, resilience, transitioning - empowering them to have an amplified voice and bring about positive change that will affect them and their peers.
The Barbican Box programme is suitable for secondary school teachers to use with any age group in their school, although this year's Barbican Box has been specifically designed to support the delivery of learning objectives in the KS3 curriculum.
HOME
Barbican Box has collaborated with schools and colleges in London, Manchester and Harlow.
Barbican Box at HOME offers Barbican Box to secondary schools and colleges across Greater Manchester.
From gallery to screen to stage, via café bar and bookshop, HOME redefines the idea of an 'arts centre.' It's a shared space and a creative space, where what's new is what matters and what matters is that you're always made to think, to question and to feel... at home. Whether you want to see work that challenges and astounds, or get closer to directors, writers, filmmakers and artists, or just drink the best coffee in town, we hope you love HOME.
Apply
This is a paid opportunity. If you'd like to learn more about the role, please check out our Artist Mentor brief.
If you're interested in applying, please complete our online application form. If you'd prefer to send us a video of your responses to the questions in the application form, please send a file or WeTransfer link to [email protected] (subject line: Barbican Box Secondary - Artist Mentor), along with a CV / video detailing examples of your work to date and and experience with cross-disciplinary practice in visual arts, theatre and performance and experience of facilitating interactive creative projects. Please make sure your video format is .mov or .mp4 when you send it to us.
For any questions, or to talk to a member of our team about the project, please contact: [email protected]
Deadline for applications via our online form: Mon 15 Mar, 10am.
Enhanced DBS checks will be required. The Barbican Centre is committed to safeguarding and safe recruitment processes.
We particularly welcome applications from Black, Asian and other ethnicities under-represented in the arts for this job opportunity. We are committed to increasing diversity of staff within the Barbican Centre.
Please note, if you are contracted for this role, you will need to be available for the first online CPD session in March, date TBC.
Join Young Barbican
Be there when it happens with discounted access to unmissable art and entertainment as well as events and creative opportunities for 14-25 year olds