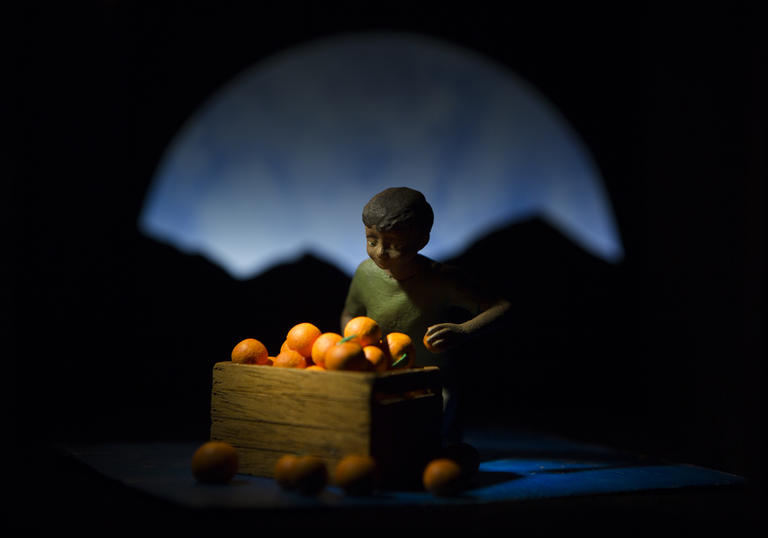 Creative team
Cast
Kabir Nalini Chetty
Aryan Farshid Rokey
Narrator Emun Elliott
Ensemble
Waleed Akhtar
Maryam Hamidi
Chris Jack
Robert Jack
Adura Onashile
Rosalind Sydney
Director and Co-Designer Jamie Harrison
Director Candice Edmunds
Novelist Caroline Brothers
Adaptor Oliver Emanuel
Co-Designer and Lead Model Maker Rebecca Hamilton
Composer and Sound Designer Mark Melville
Lighting Designer Simon Wilkinson
Character Artist Sav Scatola
Storyboard Artist Kenneth MacLeod
For The Bridge
Production Manager Chris Hay
Technical Manager James Gardner
Associate Sound Designer Andrew Kirkby
Floor Manager Sonia Tinagli
Original Production commissioned by the Edinburgh International Festival and produced in association with Beacon Arts Centre.
Staging concept developed by Jamie Harrison, Candice Edmunds and Simon Wilkinson.
Poetry of Rumi adapted by Oliver Emanuel
3D Model Printing by Step 3D
Carousel constructed by Sculpture and Design Ltd
Double M Arts & Events, LLC is the exclusive international representative of Flight. www.voxmotus.co.uk
Flight has been licensed from the novel Hinterland by arrangement with The Agency (London) Ltd.
 
Original Production Team
Producer Susannah Armitage
Production Manager Chris Hay
Principal Model Makers Stuart Thomson, Fergus Morison, Katy Lonsdale, Justin Benson (supported by the Creative Production and Technical Skills Project.)
Assistant Model Makers Emma Jane Douglas, Emma White, Kirsty Currie, Michael Cathcart
Assistant Character Artist Alexander Hansson
Design Department Assistant David Gillan
Lighting Supervisor James Gardner
Sound Supervisor Andrew Kirkby
Lighting and Sound Technician Neil Dewar
Sound Technician Amir Sherhan
Draughting Kevin Murray
The original production was made possible thanks to Severine Wyper and Vanishing Point, Kirsty Williams, Lesley Davidson and the Citizens Theatre, City of Glasgow College, Ken Cassidy and Bill Davidson Tradeston, the Association of Sound Designers, the National Theatre of Great Britain, the National Theatre of Scotland, Huw Semmens, Paul Hulston, Tim Weatherhead, Jack Elfick, Royal Exchange Manchester, Sorcha Williams, Guy Emanuel, Adura Onashile, George Rodosthenous, Una Clifford, Kadir Bahçecik, William Hofmann, Amelia Rowe, Lorna Ratcliffe, Stephen Cunningham, Fraser Lappin, Sven Werner, SooJa Massey, Claire Halleran, Alasdair McIntosh, Craig Davis, Molly McEwan, Lindi Wright, Carolyn Clark, Maggie MacInnes, Robbie Ireland, James Pearson and Gary Birnie.
The Barbican and the Bridge Theatre is pleased to be supporting Young Roots, a London-based charity who work with young refugees to reach their potential.
Find out more about how you can support the important work they do at youngroots.org.uk
From the page to the stage
In 2013, Vox Motus's producer Susannah Armitage brought our attention to a recently published novel, Hinterland by Caroline Brothers. It told the story of two orphaned children making their way on foot from Afghanistan to the UK. And so Aryan and Kabir began to embed themselves in both our conscience and imagination.
Formerly a journalist for Reuters and the New York Times International, Caroline's novel was shot through with a journalistic rigour. Although Aryan and Kabir are fictitious, every event that happens to them came directly from Caroline's interviews and encounters with young refugees and asylum seekers across Europe.
When we first read the novel, the story of 'unaccompanied children' seeking asylum across Europe felt very under-the-radar. It's with great sadness that we recently recalled a conversation where, knowing this production was going to take a number of years to become a reality, we wondered if the story would still be pertinent by the time we put our creation out into the world.
But the refugees kept coming, in greater and greater numbers. Getting younger and younger. And the daily headlines in the UK documented this growing refugee crisis daily, often in bold and divisive headlines. We began to wonder if there was space in all of this for the story of our two brothers, practically invisible to the worlds they move through. The larger, political, news-cycle narrative was depressing and overwhelming. We knew we needed to find a storytelling form that would bring this back to the truly personal: just you (the audience), Aryan and Kabir together on a journey.
When we first went to meet Caroline in Paris she took us to a number of locations that feature in the book. We met several young Afghans queuing at a soup kitchen and were immediately struck by their enthusiasm and their resourcefulness. They were on the front foot. They were thinking forward to the next move, the next stop on their journey. Despite the obvious hardships, they did not see themselves as victims.
When we began working with playwright Oliver Emanuel on the adaptation, we approached Aryan and Kabir's story as a 21st-century odyssey: a long journey marked by many changes of fortune, where the brothers' encounters conjure images of demons, beasts, allies and deities.
Children are resilient. They are designed to survive. This is the story we wanted to tell: the story of children with remarkable resourcefulness, imagination and stamina. We know no better way to communicate this than as an immersive experience, rich with imaginative, visual storytelling that allows us into the minds of the boys, and celebrates and honours their bravery and determination.
Directors' notes by Candice Edmunds and Jamie Harrison, Co-Artistic Directors of Vox Motus
*As of May 2017 the United Nations Children's Fund counted 300,000 unaccompanied and separated children moving worldwide. These are the documented cases. Of these, 100,000 were caught trying to cross the US-Mexican border and 170,000 lone child refugees sought asylum in Europe.
In Conversation with Candice Edmunds
How did the company come into being?
Jamie and I trained together as actors at the Royal Conservatoire of Scotland. We were so heavily influenced by both the creation of new theatre work coming out of Glasgow and the international work being presented in the city at that time. We discovered pretty quickly that we had a shared desire to 'make', and a shared taste. We started Vox Motus as soon as we graduated: creating work together and discovering and evolving a very design-led aesthetic to tell stories that we find thrilling and impactful.
Where do the ideas come from?
Every piece we make is a long time in gestation. Little ideas and inspirations infiltrate our conversations and those that persistently come up start taking shape into a vision for a production. There's a 'spark' that we've come to recognise: a moment where we both get a jolt of pure excitement about an idea. That's the one that's going to make it through.
There's alchemy in finding the story you want to tell and then the way you want to tell it. No two Vox Motus productions are the same.
How do you collaborate?
A lot of talking and coffee! We have a rigorous behind-the-scenes development process that means by the time we go into rehearsals we have a very strong shared vision. Actors or artists collaborating with us are sometimes nervous about having two directors, but we are a unified voice when it comes to the vision of what we are creating.
What drew you to Hinterland?
We have always been drawn to child protagonists – whether or not the work is for children. The world of the 'unsupervised child' can be full of wonder and terror. It's a great leaping-off point for storytelling. Also seeing the world through a child's (or child-like) eyes is a great equaliser. We've all been there.
Hinterland is at the extreme of this spectrum. The events are not fictitious. The terror is real and we have not all been there. Hinterland documents the lengths children are going through to reach a place of perceived safety. It is a story that should keep us all awake at night.
What was the process to create Flight?
Once we had come up with the revolving-carousel-of-model-boxes concept we had roughly nine months to take it from the scribble on the back of an envelope to its premiere at Edinburgh International Festival! We hired the floor of a disused warehouse in Glasgow and created an impromptu workshop space where each model piece and diorama was created by an extraordinary team of makers.
We used an animation of what an audience member would see in their booth to storyboard, set timings, score to and even record the length of the actors' dialogue to. Every department was working simultaneously, building up the layers. Due to the fixed nature of the revolving carousel, once we had committed to an idea, we had to see it through, which is so counter to the adaptable, in-the-moment-ness of theatre.
Narratively, Oliver Emanuel adapted the novel with a remit to explore the children's imaginative world. All the DNA of Hinterland is in there, but in adaptation we were able to access something truly intimate in the boys' world view.
How is it changing for audiences in 2020 and what's the significance to you of presenting it at this time?
It is truly joyful to have an offering for audiences that can be staged in this particular moment in time. The production is presented absolutely as it was designed to be experienced, which is in itself COVID-friendly.
There is a very deliberate audience journey from the moment you arrive at the theatre, and the staff at The Bridge have been brilliant in understanding this and working with us to create a safe way of doing it.
Flight has had an extraordinary international life over the past three years, but to be presenting it with the powerhouses that are the Barbican and Bridge Theatre, in this extraordinary time, feels like we cheated this pandemic in some way.
Discover: Caroline Brothers on Flight
The novelist Caroline Brothers talks about how her acclaimed novel Hinterland came to be adapted for the stage.
Biographies
Nalini Chetty
Kabir
Nalini Chetty studied Drama at Bristol University and trained as an actor at the Bristol Old Vic Theatre School. Work in theatre includes: Cyrano de Bergerac for Citizens Theatre and National Theatre of Scotland; Ma, Pa and The Little Mouths at the Tron Theatre; A Safe Place and The Archivist for National Theatre Scotland and Òran Mór; Flight for Vox Motus; Horizontal Collaboration and City of the Blind for Fire Exit; Aladdin for M.A Productions and the Gaiety Theatre, Ayr; Puellae for Frae Naewhere; Birth, Traverse Live, and Theatre Uncut at the Traverse; After Mary Rose for Magnetic North; Heer Ranjha for Ankur Productions; and Yellow Moon for TAG and the Citizens Theatre, which won TMA awards and Brits Off Broadway 2008. TV and film include: River City, Justice, Taggart and Hula. Radio includes: Puellae, A World Elsewhere, The Return and Drivetime.
Farshid Rokey
Aryan
Farshid Rokey's work in theatre includes: Elephant for Birmingham Rep; The Jungle at St Ann's Warehouse, New York; Goats at the Royal Court; Asylum for Tamasha; 10,000 Smarties for Three Streets and Arts at the Old Firestation, Oxford; Another World at the National Theatre; Martyr for Bristol Old Vic, the Traverse, and the Unicorn; Love Your Soldiers at the Crucible, Sheffield; Star Crossed at the Bush; The Kite Runner for Nottingham Playhouse and Liverpool Playhouse; Mogadishu for the Lyric Hammersmith, Royal Exchange, Manchester and on UK tour; The Photographer at Theatre503; and In The Unlikely Event of an Emergency at Soho Theatre. TV includes Four Weddings and a Funeral, Home, The Trial, Cuffs, Holby City, Our Girl, Doctors, Family Tree, The Spa, Freak and The Endz. Films include: Office Song, Rise of the Foot Soldier 2, A.K.A. Nadia, Leave to Remain, Kick About, Undefeated, Me and My Dad, The Unhappy Slap, The Morning After, Stolen Lives and Diary of a Jihadi.
Emun Elliott
Narrator
Emun Elliott trained at The Royal Conservatoire of Scotland. Work in theatre includes The Rose Tattoo, Measure for Measure, A View from the Bridge, Red Velvet, and Black Watch. TV and film include: Game of Thrones, The Paradise, Clique, Trust Me, Guilt, Prometheus, Filth, Star Wars: The Force Awakens, Marionette, and Kingsman 3.
Waleed Akhtar
Ensemble
Waleed Akhtar's work in theatre includes: A Thousand Splendid Suns at Birmingham REP; Fracked at Chichester Festival Theatre; The Kite Runner at Nottingham Playhouse; What Shadows at the Park Theatre; and Velocity at the Finborough. On TV and film: Salmon Fishing in the Yemen, Cruella, The Great, Three Girls, Tyrant, Holby City and Casualty. Audio work includes: What the Papers Say, My Son the Doctor, Tommies, In Here, voicing the Planet Omar series of audiobooks and The Black Album for Audible. He is also a member of the Actors for Human Rights Network and a seasoned comedy improviser. 
Maryam Hamidi
Ensemble
Maryam Hamidi's work in theatre includes: Move – Gluasad for Disaster Plan; Nora at Glasgow Citizens Theatre; Nursery Crymes for Mischief La Bas; Flight for Vox Motus; HYSTERIA! for Òran Mór; Niqabi Ninja for Platform/Sara Sharawi; The Library for Frozen Charlotte; The Three Little Pigs for Platform Theatre; Betrayed at the Tron Theatre; Romeo and Juliet for Working Party Berlin and Theater Haus Mitte; I Could Eat a Horse for A Moment's Peace; The Chronicles of Irania at the Arches; Local Reality Expo: Hope Street for Clare Duffy/CCA; The Algebra of Freedom for 7:84 Theatre Company; The Recovery Position, Oedipus the King, Self Contained, Side Effects, and Home: Glasgow for National Theatre of Scotland; Crow for Apocalipstick Theatre Company; and When the Lights Went Out for Tara Arts. Film and TV include: The Small Hand, The Last Bus, Make Me Up, Country Music, Where Do We Go From Here?, long-running character Leyla Brodie in River City, Last Night in Edinburgh, and Honour. Radio includes: No-one Called Her Angel, Why Mummy Drinks, The Opportunity of Divorce, The Grey Lady, After Fear, Providing, The Road to Bani Walid, and The Ethical Bureau of Hacking, all for the BBC.
Chris Jack
Ensemble
Work in theatre includes The Last Quiz Night On Earth for Box of Tricks; Beryl at Octagon Theatre, Bolton; Noughts and Crosses for Pilot Theatre, Derby Theatre and the Belgrade in Coventry; The Secret Garden at York Theatre Royal; Brighton Rock for York Theatre Royal and Pilot Theatre; The Secret Garden at Theatre by the Lake, Keswick; Our Town at the Royal Exchange Theatre, Manchester; Treasure Island at the Dukes Theatre, Lancaster; The Two Noble Kinsmen and The Rover for the RSC; Unsung at Liverpool Everyman; By Far the Greatest Team for Monkeywood Theatre and The Lowry, and The Funfair at HOME. TV includes Emmerdale, Hollyoaks, Coronation Street, Creeped Out and The Dumping Ground. Films include Splintered, Textual @ttraction, and Interloper. Radio includes Faith, Hope and Glory – Clement and Gloria, Fault Lines – In Real Life, The Christmas Present, 24 Hours of Peace, Brief Lives, Three Sisters Rewired, and The Archers. 
Robert Jack
Ensemble
Robert Jack trained at the Royal Conservatoire of Scotland. Recent theatre includes: Metamorphosis, The Dark Carnival: Unplugged, Striptease and Out at Sea for Vanishing Point; The Alchemist at the Tron Theatre; Ulster American at the Traverse Theatre (Fringe First Award 2018); Rhinoceros for the Royal Lyceum and DOT Theatre (CATS Best Male Performance 2018 Award); Flight for Vox Motus; Bluebeard's Castle and The 8th Door for Vanishing Point and Scottish Opera; A Steady Rain for Theatre Jezebel; Much Ado About Nothing at Dundee Rep; and Charlie Sonata at the Royal Lyceum. TV includes: Succession, The Last Czars, In Plain Sight, River City, Till Death Us Do Part and Hancock's Half Hour. Robert Jack played Jacko in all three series of Gary: Tank Commander. Recent radio includes: Lamentation, The Tenderness of Boys, Measure for Measure, The Poet and the Echo: Hope is the Thing with Feathers, The Tragic History of My Nose, Rebus: Fleshmarket Close and Brothers.
Adura Onashile
Ensemble
Adura Onashile trained at Oxford School of Drama and Dartington College of Arts. Work in theatre includes: Creditors at the Lyceum Theatre; Flight for Vox Motus at the Edinburgh International Festival; Ophelia at Òran Mór; Dragon for Vox Motus, National Theatre of Scotland and Tianjin People's Arts Theatre; Last Dream (On Earth) at the National Theatre of Scotland; Hela (Iron Oxide), City of the Blind and Untitled Love Story for Fire Exit; Roadkill for Pachamama, Ankur and Richard Jordan Productions Ltd at the Traverse Theatre and Théâtre de la Ville; Arabian Nights for the RSC; The Rover at Southwark Playhouse; The Icarus Girl at the Arcola; Ma Vie en Rose at the Young Vic; Medea at Theatre Royal Stratford East; Macbeth for Out of Joint; and The Overwhelming at the National Theatre. Dance includes Black President at the Barbican; a site-specific work for Helena Goldwater; Choreodrome at The Place; WOMAD International Festival and work with The Clod Ensemble at the National Theatre. TV and radio include: River City, Disclosure, The Truth About Hawaii, Triple Word Score, Red Enters the Eye and The Overwhelming.
Rosalind Sydney
Ensemble
Rosalind Sydney trained at the Royal Conservatoire of Scotland. Recent theatre includes: Girl in the Machine at the Traverse; Flight for Vox Motus; The Night After Christmas at the Tron; Invisible Army for Terra Incognita; Billy for The Days Of Howling; Faster Louder and The Misanthrope at Òran Mór; News Just In for Random Accomplice; Appointment with the Wickerman and The Day I Swapped My Dad for Two Goldfish for National Theatre of Scotland; Rough Cuts at the Royal Court; My Romantic History at the Bush; Interiors, Subway and The Beggar's Opera for Vanishing Point; Sleeping Beauty at the Citizens Theatre; and Pobby and Dingam, Caged, Snow Baby and Cyrano de Bergerac for Catherine Wheels. Recent TV and film include: The Nest, There She Goes, Bob Servant and Long Night at Blackstone Hopscotch. Rosalind Sydney has performed regularly in radio dramas for the BBC and recently read Crossriggs for the Book at Bedtime series. 
Jamie Harrison
Director and Co-Designer
Jamie Harrison is co-artistic director of Vox Motus and has co-created, co-directed, and designed all of the company's work, most recently Flight with Edinburgh International Festival, and Dragon with National Theatre Scotland and Tianjin People's Theatre, China. He has also established himself as one of the world's leading theatrical magic and illusion designers. Other recent theatre projects include set and illusion design for Mozart's The Magic Flute for Ex Machina/Quebec Opera Festival directed by Robert Lepage; magic and illusion design for The Ocean at the End of the Lane at the National Theatre; and Pinocchio at the National Theatre (with Disney Theatrical Productions). He created the magic and illusions for the multiple Olivier and Tony award-winning production Harry Potter and the Cursed Child directed by John Tiffany, for Sonia Friedman Productions/Colin Callender in London's West End, on Broadway, in San Francisco, Melbourne and Hamburg. He also designed the puppets and illusions for Charlie and the Chocolate Factory directed by Sam Mendes, for Warner Brothers/Neal Street Productions at the Theatre Royal Drury Lane, London. Jamie Harrison's recent awards for Vox Motus include the UK Theatre Awards Best Production for Children and Young People for Dragon; Critics' Awards for Theatre Scotland Best Design for Flight; Herald Angel for Flight and New York Times Theatre moments of 2018 for Flight. His international awards include a special citation from the New York Drama Critics' Circle and the San Francisco Bay Area Theatre Critics' Circle 'Excellence in a Theatre Specialism' Award. In 2017 he was the recipient of the Edinburgh International Magic Festival's Great Lafayette Award for outstanding contribution to stage magic. He is currently co-directing and set designing a project for Michael Harrison Productions and Disney Theatrical Productions and developing a new idea for a novel theatrical experience for Vox Motus. Jamie Harrison trained as an actor at the Royal Conservatoire of Scotland (2002).
Candice Edmunds
Director
Candice Edmunds graduated from the Royal Conservatoire of Scotland with a BA (Acting) in 2002. In 2003 she founded the award-winning Vox Motus with Jamie Harrison. Their aim was to create innovative, visual contemporary theatre that would appeal to their non-arts-based peers. For Vox Motus Candice Edmunds has co-created and directed Flight, Dragon, The Infamous Brothers Davenport, Slick, The Not-So-Fatal Death of Grandpa Fredo, Bright Black and How to Steal a Diamond. Her work for Vox Motus has been nominated for and won numerous awards and tours internationally. She also works as a director and dramaturge for theatre and dance. Work includes Carmen for Oper Wuppertal; her critically-acclaimed adaptation Dance of Death in association with the Citizens Theatre, Glasgow, and the world premiere of Yuri Klavdiev's Thoughts Spoken Aloud from Above. For Barrowland Ballet she has worked as dramaturge on Whiteout, Wolves, The River (Glasgow Commonwealth Games Cultural Program) and A Conversation with Carmel. Candice Edmunds has taken part in cultural networking and exchanges around the world as both a representative of Vox Motus and of Scottish theatre, and she has been a mentor on the Federation of Scottish Theatres' Step Up programme. She has delivered masterclasses and practice-based talks to universities, conservatoires, colleges and national organisations and agencies.
Caroline Brothers 
Author of Hinterland
Caroline Brothers is a writer who is interested in survival and displacement, in physical and metaphorical boundaries, and in how people cope in the aftermath of violence. Her award-winning first novel, Hinterland (published by Bloomsbury), and dramatised by Vox Motus as Flight, grew out of her reporting into lone foreign children adrift across Europe; it was described by critics as 'stark and unsentimental', 'visceral and moving'. Her second novel, The Memory Stones, explores the search for the stolen children of Argentina's disappeared. Caroline Brothers spent many years working as a correspondent in Europe and Latin America for Reuters and the New York Times International, reporting from Amsterdam, Belfast, Brussels, London, Mexico City and Paris, among others. She is the author of a nonfiction book, War and Photography, based on her doctoral research into the Spanish Civil War. Born in Australia, she is still striving to rein in her nomadic existence, and now divides her time between Paris and London.
Oliver Emanuel
Writer (Adaptation)
Oliver Emanuel has written for most of the major theatre companies in Scotland and his work has been seen across the UK, Ireland, Europe, Canada, the USA and China. He is currently under commission to the Traverse Theatre, the Unicorn Theatre and BBC Radio. In 2020 Tiger is Out, an extract from I Am Tiger, directed by Lu Kemp and starring Ava Hickey, was broadcast by the BBC as part of National Theatre of Scotland's Scenes for Survival. Theatre includes The Monstrous Heart, The 306:Dawn, The 306:Day, The 306: Dusk, The Day I Swapped My Dad For Two Goldfish and Flit for the National Theatre of Scotland; Flight for Vox Motus; The Adventures Of Robin Hood, John, and Ship Of Shadows for Visible Fictions; The Little Boy That Santa Claus Forgot and Titus at Macrobert; Dragon for Vox Motus, National Theatre of Scotland and Tianjin People's Arts Theatre, China; End Of The World for Red Note Ensemble; Random Objects Flying Through The Air for the Royal Conservatoire of Scotland; Spirit of Adventure, One Night In Iran and Videotape for Òran Mór; Henry and Ingrid for Tron Theatre; Magpie Park at West Yorkshire Playhouse; Man Across The Way, Bella & The Beautiful Knight and Iz for Silver Tongue Theatre. Radio includes Lanny (adapted from the novel by Max Porter), The Tenderness of Boys, When The Pips Stop, The Truth About Hawaii, Transformations, Emile Zola (Series 1-3); Blood, Take Me To Necropolis, Albion Street, The Spare Room, The Other One, 13 Minutes In Cairo, Ancient Greek, Songbirds, Everything, The Vanishing and Elvis In Prestwick for BBC Radio 4; One Night In Iran for BBC Radio 3; and Daniel And Mary for BBC Radio Scotland. Awards include: The Tinniswood Award (2019) for When The Pips Stop; BBC Audio Drama Award for Best Original Series or Serial (2019) and the ISNTD Festival AUDIO Award (2018) for The Truth About Hawaii; Herald Angel as part of the Edinburgh International Festival 2017 for Flight; BBC Audio Drama Award for Best Adaptation 2017 for Emile Zola: Blood, Sex & Money; People's Choice Victor Award at IPAY (2015) for Titus; Best Show For Children and Young People at the UK Theatre Awards (2017) for Dragon; and a Sony Radio Academy Award nomination for Best Drama (2010) for Daniel And Mary.
Rebecca Hamilton
Co-Designer
Rebecca Hamilton trained at the Royal Conservatoire of Scotland, where she specialised in set and costume design and scenic painting. She works as a freelance designer, model maker and scenic artist for theatre, film and television. Other design work includes My Left/Right Foot for National Theatre of Scotland and Birds of Paradise Theatre Company; Hobo Cinema for Rogue Village; Beyond the Lake for Rising Dawn Pictures; The Time Machine for The Scientific Romance Theatre Company; Bunny for Hopscotch Films; MagicFest Gala for the Edinburgh International Magic Festival; Tin Forest and In Time O' Strife for the National Theatre of Scotland; The Inescapable Arrival of Lazlo Petushki for Outland/Hidden Tiger Productions; and Station Stories for Cryptic.
Mark Melville
Music and Sound
Mark Melville is a composer and sound designer for theatre and film. He studied at Leeds Conservatoire. His music and sound design work has been presented across the UK and internationally and has been exhibited at the V&A Museum, Prague Quadrennial and British Design for Performance festival. Recent projects include Byker Audio Stories for Northern Stage; When The World Is Loud for Mortal Fools; The Metamorphosis for Vanishing Point, the Tron and Emilia Romagna Teatro, Italy; A Little Space for Gecko and Mind the Gap; The Panopticon for National Theatre of Scotland; The Storm for M6 Theatre; The Greatest Play in the History of the World… for Tara Finney Productions, the Royal Exchange Manchester and West End transfer; Guards at the Taj and The Children at Theatre by the Lake; Frankenstein, Wit, and Birth! for the Royal Exchange Manchester; Human Animals, Violence and Son and God Bless the Child at the Royal Court; 1984 for Emilia Romagna Teatro; Yer Granny, Knives in Hens, Miracle Man, Empty, and My Shrinking Life for National Theatre of Scotland; Tomorrow for Vanishing Point, Cena Contemporânea Festival, Brazil, Brighton Festival and Tramway; Dragon for Vox Motus, National Theatre of Scotland and Tianjin People's Arts Theatre, China; Where Do We Belong?, Where Do We Stand? for Northern Stage; Little Gift for M6 Theatre and Andy Manley; Road at Leeds Playhouse; The Manchester Project for Monkeywood Theatre and HOME; The Destroyed Room, Saturday Night, and The Beggar's Opera for Vanishing Point; Charlie Sonata for the Royal Lyceum; and Wonderland for Vanishing Point, Napoli Teatro Festival Italia, Tramway and Edinburgh International Festival. Mark Melville is also a member of the Association of Sound Designers.
Simon Wilkinson
Lighting Designer
Simon Wilkinson's previous work with Vox Motus includes Flight in its productions worldwide, including Edinburgh International Festival, New York, Melbourne and Abu Dhabi; Dragon for Edinburgh International Festival; The Infamous Brothers Davenport, The Not-So-Fatal-Death of Grandpa Fredo, Bright Black and Slick. For Candice Edmunds, he designed the lighting for Dance of Death at The Citizens Theatre and, with Jamie Harrison as set designer, he lit Robert Lepage and Ex Machina's production of The Magic Flute. Work for the National Theatre of Scotland includes The Panopticon, Interference, The 306: Dawn, Dragon, The Day I Swapped My Dad for Two Goldfish and Roman Bridge. Other recent lighting designs for theatre include Metamorphosis and The Dark Carnival for Vanishing Point; The Season for Royal & Derngate; Islander for Helen Milne Productions; Glory on Earth, The Iliad, The Weir, The Lion the Witch and The Wardrobe, Hedda Gabler, The Caucasian Chalk Circle, The BFG, Bondagers and A Christmas Carol at the Royal Lyceum; Crocodile Fever, Meet Me at Dawn, Letters to Morrissey, Black Beauty, Grain in the Blood and Tracks of the Winter Bear for the Traverse Theatre; Ragnarok, Fisk, The Lost Things and Feral for Tortoise in a Nutshell; Tay Bridge and Kora for Dundee Rep; Knives in Hens for Perth Theatre; Crumble's Search for Christmas at West Yorkshire Playhouse; God of Carnage at the Tron Theatre; Lost in Music, Our Fathers, Sex and God, Pass the Spoon, Wild Life and After Mary Rose for Magnetic North. Simon Wilkinson has won the Critics Award for Theatre in Scotland for Best Design three times: for Flight in 2018, Black Beauty in 2017 and Bondagers in 2015. His lighting has created a Guinness World Record, brought 30,000 people to a windswept Highland Forest, and caused reports of an alien invasion.
Sav Scatola
Character Artist
With a foundation in fine art, Sav Scatola is a freelance illustrator with over 20 years' experience. His work spans digital illustration, 3D product renders, product advertising, concept art, asset creation, book illustrations and good old-fashioned paintings. 
Kenneth MacLeod
Storyboard Artist
Kenneth MacLeod's recent design credits include Spring Awakening, Chess, Cabaret and West Side Story for the Royal Conservatoire of Scotland; The Cook, The Thief, His Wife & Her Lover for Faena Miami and Unigram; Oor Wullie, The Yellow On The Broom and The Maids for Dundee Rep; The Metamorphosis for Vanishing Point; The Dark Carnival for Vanishing Point and the Citizens Theatre (Critics Award for Theatre Scotland 2019 nomination for Best Design); Money Makes The World Go Round, Echoes In The Night and The Outsider for Carnival ad Cunard; The Return and Not About Heroes for Eden Court Theatre; Bright Young Things and Time & Motion for National Youth Ballet; Rapunzel, Chick Whittington at the Macrobert Arts Centre; and Kes for Perth Theatre. Associate design work includes Flight for Vox Motus and Edinburgh International Festival. Kenneth MacLeod is a graduate of the Royal Conservatoire of Scotland and The California Institute of the Arts. 
About the companies
About Vox Motus
Vox Motus is a Glasgow-based theatre company creating original productions of extraordinary technical and artistic ambition. We are visual storytellers with an award-winning design-led aesthetic. We are constantly pushing at the boundaries and expectations of our artform, drawing on a wide range of creative collaborations, artistic disciplines and new technologies.
We are drawn to stories that explore extremes of behaviour, often unbelievable true tales that delve into the bizarre, glorious, exhilarating and macabre; sometimes serious, sometimes outrageously naughty, but always full of wild imagination. We seek (in small and large ways) to enhance and challenge our understanding of the world. 
Artistic Directors Jamie Harrison and Candice Edmunds conceive, write, direct and design Vox Motus' productions. Our productions have toured across the UK and Ireland, and to China, Germany, Australia, the Middle East and the USA. They have been nominated for and won numerous awards, including a Herald Angel for Flight and the UK Theatre Awards Best Production for Children and Young People for Dragon. 
About The Bridge
London Theatre Company is an independent commercial producing company, led by Nicholas Hytner, Tim Levy and Nick Starr. It opened the Bridge Theatre in 2017. The company is focussed on the commissioning and production of new shows, as well as staging the occasional classic. LTC produced its first television series earlier this year in a new version of Alan Bennett's Talking Heads.
About the Barbican
We play host to the finest international theatre, dance and performance by artists and companies who are challenging the idea of what theatre can be.
Across the programme we invest in performers who are doing something different, whether that be by collaborating with our artistic associates, through commissioning new work or by inviting guest artists to curate Pit Parties. We help artists at an early stage of their career with our Open Labs scheme and the Oxford Samuel Beckett Theatre Trust Award.
And with free offsite events in east London, reduced price tickets for 14-25-year-olds through Young Barbican and our offer for families and younger theatre-goers, we aim to inspire more people to discover and love theatre.
Young Roots
The Barbican and Bridge Theatre are pleased to be supporting Young Roots, a London-based charity who work with young refugees to reach their potential.
'Young Roots is the place to make you the person who can change the world for the better. It's for me a second family.' Young person
Young Roots works with young refugees and asylum seekers aged 11-25. We support young people through a mix of one-to-one intensive casework support, youth and sporting activities, youth leadership, trips and residentials. 
Anjarut is 20. He first arrived in the UK in July 2017 from Afghanistan. Anjarut kindly shared with us his experience of Young Roots, our activities, and our Casework service which have helped him during the last few years in numerous ways.
'I have been coming to Young Roots since 2017. I'm not sure the exact date, but I started coming after Social Services disputed my age and I was moved out of young person's housing and into a NASS* hostel in Kilburn. I started coming for three reasons. First of all, I needed help with understanding the asylum system. Secondly, I didn't have any friends and I wanted to meet other young people. Thirdly, I wanted to improve my English as I could not speak hardly any English when I arrived in the UK.
'At first, I was happy to be in the UK. I was living with a family and I was very happy. Then when I was moved to NASS with lots of adults much older than me, it made me feel really sad. There were three or four people in each room. There were people drinking and behaving strangely which made me feel scared. I was really sad about my experiences in Afghanistan and en route to the UK, especially in the Calais Jungle. I had been trying to go to college, but it was impossible to study in these living circumstances. My bad living situation made me feel worse about the things I had experienced in the past. When I came to Young Roots, they started supporting me in lots of ways which made me feel better.
'Since I arrived in the UK, with Young Roots' support I have achieved a lot. I have got my papers, I have got my driving licence, I am going to college, my benefits have been arranged, I have a travel document, I had a good solicitor who helped me to win my case and can help me again in the future if I need him. I still feel a bit sad about things in my life, but it is better than when I first arrived. I still miss my family.
'During the activities and groups, for two or three hours, I forget about my problems and meet lots of new people. I have made so many friends through Young Roots. I love playing cricket. Young Roots is the best for the young people that need help. They have been very good for me and lots of other people.
'My English has got a lot better. When I arrived, I didn't even know the alphabet, but now I learned so much English. When I came, I didn't know anything, now I know lots of things. Young Roots helped me to go to college and join an ESOL** course. I have been doing this for two years now. Then I have practised the language skills I learned at college in the youth activities by talking to all the other young people. We only speak English at the activities, not Pashto.
'My favourite things are the food and the cooking. I also like the dancing, parties, cricket and football. I enjoy everything. I can't think of anything I have not liked, I have enjoyed all of it.'
*National Asylum Support Service (NASS)
**English for Speakers of Other Languages (ESOL)
***young people's names are made up to protect their privacy.
Registered charity no: 1139685