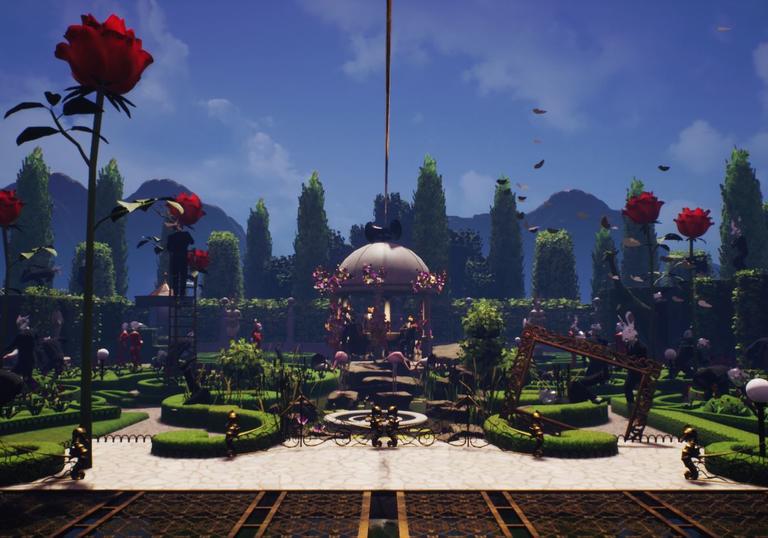 About the show
Step inside a glamorous Parisian ballroom in this stunningly original virtual reality show, as a timeless love story unfolds around you in an unforgettable experience from choreographer Blanca Li.
Music and dance merge with ground-breaking VR and body-tracking technology as you are invited to the biggest party in Paris. Dance, move and interact with real-life performers and other guests as you follow a heart-warming love story across breath-taking locations including a monumental ballroom and a magical garden party. At the end of the virtual experience, you will have the opportunity to learn some of the dances with the Blanca Li team.
Developed by world-renowned Spanish choreographer Blanca Li, Le Bal de Paris de Blanca Li won the Lion award for Best VR Experience at the 78th Venice International Film Festival. With digital costume design by fashion house Chanel, the virtuosic musical score by Tao Gutierrez takes you on a journey from classical waltz to a rip-roaring wild Cancan finale. You'll enter a universe as poetic as it is fantastic.
Presented by the Barbican
Supported by the Institut français du Royaume-Uni
Background to the show
Blanca Li (choreographer and director):
My first experience with virtual reality took place in 2014 while directing a short film in 360° for my dancers. Even though at that time, VR technology was very limited, I could foresee its possibilities and got very interested in what could be done in the field. I followed my impulse and decided very soon to create something that had never been done before, which is putting the viewer in physical contact with live performers. It always thrills me to try to invent something that could not have existed a few years ago, to be able to use the cutting edge of technology for an artistic project.
I started working seriously on the project in 2018: I wrote a script, designed some visual ideas, and searched for partners who could make this dream become reality; artistic collaborators and technical collaborators but also sponsors and co-producers. Just like for all my stage shows, I knew what I was looking for when it comes to concept, music, characters, and of course choreography. Virtual reality just gave me a lot more freedom to imagine and be creative in all these aspects, while also setting a lot of technical and physical limits on what could be done.
I also wanted enough spectators to be immersed together in a social, joyous, and festive experience, matching the idea of going to the theatre where you can share a unique moment happening on stage with many others, and that was something quite new and challenging in VR.
After visiting the VR section at Venice International Film Festival in 2018, where I could see the state of the art, I chose to work with BackLight Studio who had a solid background in creating full-body awareness avatars in real-time for location-based experiences, and we started working together.
Jonathan Tamene (co-founder of BackLight Studio):
One of the main challenges for this experience was to have up to 13 participants, spectators, and dancers together in real-time inside the same environment, and to be able to replicate it on tour in as many modules as needed. We chose not to design a complex motion capture setup, not only for budget considerations but also to make it easier to install and to tour in different venues.
The other main challenge was to match the richness of the universe Blanca had in mind, with a very high graphic performance and a lot of diversity in animation, and to be able to give a "wow" effect, so the audience gets carried away inside an incredible trip.
Vincent Chazal (graphic designer):
I have worked many times closely with Blanca Li on various films. My experience in graphic design for media, cinema, and special effects was used to its utmost limits, and I loved working together on the graphic design for this immersive 3D experience. I immediately felt the impulse to design a vertiginous space, rooms with supernatural ceiling heights, open fantastic landscapes, and mysterious club ambiances, but with much more fantasy and freedom than for traditional movies or more classical experiences. The universe's aesthetics is at the same time very classical and futuristic, and we did not want the spectator to feel immersed in a precise epoch or location, just to enjoy the timeless fantasy Blanca had in mind.
Blanca Li:
For me, directing this virtual reality experience meant that I wanted the audience to impersonate characters inside the story, to participate in the narrative. Everything else needed to be designed just like when I do my stage shows: the choreography of course, but also the aesthetics of the scenography, the costume design, the lighting design which are always a full part of my creative work.
I wanted to have an incredible haute couture costume collection by a fashion designer, and I asked Chanel, which has a timeless elegance and audacious identity, and matched the concept of my show. And they agreed to follow me on this adventure, which has made us very happy all along. The costumes are a key element because every spectator can choose his Chanel outfit for the duration of the story, and I could not imagine a better way to make them feel they are indeed our very special guests to Le Bal de Paris. BackLight had to work a lot to make the movements of the fabric feel real and beautiful.
Tao Gutierrez (music composer and musical director):
In Le Bal de Paris de Blanca Li, the music plays a very important role. The songs tell the story and convey the characters' feelings. The music sets the mood for the three acts of the show, and also creates moments for the public to dance, following the dancers and interacting within the show in a unique way. During all of the three acts, the music defines the characters and the story.
In the first act, we hear the sounds of a classical waltz orchestra recreating the music played in the large ballrooms in the middle of the 19th century. For this act, the music was recorded in Berlin, with the Babelsberg Film Orchestra.
The second act occurs in a garden with a small gypsy ensemble playing from the bandstand. The mood is festive and inspired by Balkan gypsy music. The recording of the gypsy band songs was made in Madrid, on my original score.
For the third act, set in a Parisian club, the music draws you toward a wild Cancan played by a jazz big band that makes the audience dance, clap and laugh, for a special moment. The music for the third act was also recorded in Berlin, with the Omniversal Earkestra.
All songs were recorded and are available in French, English and Spanish.
Etienne Li (Producer):
Funding this ambitious project has definitely been the highest and most successful challenge we've met within Blanca Li Company's production history. The result is a combination of strong private and public partnership, which was built over the years, with marked interest from the cinema public funds for new media and virtual reality. Chanel, our earliest and main private sponsor, without whom the project could never have been born, understood from the beginning the artistic and innovative potential of Blanca Li's show. The CNC, the French national public fund for cinema, got also convinced at a very early stage by the artistic goals of our venture. The European Community Media program, the City of Paris, the Berlin Medienboard, the Luxembourg Film Fund, managed to make it a full European project. Private grants from Epic Games in USA, and participation from HTC Vive Arts in Taïwan, have also contributed to the production and taken its reach overseas. Our public response has been incredibly successful, with a Lion for Best VR Experience awarded at Venice International Film Festival in September 2021, followed by a full-size premiere at Chaillot in Paris, and a four month run at Theatre le Palace in Paris as well, greeting more than 20,000 spectators in a few months, before coming to London.
Blanca Li:
The real lead in all my creative work is I want it to be a festive experience. I want the audience to have a lot of fun, to forget that they are in a virtual world and to feel that they are taking part in a real time party, and to enjoy dancing for real! And when they'll get out of the virtual experience they'll suddenly realize and tell themselves "wow, what an amazing and fun experience I have been through!" That is exactly what I am interested in.
Beat the queues with Membership
Members enjoy priority booking, discounts on tickets and exclusive events, so you can get closer to our theatre programme.
Company List
Blanca Li Choreographer
Rafael Linares Torres Assistant Choreographer
Jonathan Ber Assistant Choreographer
Camille Denistry Production Administrator
Romuald Vervin Company Manager
Tim Speechley Company Manager
Jérémie Oler Technical Director
PJ Stanley Production Assistant
Matt Pearson Production Assistant
Robin Yorke Production Assistant
Richard Speir Production Assistant
Hayley Rebecca Holden Production Assistant
Jack Harrold Production Assistant
Isabelle Hayden Production Assistant
Livvy Lynch Production Assistant
Ciaran John Production Assistant
Eden Jun Production Assistant
Sallamari Sihvonen Production Assistant
Abigail Sherratt Production Assistant
Luca Braccia Dancer
Nathan Goodman Dancer
Hanna Hughes Dancer
Alice Humphreys Dancer
Sebastien Kapps Dancer
Isabel Le Cras Dancer
Jordaine Lincoln Dancer
Michaela Marrable Dancer
Sophia Preidel Dancer
Sam Reeves Dancer
Jack Thomson Dancer
Katerina Chaida Real Ball Dancer
Gaddiel Mvutu Real Ball Dancer
Nicolas Huertas Ballester GameMaster
Héloise Boursier GameMaster
Neil Lebigre GameMaster
Lola Kil GameMaster
Joseph Marshall GameMaster
Julien Pannetier GameMaster
Our partners
Production 
Compagnie Blanca Li (Film Addict – Calentito)
Co-Production
BackLight Studio (France)
Fabrique d'Images (Luxembourg)
Actrio Studio (Allemagne)
Chaillot – Théâtre national de la Danse (France)
Teatros del Canal Madrid (Espagne)
Exclusive Partner
Chanel
With the support and participation from
Centre national du cinéma et de l'image animée CNC (France)
Film Fund Luxembourg
Epic MegaGrants (USA)
HTC Vive (official VR partner)
Programme Europe Créative de l'Union Européenne
Ville de Paris (France)
Medienboard Berlin Brandenburg (Allemagne)
DICRéAM (France)
Thanks to
l'Institut Français, Rencontres de Coproduction du Film Francophone (Luxembourg), Festival NewImages (Paris, France), Festival International de Film de Genève (Suisse), VR Days (Pays-Bas), Cannes XR (France), Kaleidoscope (USA), Centre Phi (Canada), all the team from Chanel.
For the Barbican
Barbican Centre Board 
Tom Sleigh Chair  
Tijs Broeke Deputy Chair 
Stephen Bediako Deputy Chair 
Board Members 
Tobi Ruth Adebekun, Munsur Ali, Randall Anderson, Farmida Bi, Russ Carr, Zulum Elumogo, David Graves, Gerard Grech, Ann Holmes, Wendy Hyde, Edward Lord, Wendy Mead, Graham Packham, Mark Page, Jens Riegelsberger, Jane Roscoe, Sir William Russell, Irem Yerdelen 
Clerk to the Board 
Ben Dunleavy 
Barbican Centre Trust 
Farmida Bi CBE Chair 
Robert Glick OBE Vice Chair 
Trustees 
Tom Bloxham MBE, Tony Chambers, Tracey Harrison, Jeff Holland, David Kapur, Kendall Langford, Alasdair Nisbet, Tom Sleigh 
Directors 
Claire Spencer CEO
Will Gompertz Artistic Director 
Sandeep Dwesar Chief Operating and Financial Officer 
Natasha Harris Director of Development 
Jonathon Poyner Director of Operations and Buildings 
Theatre Department 
Toni Racklin Head of Theatre and Dance  
Simon Bourne Senior Production Manager 
Leanne Cosby, Jill Shelley, Angie Smith Producers  
Anna Dominian, Saxon Mudge, Mali Siloko Assistant Producers 
Jamie Maisey, Lee Tasker Production Managers
Steve Daly, Jane Dickerson, Nik Kennedy, Martin Morgan, Stevie Porter Technical Managers 
Lucinda Hamlin, Charlotte Oliver Stage Managers
John Gilroy, Jamie Massey, Adam Parrott, Tom Salmon, John Seston, Chris Wilby, Lawrence Sills Technical Supervisors 
David Green PA to Head of Theatre 
Caroline Hall Production Administrator 
Andrew Pellett Production Assistant 
Kendell Foster, Burcham Johnson, Bartek Kuta, Christian Lyons, Charlie Mann, Josh Massey, Matt Nelson, Heather Readdy, Neil Sowerby Technicians  
Julian Fox, aLbi Gravener Stage Door 
Creative Learning 
Lauren Monaghan-Pisano Senior Producer 
Lauren Brown Creative Learning Producer 
Marketing 
Ben Jefferies Acting Head of Marketing 
Kyle Bradshaw Marketing Manager (Theatre and dance) 
Rebecca Moore Marketing Assistant (Theatre and dance)
Communications Department 
James Tringham Head of Communications 
Angela Dias Joint Acting Head of Communications
Freddie Todd Fordham Acting Communications Manager (Theatre) 
Sumayyah Sheikh Communications Intern
Audience Experience 
David Duncan Head of Audience Experience, Operations & Sales 
Sheree Miller Deputy Head of Audience Experience & Operations 
Lucy Allen, Oliver Robinson, Ben Skinner, Jane Thomas Ticket Sales Managers 
Elizabeth Wilks, Seán Carter, Rob Norris, Samantha Teatheredge, Gary Hunt, Nicola Lake Operations Managers 
Mo Reideman Operations Manager (Health & Safety) 
Freda Pouflis Audience Event & Planning Manager 
Fiona Badgery,  Gary Hunt, Nicola Lake, Richard Long, Tabitha Goble Venue Managers 
Scott Davies, Maria Pateli, Suman Cheema Assistant Venue Managers 
Dave Magwood, Rob Magwood, James Towell Crew Management 
Rebecca Oliver Access and Licensing Manager 
Join Young Barbican
Be there when it happens with discounted access to unmissable art and entertainment as well as events and creative opportunities for 14-25 year olds
Biographies
Blanca Li – Creator, Libretto, Director, and Choreography
After five years of training with Martha Graham in New York, Blanca Li founded her own independent dance company in 1993 in Paris. For the past 30 years, her shows have toured around the world's most prestigious stages. She has also directed three feature films.
Her passion for new technologies gives them a special place in her various creations, such as in ROBOT which featured NAO robots in a memorable show.
Well-known institutions, ballet, opera houses and museums, fashion designers, stage and film directors regularly seek her contribution as a stage director, choreographer, and filmmaker.
In 2019, she was elected member of the French Académie des Beaux-Arts and chosen by the government of Comunidad de Madrid to be the artistic director of Teatros del Canal.
Vincent Chazal – Visual Creation Director
After graduating from Penninghen (ESAG) in artistic direction, Vincent Chazal has been working since 1992 as a graphic designer, VFX / AD and motion designer, notably in post-production, for Première Heure, St Louis, and recently at Bizaroïd. As a multifaceted professional, he is curious about new technologies, he likes to 'cook' images, experimenting with a variety of techniques, media, and software to get off the beaten track. He has collaborated with Jean-Paul Goude, Marc Caro, Tran Anh Hung, Barnaby Roper (The Dress, 2017), Eric Minh Cuong Castaing (L'Âge d'Or, Audi Talent Awards 2018), Jean-Vincent Puzos, etc. He has worked with Blanca Li on various projects in the past twenty years.
Tao Gutierrez – Musical Director and Composer
Back in Spain after 11 years in New York, where he completed his musical training, Tao Gutierrez began a career as a composer of film music. He has composed, produced, and recorded numerous musical scores for the Blanca Li Company and for the theatre (El Eunuco, Titus Andronicus - Festival of Mérida). His work has been awarded multiple prizes (best film music at the Montpellier Film Festival, Malaga). He created El Interprete, a musical show that was sold out all over Spain and Latin America for four years.
Etienne Li – Producer
Etienne Li has held the position of administrator and show producer for the Blanca Li Company since its very beginnings. Alumni of École Normale Supérieure and Columbia University in Mathematics, he also works as a professor for engineering students. Etienne Li diligently and pleasurably devotes himself to learning new languages or technological competencies as well as initiating collaborations at the crossroads of art and science.
BackLight – VR Development
BackLight is a production company specialising in animated films and VR experiences. Producers, writers, directors, and developers from diverse backgrounds in visual creation, communication, and video gaming are part of one team with a shared passion for beautiful images and powerful storylines. They imagine, direct and produce passive, interactive, and dynamic experiences in Virtual Reality.
Chanel – Costumes
Chanel fashion house has very old ties with dance. Gabrielle Chanel always had a strong interest in this art and she has mixed and worked with leading figures of the dance world, like Nijinsky and Serge Lifar. Today, Chanel continues supporting dance, especially by patronage for companies (Opera de Paris) or ballets all around the world. For Le Bal de Paris de Blanca Li, the Chanel fashion house dares to design clothes for a virtual reality.