James McVinnie Ensemble: Glassworks
Start time: 7.30pm
Approximate running time: 100 mins including a 20 minute interval
Please note all timings are approximate and subject to change.
This performance is subject to government guidelines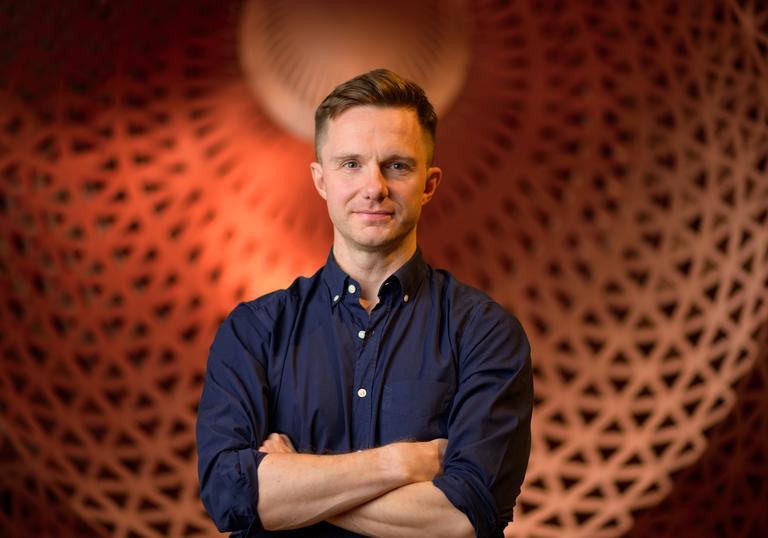 Even if you think you haven't heard any Philip Glass, you've probably heard Philip Glass. That's because, according to James McVinnie, the composer's influence surrounds us, writes Ariane Todes.
McVinnie says: 'His style has permeated absolutely every echelon of film and TV music. You listen to anything on television and it sounds like Glass. But the thing about Glass is that although he is much imitated, he is never bettered – he's the gold standard.' 
For McVinnie, the Glass effect is deeply personal: 'Everything changed for me after seeing Einstein on the Beach. What I thought about music was turned on its head and inside out. I couldn't believe what I was seeing and hearing – an opera without a storyline being utterly compelling. That was an extraordinary moment for me, and many people have said the same thing.'
This alchemy happens in Glass's instrumental music, as well as his opera. McVinnie explains: 'As with a Samuel Beckett play, the audience is left to complete the work themselves, rather than there being a traditional narrative. The way in is to listen to the changes. These happen so quickly that the brain tries to find a regular pattern but can't, which is what holds one's attention.'
Music in Fifths, from 1969, characterises Glass's early period. McVinnie describes the work: 'There are very few constituent parts. The piece is built up with a set of parallel fifths that go up and down. You wouldn't think that these sparse ingredients would be able to sustain your attention, but it's mesmeric – a deep listening experience.' 
Glass writes Music in Fifths as cells of material to be repeated freely. McVinnie explains: 'These pieces can last as long as you want them to and can expand and contract to whatever time frame you have. The music is essentially about repetition, but it's also about change within that repetition. No two sequences of music are ever the same. It's a bit like treading water – you may not be moving anywhere, but you're constantly in motion. This non-determinate character is different from anything else in Western Classical music – it shares some similarities, including the mechanics of how it works, with Indian Classical music.'
As director, McVinnie decides when to move between the cells, so how does he know when? He says: 'It's a kind of sixth sense. We allow ourselves to get into the groove of each cell for a couple of minutes and we just know when it's time to move on. If there's something particularly cool about one of the figurations, I might let it continue, or if it's a shorter cell, we might play that more to make it last longer. It's also about reading the atmosphere in the room.' 
Of the next piece on the programme, Glass himself wrote: 'Glassworks was intended to introduce my music to a more general audience than had been familiar with it up to then.' Back in the pioneer days of portable music, it was the first album to be mixed specially for the Walkman cassette player. McVinnie says: 'It ventures into a pop aesthetic in terms of how music is released and disseminated through popular culture. It's very recognisably Glass. He hadn't started writing for mainstream films at that point, but you can hear those ideas.'
The six-movement work was originally written as a studio album for the Glass Ensemble, but McVinnie has arranged it for tonight's forces: four keyboards, vocalist, flautist and two instrumentalists who play both saxophone and clarinet. McVinnie compares that flexibility to Renaissance vocal polyphony. He explains: 'A verse anthem by Orlando Gibbons might have two singers singing the text with the other lines provided by a consort of viols, but if you have six singers, four of them could sing the viol music. Glass's music has that kind of interchangeability. It doesn't rely on a specific, stipulated instrument – it's more malleable from a sound perspective.'
Alongside these now classic 20th-century works, the Ensemble gives the world premiere performance of True Stories & Rational Numbers, written in 2019 and recorded in 2020 by his friend, New York-based Chris P. Thompson, who was for many years a percussionist in groups including Alarm Will Sound, the American Contemporary Music Ensemble. 
The nine movements explore the sound qualities of different systems of tuning musical notes. We may look at piano keys and see each one as a singular, objective note, but in fact, most of them are some form of choice. Scientific laws set out how note pitches depend on the length of the vibrating string but as you go through the harmonic series, the pitches start to get out of whack with each other. In order for them to sound pleasing, they have to be tuned, and there are various ways to do that, including equal temperament and just intonation.
McVinnie explains: 'We have this weird compromise of equal temperament on our pianos where every note is in tune, but every note is also out of tune. With just intonation the intervals are tuned at a different rate to produce sounds that are much purer. Then there is a kind of compromise where you sacrifice some intervals that sound much less in tune. Chris has written these pieces that shift tuning as they are being played. The keyboards retune themselves so you get an amazing purity of sound in some places, and at other times there are dissonances that sound extraordinary.'
What does McVinnie hope the audience will come away with? He says: 'I hope that everyone will have a great time and be as exhilarated as we will be on the stage.'
© Ariane Todes
Start time: 7.30pm
Approximate running time: 100 mins including a 20 minute interval
Please note all timings are approximate and subject to change.
This performance is subject to government guidelines
Programme and performers
Chris P. Thompson True Stories & Rational Numbers
1. Anna
2. Professor H
3. Sirens
4. Five 'Til
5. Splitting
Philip Glass Music in Fifths
Philip Glass Glassworks
1. Opening
2. Floe
3. Island
4. Rubric
5. Façades
6. Closing
 
James McVinnie keyboard & music direction
Eliza McCarthy keyboard
Siwan Rhys keyboard
Hugh Rowlands keyboard
Victoria Couper vocalist
Zinajda Kodrič flute
Nicki Hutchins saxophone/clarinet
Jon Shenoy saxophone/clarinet
The James McVinnie Ensemble is a collective of virtuoso keyboardists from London that specialises in new music. The ensemble's roots go back to 2017 with a performance here of Philip Glass's Music in Twelve Parts -- the only performance in the piece's history given by anyone other than the composer's own Ensemble. Launch concerts at Bold Tendencies, London in September 2021 feature composer portraits of Gabriella Smith, Philip Glass and John Adams, and tonight's concert.
James McVinnie's work as a performer encompasses music from the 16th century to the present day. His boundless approach to music making has lead him to collaborations with many leading figures in music including Philip Glass, Tom Jenkinson/Squarepusher, Angelique Kidjo, Nico Muhly, Martin Creed, David Lang, Richard Reed Parry, Bryce Dessner & Darkstar, many of whom have written large scale works for him. He has released music on Bedroom Community, Orange Mountain Music and Warp Records. 
2021/22 season premieres include Infinity Gradient, an hour long work written for McVinnie by Tristan Perich for organ and 100 speakers in 1bit audio, a new Organ Concerto by Gabriella Smith for McVinnie and LA Philharmonic/Esa Pekka Salonen and a new work by Ellen Reid as part of Soundwalk, a GPS-enabled work of public art in London's Regent's Park that uses music to illuminate the natural environment. 
This season's solo performances include appearances at Lyon Auditorium, Bel-Air Claviers Festival Chambéry,  St David's Hall, Cardiff, Big Ears Festival Knoxville TN, Hidden Notes Festival, BBC Proms 2021 with the UK première of Samy Moussa's A Globe Itself Infolding.
Counterpoint, a double portrait album of music by J S Bach & Philip Glass is out on Bedroom Community in December 2021.
https://jamesmcvinnie.co.uk
Eliza McCarthy is a London based pianist dedicated to performing new and experimental music. She plays in concert halls, art galleries, theatres and living rooms across the UK, Europe and US as a soloist and band member.
Passionate about developing close creative relationships with composers she has had the pleasure of working with, commissioning, premiering and recording music by many including John Adams, Thomas Adès, George Crumb, Tansy Davies, Donnacha Dennehy, Kit Downes, Andrew Hamilton, Nico Muhly and Laurie Spiegel.
She regularly collaborates with Mica Levi (Under the Skin, Jackie) and their album Slow Dark Green Murky Waterfall was released in 2018 on Slip. Recent highlights include Morton Feldman's 90 minute solo piano work Triadic Memories which she performed at the Southbank Centre's DEEP∞MINIMALISM festival, a solo show for Nature Unwrapped at King's Place featuring music by John Luther Adams and performances of Breath Box for piano and electronics which she co-wrote with composer Jo Wills.
As an ensemble member she can be heard performing with Decibel and Ireland's leading new music group Crash Ensemble. Eliza has recorded and released music on NMC, Milan Records, Slip, Diatribe Records, Foom, WW Records and Clay Pipe Music.
Alongside her life as a performer, Eliza teaches Mindfulness-based approaches at the Guildhall School of Music and Drama and University of Birmingham helping performers engage with fear, anxiety and depression. She is also a professor at GSMD teaching contemporary repertoire studies to pianists.
www.elizamccarthy.com
Pianist Siwan Rhys enjoys a varied career of solo, chamber, and ensemble playing, with a strong focus on contemporary music and composer collaboration.
She has played at venues such as the Wigmore Hall, Royal Festival Hall, Barbican Hall, Elbphilharmonie Hamburg, Shanghai Symphony Hall, Esplanade Concert Hall Singapore and many others. She has appeared at the BBC Proms, Aldeburgh Festival, Huddersfield Contemporary Music Festival, London Contemporary Music Festival, Lux Aeterna, Principal Sound, and has recorded many times for television, radio, and for labels such as NMC, all that dust, Another Timbre, Classical Remix, TakuRoku, nonclassical, and Prima Facie.
Also a regular ensemble pianist, Siwan has played with the London Sinfonietta, Birmingham Contemporary Music Group, Colin Currie Group, Clod Ensemble, Philharmonia Orchestra, Aurora Orchestra, London Symphony Orchestra, City of Birmingham Symphony Orchestra, and the BBC National Orchestra of Wales.
Siwan is a member of piano-percussion duo GBSR Duo, new music group Explore Ensemble, and also works regularly with mezzo-soprano Lucy Goddard.
www.siwanrhys.co.uk
A recent graduate of Cambridge University, organist Hugh Rowlands has appeared with London Contemporary Orchestra at London's Union Chapel, and Icelandic duo Jònsi and Alex at London's Barbican Centre and Paris Philharmonie. As an organist he appears on recordings with the Choir of Royal Hospital Chelsea (where he spent his gap year as organ scholar) of previously unrecorded music by Ralph Vaughan Williams on Albion labels and on a disc of music for Remembrancetide.
At Cambridge he was organ scholar at Sidney Sussex College where he acted as accompanist to the choir in services in Chapel during term time, as well as concerts, recordings and tours to the Far East. He was also organ scholar for King's Voices, King's College's mixed voice choir which sings in King's College Chapel each week. 
A versatile singer and performer with a wide range of experience in the UK and abroad. Victoria sings a variety of music from the medieval period through to the present day, performing with a number of a cappella groups, bands, and in theatrical shows, enjoying the extra expresison that movement and story allow, and delighting in the challenge of an ever expanding repertoire.
Victoria has performed as a soloist and ensemble member in various concerts and shows with; early music groups Joglaresa, Lux Musicae London, Musica Secreta, Sinfonye, The Artisans, The City Musick, and The Dufay Collective; Greek Epic-inspired band Daemonia Nymphe; a cappella singers The Helen Chadwick Group; Flamenco guitarist Ignacio Lusardi Monteverde; Truth, Steven Hoggett & Helen Chadwick (Birmingham Repertory Theatre & UK tour); A Winter Wassail, The Society of Strange & Ancient Instruments (Shakespeare's Globe); Remnants, Erratica (The Print Room & Euro-Scene Leipzig); Here All Night, Gare St Lazare Players (Brighton Festival); Home, Yasmin Vardimon & Graham Fitkin (ROH2); Dr Dee, Rufus Norris & Damon Albarn (MIF, ENO, BBC2 Later with Jools Holland); Out of This World, Sinfonye & BBC Singers (Cadogan Hall & Herrenhäusen Festival); Trading Roots, Grand Union Orchestra & BBC Concert Orchestra (Broadcast BBC Radio3), Gloria, Vivaldi's Women, and Peter Ackroyd's Venice, with Schola Pietatis Antonio Vivaldi and the Orchestra of the Age of Enlightenment (broadcast BBC4 and BBC Radio3).
Alongside performing, she enjoys arranging and teaching, and has significant experience leading choirs and workshops in the UK and abroad.
Zinajda Kodrič is a flutist committed to exploring the styles and new sounds of the 20th and 21st century. Born in Italy, she obtained her Masters Degree in Austria and started her career performing with one of the world leading contemporary music ensembles Klangforum Wien from Austria.
She actively promotes the performance of new music being the co-founder of the Cat's Cradle Collective from London, the Ensemble Schallfeld from Graz and the Ensemble BlauerReiter from Munich.
Based in London, she regularly performs and records with the London Contemporary Orchestra and as guest with the Distractold Ensemble from Manchester, playing at the Southbank Centre, Royal Albert Hall, Oval Space and Roundhouse. She graduated from the University in Graz with highest honours and mastered her knowledge of the extended techniques with Eva Furrer and Mario Caroli. 
www.zinajdakodric.com
Nicki Hutchins is a versatile multi-instrumentalist specialising in playing the Clarinet, Saxophone and Flute. She has toured with numerous theatre companies (most recently 'Nativity the Musical' and The Wedding Singer) at home and abroad and very much looks forward to audiences returning across the UK.
Her work has taken her far and wide, playing in settings ranging from churches to night-clubs and much in between: from a classical wind quintet concert at lunchtime and an Ibiza style saxophone and DJ event in the evening.
She is a recording artist for the Associated Board of the Royal Schools of music, featuring on their upcoming clarinet and saxophone syllabuses.
Jon Shenoy is a saxophonist, clarinettist and composer/arranger living in South London. A talented improviser and creative spirit, he plays a wide range of music and leads a number of celebrated ensembles. Having been born in the cultural mecca that is Stevenage (Herts) to an Indian doctor and an English nurse with a love for classical music it was inevitable that his contribution to the world would be a healing of sorts, a soul vaccination if you will.
Somewhat a stylistic chameleon, he balances a prolific contribution towards the contemporary sounds of the London jazz scene in the Ivo Neame Octet, Rory Simmons' Fringe Magnetic, Arthur Lea's Bootleg Brass, & his own hammond organ quartet, Draw By Four.
As a sought-after woodwind specialist he brings a stylistic awareness of pastiche and sensitivity to the likes of Claire Martin's Hollywood Romance, the Heritage Orchestra, and his own King Candy & The Sugar Push. Recent concerts include the North Sea Jazz Festival and repeated sell-out shows at Ronnie Scott's Jazz Club.
www.jonshenoy.com