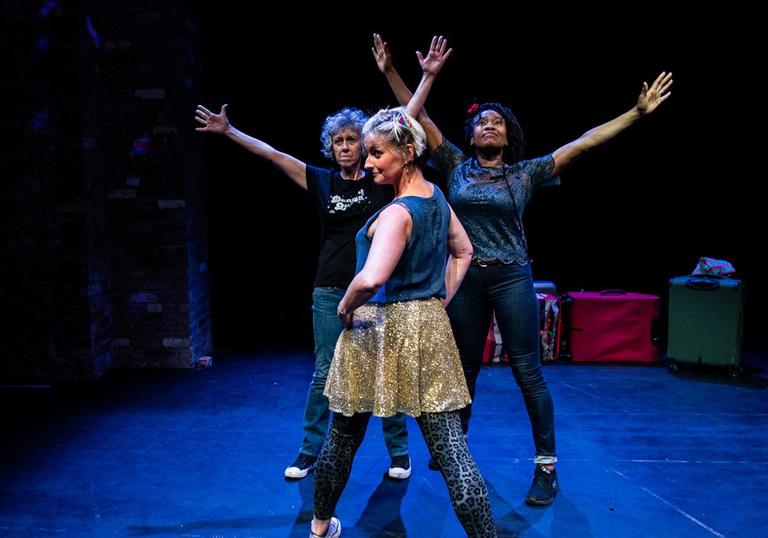 About the show
Three women paused at a moment in time – the menopause – to talk about their fears, confront losses and invite acceptance as they unpack their real-life stories with soaring humour, honesty and rage.
Claire used to be a disco-dancing champion, now she juggles family and work. Jacqui's a carer to many but there's stuff she needs to get off her chest. Karen is a survivor and she's got something to say. Join our emotional-load-bearers, up-all-nighters and piece-picker-uppers as they find their way through the frustration, freedom and possibility of these middle years.
Layering elements of song, movement and live BSL interpretation into the narrative, this transformational and witty show connects experiences from different cultures and communities into a collective whole. Created by the company and based on the research of menopause expert Dr Isabel de Salis, Mid Life aims to encourage more openness around the subject of menopause – this production does so with generous empathy and keen observation.
A Manifesto for Peri Menopause
If you are wondering whether you are in this stage, you are in it. It is the period of time leading up to your very last period. Beyond that you are in menopause. I naively thought I would simply stop my periods one day and then have a few sweaty nights. I thought any other symptoms happened to other people. Quite why I thought this important life stage would skip me by I don't know. Arrogance and denial, I think. What are the signs? Well 34 signs officially (you can use technology to look this up) but in my experience it was a sense that all was not well. Skipped periods or surprising ones – lots of blood /appearing at odd times, crushing anxiety, sense everything was changing – my own initial analysis was that I was dying. My more reasoned later analysis was that a part of me was dying. The part that had routinely put others first (often in a secretly angry begrudging way responding to every request). I am still working on this, but I have come a long way. I try to do the things that matter and make a difference. I am not always successful but there is a sense of standing on top of a hill. I can see the horizon clearly and my time is not infinite. I need to create the things that matter to me. Books, relationships, shows, the future I want my child to have.
1. Pay attention to what you want and side-line what you don't. There are choices to be made about what is needed and what can be ditched. Most women are conditioned to put the needs of others before their own. Listen very carefully to the voice that is telling you what to do with your life. I have buried a stone in a beautiful garden I know with my promise to myself for the next twenty years.
2. What gives you pleasure beyond alcohol, food and shopping? How can you relax? Most of us, me included, would say we are not involved in late capitalism's worst excesses but everywhere we are taught to numb ourselves with things rather than deal with the void head on. For this stage you will need to know how to soothe yourself and what inspires you. For me this is reading, watching films and shows, being with my family, friends, partner and child, writing, walking, cycling, swimming and occasionally running. What inspires me is being in nature and creating shows with a gang. The menopause returns you to a useful state of childhood enthusiasms – writing a secret diary, cycling, running, going to the park – whatever your thing is make room for it. Like we did when we were kids.
3. Lose the trying to control but take full responsibility.
4. Don't get exhausted. Ask others for help. When others offer to help give them a very clear direct instruction about how they can help you.
5. You will become a fiercer, sweaty version of yourself. I have. I burn with hormones, passion for what I believe in and a healthy lack of patience for the dicks who get in my way.
6. If someone is annoying, no need to spend any time on wondering if it is you or them. It is them.
7. Give yourself time. Stop expecting so much of yourself. Give up makings lists of things you need to do/achieve. Follow your nose. Write lists instead about what you have achieved in your life time. A taking stock.
8. Give yourself time to grieve every day and always for those you have lost. By middle age many of us have lost parents and friends. Make time for these relationships in your life. Continue your relationships with your dead people.
9. You are a phoenix being reborn. The changing hormonal state means you are being rewired to look out for the whole tribe with the wisdom you have gained (not just your small immediate tribe) and to listen to your deepest desires for yourself.
10. Give your friendships time and space. New ones are important in this life stage. See if you can reach out and connect with some people you like the look of.
Don't play small. Make the biggest impact you can with your work and life. Women have and continue to change the world for the better. It is not hopeless.
Claire Hodgson for Diverse City
Cast & Creative team
Cast
Jacqui Beckford Performer and Co-Creator
Karen Spicer Performer and Co-Creator
Claire Hodgson Performer and Co-Creator
Kandaka Moore Performer
Creative team
Lucy Richardson Director and Dramaturg
Vicki Igbokwe Movement Director
Sheila Chapman Playwright
Dr Isabel de Salis Menopause Expert and Researcher
Selma Nicholls Producer
Tina Omotosho Assistant Movement Director
Jelmer Tuinstra Scenographer
Dominic Kennedy Sound Development
Willie Elliot Audio Description Script
Julia Grundy and Mary Plackett (VocalEyes) Audio Describer
Anna Trethewey BSL Interpreter
Katie Fenwick Post-Show Talk BSL Interpreter
Stephen Lloyd Captioner
Chelsey Cliff and Alexa Ledecky Image credits
The company would like to thank: Dr Isabel de Salis, Kim Byford, Tom Strudwick, Tina Omotosho, Nandi Bhebhe, Lynne Franks, Bristol Women's Voice, Bangladeshi Bristol Women's Group, Laurel Beckford, Yvonne Beckford, Ezara Thompson, Yasmin Thompson, Brenda Simpson, Sandra Hamilton, Robin Hopcraft, Bristol Ferment, Emma O'Hara, Dominic Kennedy, Scarlett Hodgson and special thanks to Doreen Hodgson
Sponsored by Arts Council
Presented by the Barbican
Visual Story
This visual story is to help you to prepare for your visit to see Mid Life which takes place in The Pit.
Biographies
Jacqui Beckford – Performer and Co-Creator
Jacqui Beckford has worked extensively as a British Sign Language translator/interpreter in disability theatre and the arts. In the late 1990s she toured nationally in three productions with Graeae Theatre Company as an interpreter/performer. To date Jacqui is a freelance BSL interpreter working across many domains from the arts (theatres/museums/galleries), television broadcast (BBC News 24, CBeebies, CBBC and other channels), film, medical, mental health and legal. Jacqui worked with Extraordinary Bodies as part of the Weighting tour in 2015 performing on stage as a creative BSL interpreter. Jacqui is a member of the National Registers of Communication Professionals working with Deaf and Deafblind people, the Association of Sign Language Interpreters and Equity.
Claire Hodgson – Performer and Co-Creator
Claire is a theatre, dance and circus director, committed to achieving social justice. Claire founded Diverse City in 2005 and is the co-founder of Extraordinary Bodies, the UK's leading professional integrated circus company. She is also one of the artistic directors of Diver City. Claire was a Clore Fellow in 2012 and writes for the Guardian online. She is the former head of Performing Arts at London Metropolitan University and was awarded an MBE in 2016 for Services to Inclusion in the Performing Arts. Together with Jamie Beddard, Claire won the Clore Duffield 50th Anniversary prize, which they used to tour Extraordinary Bodies across the UK and support ten 'Unexpected Leaders' who have faced barriers to entering the industry.
Karen Spicer – Performer and Co-Creator
Karen has 30 years acting experience playing a variety of social workers, single mums, and teachers in Coronation Street, Emmerdale, Doctors, Heartbeat, The Royal, No Angels, Clocking Off, Cast Offs, and the Channel 4 film Who Killed Simone Valentine. On stage she has worked with Graeae, Trestle, Red Ladder, Theatre Centre, Roundabout, Quick Silver, Fittings Multimedia, the Nuffield Southampton Theatre, Interplay, Polka, and has specialised in script-in-hand readings of new work for Nottingham Playhouse New Writers, Birmingham Rep Transmissions, Bhuchar Boulevard, New End Theatre Beyond, and Damn Cheek Productions. She is also co-artistic director of Brighton Beam, directing Bees Mouth, a site specific ghost story in the basement of an old Brighton bar, and My Friend Lester, a musical romance about Billie Holiday and Lester Young, which sold out at the Brighton Fringe and later travelled onto Sweden and Jermyn Street Theatre. When not acting Karen is a support worker in the field of mental health and supported living, and a drinker of G and T by the sea.
Kandaka Moore – Performer
Kandaka Moore trained at Wac Arts. Her theatre credits include: Twelfth Night (Globe Theatre), The Jungle Book (Greenwich Theatre), [BLANK] (See and Eye Theatre company), The Famous Four and a Half Go Wild in Thetford Forest (Eastern Angles), Bernarda Alba, Yard Gal (Wac Arts), Random, Spring Awakening (N7 Theatre City and Islington). Commercials include: NIKE Nothing Beats a Londoner. Kandaka has also appeared as a dancer, vocalist and choreographer in the music videos, 'A&E', 'Stronger' and 'Tears' with Grammy Award-winning group Clean Bandit.
Lucy Richardson – Director and Dramaturg
Lucy Richardson is a director, dramaturg and educator. Her work focuses on giving a platform to those under-represented in the theatre and society. It spans professional theatre work and large-scale participatory projects. Lucy's directorial work includes: The Woman Who Cooked Her Husband by Debbie Isitt in the West End, The Quick by Stephanie Jacob at the Tristan Bates Theatre, Heart Speak by Zawe Ashton for Clean Break, The Strongbox by Stephanie Jacob which won the Origins Award for Outstanding New Work at Vault 2018 and will return to Clapham Omnibus headlining their Perception Festival, Bare Knuckle – a one man about bare knuckle fighting in the traveller community – has been selected to be showcased at the United Solo Festival in New York later this year. She is currently also developing a one-woman show about Boadicea. Lucy was artistic director for Lewisham Youth Theatre for ten years and associate director of Project Phakama for many years making large scale, immersive, participatory performance in South Africa, Argentina, India, Lesotho and the UK. Her book Phakama: Making Participatory Performance is published by Bloomsbury Methuen.
Sheila Chapman – Playwright
Sheila won the Bridport Prize for first novel in 2016 for The Unbelonging of Taksheel Chaturvedi which will be published by Speaking Tiger Books this year. She is working on her second novel, In The Days That Came After, and is represented by A M Heath. Mid Life is Sheila's first play. Sheila worked for 20 years as a derivatives lawyer in London and New York. In 2018 she became a Labour councillor in Islington where she lives with her three young children. She is a member of the independent monitoring board of HMP Pentonville and a school governor.
Dr Isabel de Salis – Menopause Expert and Researcher
Dr Isabel de Salis is a medical anthropologist and psychotherapist. As an anthropologist she has lived and worked with spiritual healers in Malawi, researched clinical trials and diagnostic processes in the UK, and taught students and clinicians here and abroad. Her recent research based at Bristol University has been exploring the diverse range of experiences and perceptions of midlife and menopause among women living in the Southwest. She has written about the varying experiences of menopause – as a natural, biological process; as loss and struggle, shame and taboo; as transformative and liberating. She is working with Bristol City Council to promote the exploration and understanding of menopause through shared discussions and the dissemination of responsible information throughout the city.