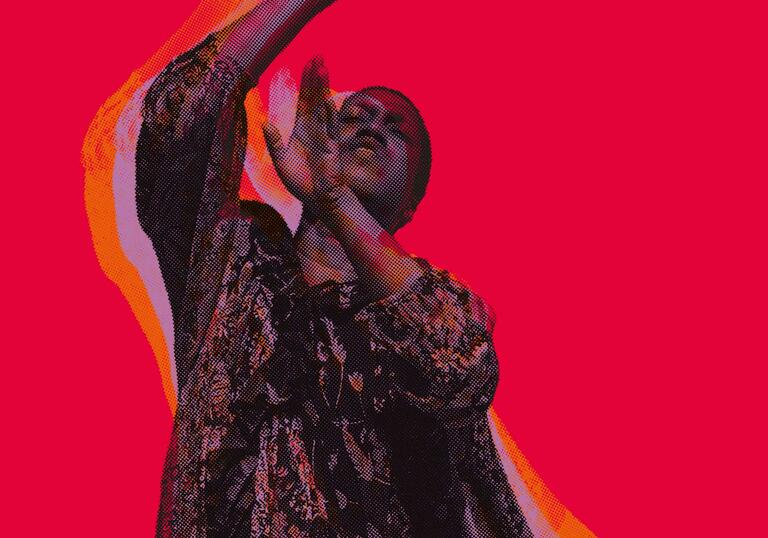 Booking fees
£4 booking fee per online/phone transaction. 
No fee when tickets are booked in person.
Booking fees are per transaction and not per ticket. If your booking contains several events the highest booking fee will apply. The booking fee may be reduced on certain events. Members do not pay booking fees.
Reviews
'Vivid and life-enhancing...a work of profound emotion'
The Observer (on Porca Miseria)
'Through rhythmic juxtaposition and perfect pacing, he creates alternating states of chaos and calm, of joy an excitement, bewilderment and bathos'
'A joyous and victorious act of playfulness'
'Utterly transfixing and entirely original'
The Observer (on Maggie the Cat)
The Programme
The first part Deathbed is both art installation and performance, with audiences seated on stage to be closer to the performers. After an interval you will take a seat in the auditorium for the climactic final two parts.
Deathbed
The first part of Porca Miseria is inspired by a meeting between Harrell and African American choreographer Katherine Dunham (1909-2006). Dunham was both a dance legend and a civil-rights activist who staged a hunger strike at age 82 in support of refugees. Part one of Porca Miseria is based on this encounter and all the questions he didn't get to ask her. Harrell explores the boundaries between dance, theatre and visual arts – it's equal parts installation and performance, and the audience is free to move around the space.
Running time: 1 hour, 15 mins
Interval (1 or 2 hours depending on booked start time - 5pm or 6.15pm)
O Medea
Part two of Porca Miseria is a short film of a dance performance based on Medea from Greek mythology. Harrell: 'I see Medea as a woman who is 'crazy in love', to quote Beyoncé. Medea, who kills her own children, is a metaphor: murdering the male-defined ideal of motherhood and femininity to free herself.' An emotional homage to a tragic heroine in an extraordinary exploration of grief.
Running time: 25 mins 
Maggie the Cat
Part three of Harrell's trilogy Porca Miseria is inspired by Maggie, the troubled but tough central character of Tennessee Williams' Cat on a Hot Tin Roof, with Harrell shifting the perspective away from the rich white family of Maggie's husband Brick to the African-American servants. The night-on-the-town soundtrack is equally at home in the nightclub and the theatre.
Running time: 1 hour
Can't make the early start time of Deathbed? You can book for the Double Bill only which begins at 8.30pm
Discover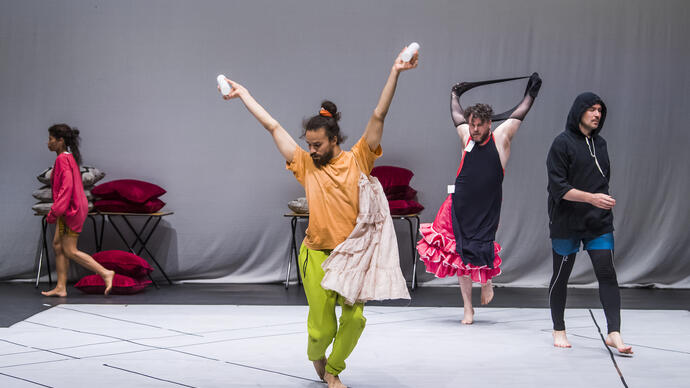 Find out more about the production and the creative team behind it in our digital programme.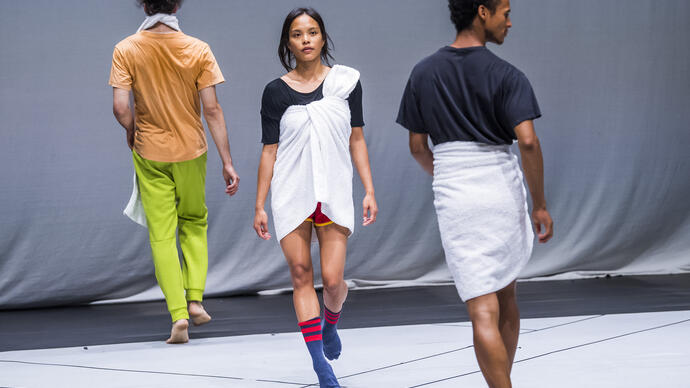 Discover more about Porca Miseria and Trajal Harrell's dance language in this interview with Glamcult Magazine.