The Gold Medal 2020
Guildhall's most prestigious prize for musicians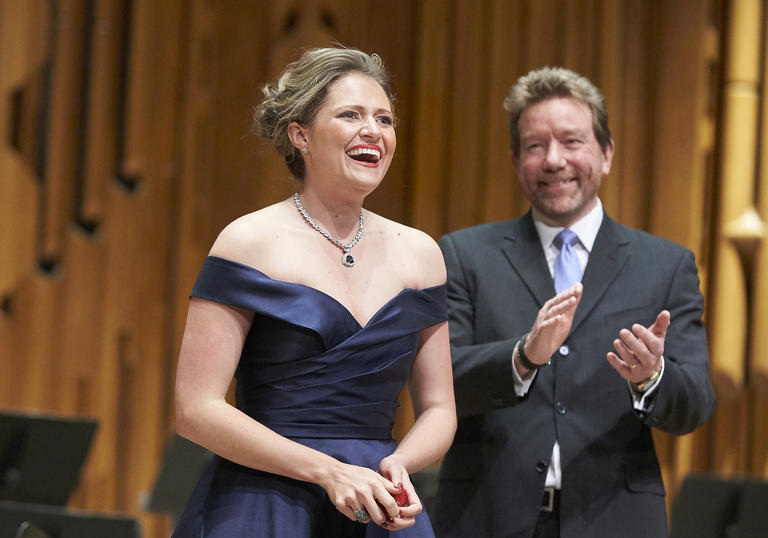 The final of Guildhall's most prestigious music prize, offering the chance to enjoy an online broadcast of Rachmaninov's Piano Concerto No 2, Elgar's Cello Concerto and Tchaikovsky's Piano Concerto.
Instrumentalists from Guildhall School of Music & Drama compete for the School's most prestigious music prize in this special event, rescheduled from May 2020.
The Gold Medal was endowed by Sir H. Dixon Kimber in 1915 and since the 1950s it has been open to singers and instrumentalists in alternate years. In 2020 it's the turn of instrumentalists, who will perform concertos with Guildhall Symphony Orchestra conducted by Adrian Leaper.
Previous winners of the Gold Medal include Jacqueline du Pré (1960), Tasmin Little (1986), Sir Bryn Terfel (1989) and, most recently, soprano Samantha Clarke (2019, pictured).
Programme:
Soohong Park piano
Rachmaninov Piano Concerto No 2 in C minor, Op 18
Ben Tarlton cello
Elgar Cello Concerto in E minor, Op 85
Ke Ma piano
Tchaikovsky Piano Concerto No 1 in B-flat minor, Op 23
Presented by Guildhall School of Music & Drama.
This concert is part of Guildhall School's 2020 Autumn Season, which offers the chance to watch more than 70 events online, free of charge, from September to December.
Finalists
Guildhall Symphony Orchestra
Jury
Lynne Williams
Guildhall School Principal
Jonathan Vaughan
Guildhall School Vice-Principal & Director of Music
Emma Bloxham
Editor, BBC Radio 3
Nicholas Mathias
Director, IMG Artists