Press room
Martha Graham Weekender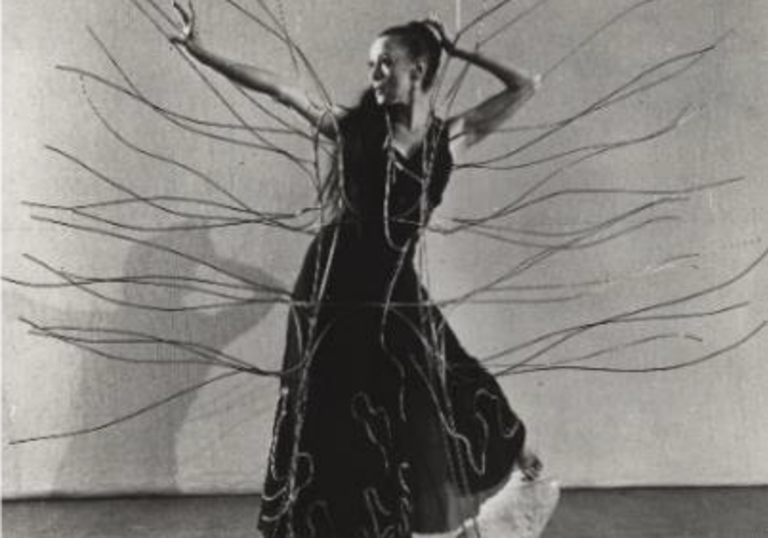 A weekend of events celebrating the pioneering choreographer Martha Graham will take place at the Barbican on 16-17 October 2021, to complement the major Barbican Art Gallery exhibition, Noguchi.
Saturday 16 October: Yolande Yorke-Edgell, director of Yorke Dance Project, performs Martha Graham's Lamentation in the exhibition Noguchi at Barbican Art Gallery
 
Sunday 17 October: Barbican Cinema presents the world premiere of Martha Graham collaborator Robert Cohan's Lockdown Portraits, produced by Yorke Dance Project
Martha Graham (1894-1991) is recognised as a primal artistic force of the 20th Century.  During her 70-year career, she choreographed 181 ballets and created a technique that would go on to revolutionise dance. Named 'Dancer of the Century' by Time and compared with the likes of Picasso, Einstein, Stravinsky and Freud, she collaborated with many artists throughout her life and career, including Isamu Noguchi, with whom she produced over 20 works.
Their unique working relationship is celebrated in the Barbican's exhibition Noguchi. Alongside films and stage sets from their work together, her Isamu Noguchi-designed 'spider dress' is on display in the exhibition – a cage-like brass sculpture which played a central role in Graham's Cave of the Heart – a retelling of the ancient Greek myth of Medea, which premiered in 1946.
Throughout their career-long association, Noguchi created innovative set designs that could platform Graham's ground-breaking technique, based around her founding principles of contraction and release, exploring the depth and diversity of human emotion. 
On Saturday 16 October, renowned dancer and choreographer Yolande Yorke-Edgell of Yorke Dance Project will perform Martha Graham's expressionist masterpiece solo Lamentation, 
throughout the afternoon in Barbican Art Gallery. Freya Jeffs from Yorke Dance Project will also perform on the day.
Set to music by Hungarian composer Zoltán Kodály, Graham herself performed the work at its premiere in 1930. The dancer is encased in a tube of purple jersey with the choreography's powerful diagonals and thrilling economy epitomising grief. Taking place among Noguchi's indoor garden of sculptures on the lower floor of the Art Gallery, contrasting with his iconic delicate Akari lamps, the setting will be evocative of a Noguchi theatre stage design.
Martha Graham Company Artistic Director Janet Eilber said:
'Lamentation is the essence of Graham. It holds many of the concepts that she and Noguchi agreed on and that were essential to their work together -- the stripping away of all decoration, the organic shapes that evoke layers of meaning, and the radical use of space.'
The performance on Saturday will be complemented by a tour from exhibition curator Florence Ostende, who will discuss and explore Noguchi's extensive collaborations with choreographers, movement and dance practitioners, including Ruth Page, Merce Cunningham and Martha Graham.
As well as teaching the Graham technique for the Royal Ballet School's White Lodge for six years, Yolande Yorke-Edgell also worked, collaborated with and was mentored by Sir Robert Cohan, who died in January 2021 at the age of 95. Trained at the Martha Graham School, Sir Robert Cohan began his professional dance career at the Martha Graham Dance Company in 1946.
On Sunday 17 October, Barbican Cinema presents the world premiere of Robert Cohan's Lockdown Portraits, a series of seven short films directed by David Stewart and produced by Yolande Yorke-Edgell.
Robert Cohan's Lockdown Portraits sensitively capture his remarkable legacy. Set amidst stunning architecture and landscape, world-class dancers share their intimate, choreographed conversations with this great artist. Their films feature the seven solos from his final stage work, Afternoon Conversations with Dancers: Seven stories of isolation, loss and survival.
Set to music by Nils Frahm and Olafur Arnolds, the films are danced by artists from the Martha Graham Dance Company, as well as from the Royal Ballet, Phoenix Dance Theatre, New Movement Collective and Yorke Dance Project. These personal portraits are a unique opportunity to intimately experience Cohan's final work with stark immediacy.
Award-winning documentary filmmaker David Stewart's collaboration with Cohan was built on mutual trust and understanding of what it is to be human. Together they brought Cohan's 95 years of life experience to these seven highly personal yet universal stories of isolation, loss and, ultimately, survival.
Produced by Yorke Dance Project, under the directorship of long-time Cohan collaborator Yolande Yorke-Edgell, this world premiere screening will be followed by a talk with Yorke-Edgell and Stewart, hosted by Kenneth Tharp, Interim CEO of Eclipse Theatre, former Chief Executive of The Place and dancer with Cohan's celebrated London Contemporary Dance Theatre.
Gali Gold, Head of Barbican Cinema Curator, comments, "I'm moved to host these filmed dance portraits which pay tribute to Robert Cohan's influential legacy, capturing profound truths about the human condition, highlighted by the recent lockdown we've all lived through. Watching these films on the big screen as we're finally able to gather, will be such a treat and an opportunity for reflection and aesthetic joy."
Listings Information
Noguchi
Barbican Art Gallery, London, UK
30 September 2021 to 9 January 2022  
Media View: Wednesday 29 September 2021, 10am – 1pm
This exhibition is generously supported by the Terra Foundation for American Art
Lamentation by Martha Graham: A performance by Yolande Yorke-Edgell
Barbican Art Gallery, London, UK
Saturday 16 October 2021, 12pm-5pm (performances on the hour)
Noguchi's Dance Collaborations Curator Tour, with Florence Ostende
Barbican Art Gallery, London, UK
Saturday 16 October 2021, 11am
Robert Cohan's Lockdown Portraits (12A), plus conversation
Barbican Cinema 2, London, UK
Sunday 17 October 2021, 3pm