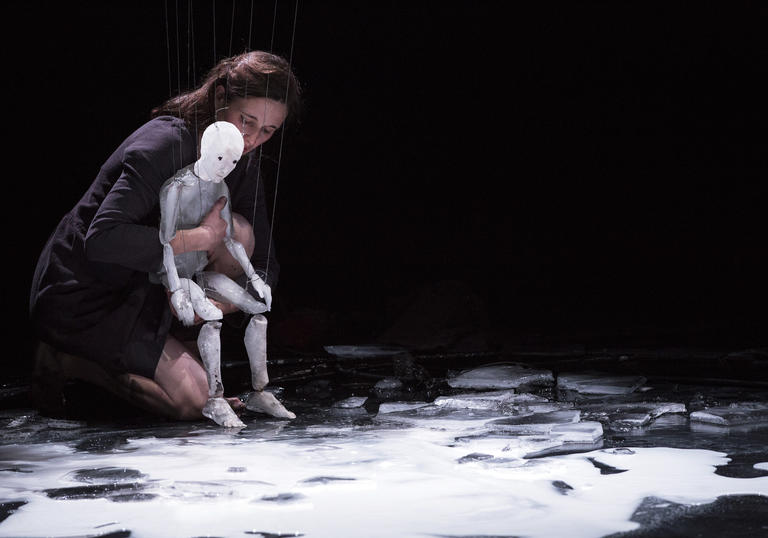 Performers & Creative team
Performers and directors Elise Vigneron, Hélène Barreau
Dramaturgy Benoît Vreux
Movement Eleonora Gimenez
Voiceover Pearl Manifold
Lighting and sound management Thibaut Boislève
Stage management Corentin Abeille
Music Pascal Charrier (guitar), Sylvain Darrifourcq (drums), Robin Fincker (saxophone), Julien Tamisier (keyboard), Franck Lamiot (sound)
Outside eye Uta Gebert
Puppet construction Hélène Barreau
Set Messaoud Fehrat, Cyril Monteil
Fluid management Messaoud Fehrat, Benoît Fincker
Administration and production In 8 circle, maison de production
UK premiere
Presented by the Barbican in association with London International Mime Festival
Co-produced by Espace Jéliote scène conventionnée arts de la marionnette, Théâtre Gymnase-Bernardines – Marseille, TJP Centre dramatique National d'Alsace – Strasbourg, Théàtre Durance – Château-Arnoux, 3bisf-lieu d'arts contemporains – Aix-en-Provence and International festival of puppets – Charleville-Mézières
This visit to London is supported by Institut français du Royaume Uni as part of its En Scène programme
Le Théâtre de L'Entrouvert receives support for creation from the town Apt, Conseil général de Vaucluse, DRAC and région Provence Alpes Côte d'Azur, SPEDIDAM and ADAMI
About Le Théâtre de L'Entrouvert
Le Théâtre de L'Entrouvert was formed in 2009 by Elise Vigneron, whose background includes training in fine art, circus and puppet theatre. At the crossroads of these disciplines, the company focuses on a contemporary approach to the art of puppet theatre, whilst drawing inspiration from the past. Its artistic language aims to speak directly to the presence of ephemeral material, the phenomenon of duplication and the volatile character of images. Sound vibrations and written words affect the audience's perception, evoking landscapes more than facts, silence more than explanations.
'By highlighting the fragility and metamorphosis of matter, by bringing bodies and pictures to life, I invite the audience to participate in a sensitive experience, and to enter the metaphoric language of a silent theatre.' Elise Vigneron
Elise Vigneron studied plastic arts and attended drama and circus training classes. In 2005 she graduated from France's prestigious school of puppetry and object theatre, ESNAM (École Supérieure Nationale des Arts de la Marionnette) in Charleville-Mézières. Her interest in various theatre forms led her to work with puppeteers, dancers, writers, visual artists, circus artists and musicians. She has collaborated with puppeteer Aurélie Morin and the company Théâtre de Nuit, with Chinese choreographer Gang Peng, playwright and actress Stéphanie Farison, and musicians Pascal Charrier, Emilie Lesbros and Julien Tamisier. Nourished by these various experiences, she established Le Théâtre de L'Entrouvert. Elise also gives training courses and workshops and works with the theatre department of the university of Aix en Provence.
Hélène Barreau studied applied arts and acting before entering ESNAM (École Supérieure Nationale des Arts de la Marionnette) in Charleville-Mézières, graduating in 2014. She has worked with various theatre companies as a designer, maker and performer including: Centre Dramatique National de Sartrouville,Théâtre de Nuit, Théâtre de l'Entrouvert and TJP, scène Nationale de Strasbourg. Her ongoing research into theatre practice included a course in ventriloquism in 2018.
Interview with the company
What is the story about?
It talks about the blinded Oedipus who decides to take to the road as a beggar in order to lose himself. His daughter, Antigone, accompanies him in this long quest. At the beginning of the story, Oedipus appears as someone who has been rejected, hurt and alone. It's through walking that he slowly comes back to life. The visions and signs that appear to him become clearer as he wanders further and they allow him to understand himself. 
Who does the audience see on stage?
At the beginning there is a large suspended screen made from ice with the first words of the story: 'The wounds of Oedipus' eyes which bled for so long, have healed. One no longer sees running down his cheeks the black tears which terrify as if they came from one's own blood.' On the floor there is a large circle of slate stones which symbolises the passage Oedipus will take. Everything is swathed in a heavy mist, a place at the crossroads of the worlds, where identities fade to nothing more than voices, one voice. The performance represents that accompaniment, just as one accompanies a loved one who is dying, who fades away little by little. 
What experiences will audiences have? 
The audience experiences the wonder of the material transformations which are the manifestations of the changing state of Oedipus from blind man to clairvoyant. Ice as a sensation: the cold which holds, which freezes, solidifies and consolidates the molecules of water, which suspends thought. That concept contains the metaphor of exile, because by leaving his family, his home, his throne, Oedipus abandons the warmth that one generally associates with home, he goes where nothing can warm his soul. In contrast to this substance, the element fire is present in different forms along the journey: flames which revive joy, the power of the unleashed elements present in thunder and lightning, light which transcends. 
Discover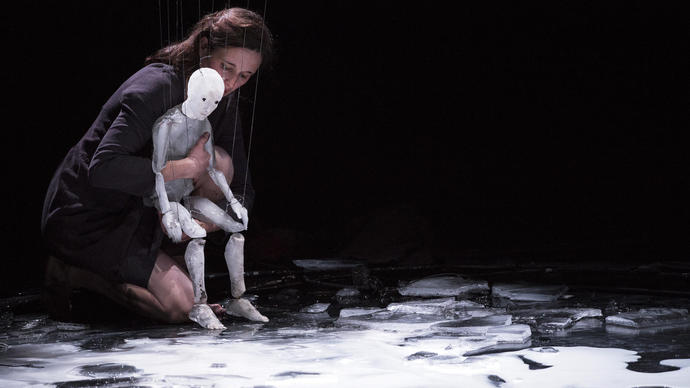 Watch: London International Mime Festival 2019
Now in its 42nd year, Mime Festival returns to the Barbican with four captivating theatre shows and two film events in the cinema, spanning the spectrum of contemporary visual performance.
A note from directors Elise Vigneron and Hélène Barreau
We are living in a society where reality is drained of its meaning, space and time of their substance and the individual is cut off from his true existence. In this glossy world of superficiality, is there any room for those who do not participate in the power game: those who stumble, those who search and lose themselves?
Anywhere is a voyage of discovery in the steps of Oedipus on the Road, by Henry Bauchau, a visual poem which invites the spectator to experience the different states of the element water, the interior metamorphosis of a mythical character. Oedipus, puppet of ice (solid state) slowly transforms into water (liquid state) and then disappears into mist (gaseous state). Antigone, his daughter, accompanies him, helps him and is present as he disappears.
In this unstable reality, where everything could fall apart from one moment to the next, we merge with the elements, we sense the feeling of abandonment and transformation, we walk the same 'road where one gets lost and the being reveals itself' (Martin Heidegger).
London International Mime Festival
London International Mime Festival (LIMF) promotes contemporary visual theatre. Its productions have won nominations for Olivier Awards and in 2017 the festival was honoured with the Empty Space - Peter Brook Special Achievement Award for its work over four decades. Founded in 1977, LIMF is an Arts Council England National Portfolio Organisation.
Festival Directors Helen Lannaghan, Joseph Seelig
Production Manager Bill Deverson
Artists Managers Stephanie Brotchie, Shanti Freed
Press Representatives Anna Arthur PR
Graphics & Website Iain Lanyon  
Marketing Consultants Mobius Industries
London International Mime Festival 2019 gratefully acknowledges co-operation / financial support from: Arts Council England; Institut français, Royal Norwegian Embassy, London; Finnish Institute in London/TelePART and Wallonie-Bruxelles International (WBI)
With thanks
Supported by