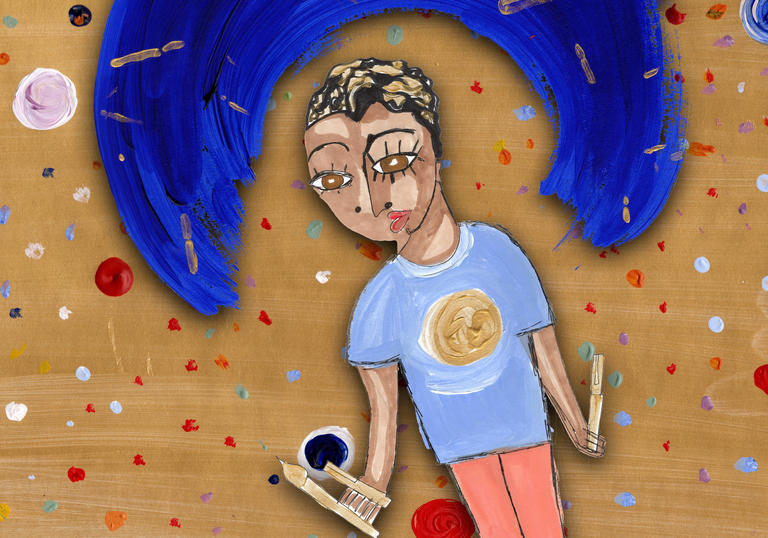 Creative team
Creative team
Performers Rachel Lincoln, Remmie Milner
 
Writer and Creator Anna Beecher
Director and Creator Rachel Lincoln
Set and Costume Designer Kirsty Harris
Composer and Sound Designer Max Perryment
Video Director Daniel Holme
Production credits
Flutes, clarinets and saxophones George Sleightholme.
Akin thanks Laura Woodward at Farnham Maltings, Stevie Porter, Luke Dahl and Bob Lincoln.
An Akin production presented and co-commissioned by the Barbican.
Akin are produced by Farnham Maltings.
Meet the creators
How did it all begin in theatre for you both?
We loved performing when we were children, so much so that we both auditioned to study theatre at a school in South London called The BRIT School for the Performing Arts. That is where we met, became friends and began making theatre together. What we loved about going to that school was that we didn't only get to explore acting, but also writing and directing and all sorts of other elements of theatre. We graduated in 2007, but that creative mentality has stayed with us.
Who has inspired your work and style?
We are inspired by theatre makers like Geoff Sobelle and Romeo Castellucci, poets from Ross Gay and Maggie Smith to Gerald Manley Hopkins, the philosopher Gaston Bachelard, the clown Slava Polunin and artists including Matisse, Katharina Fritsch and Yayoi Kusama. We are also very inspired by children, in the way they play and are led by their curiosity! All of our work draws upon research into child development.
What's the most important thing you want to achieve through making theatre?
With our work for Akin, we want people to feel better when they finish watching one of our shows than when they went in. We want to awaken creativity and curiosity and invite people to see the everyday world afresh. And we want people to connect; our shows are opportunities for people to spend time with those most important to them.
What's your favourite piece of art?
Infinity Mirror Rooms by Yayoi Kusama. That piece is an inspiration for We Cover the Universe!
What is your favourite poem?
'Catalogue of Unabashed Gratitude' by Ross Gay.
I want to be a poet. What should I do?
Write poems. If you do this, you're a poet. Read and listen to poems as much as you can. Choose favourite lines from them, and carry those lines around in your head like treasures in your pockets. Think about the everyday language that is exciting to you, whether it's a word that exactly fits the thing it describes, or a funny phrase your friend's mum overuses. Listen to music. Dance. Enjoy rhythm and sound. Look at the world closely: if a day or a person or a feeling is beautiful, why exactly is it so? Pay attention to your senses. Store your memories in notebooks. Above all, write poems. Language is your plasticine and you can start to build pictures and shapes with it – you don't need anyone else's permission to do that. Write poems then more poems. And then share them.
Tell us a bit about the way you make shows together, across oceans and time zones.
Rachel lives in London and Anna lives in the USA. Normally, we meet online for much of the year, with visits to each other where we get into a rehearsal room and do as much exploring and making work as we can! 2020 has been very different, because we haven't had the chance to meet in person at all. But because We Cover the Universe has been created especially for online performance, working entirely online has made sense. We have spent hours and hours exploring different ideas, including not just the story of the show, but where to put the camera, what kind of sounds come across over Zoom and how to show artworks. It's been very fun, though one day we accidentally spent six straight hours on Zoom, which turned out to be a bit too much! Working in different time zones means that we usually work in the afternoon UK time and morning US time. We often wake up finding that one of us has got loads of extra work done or had new ideas while the other was asleep. It's also very strange to see a dark window behind someone when the sun is shining where you are. Because we have been friends and been making theatre together for a long time, we know how we like to work, how to communicate and who should do what. Transitioning to working online might have been harder if we didn't have that solid foundation.
I want to be a theatre-maker. What should I do?
Start making theatre! Just give it a go. You can make a show anywhere – a cellar, a cupboard, a patch of the park, a Zoom meeting – if you fill that space with enough magic. Making theatre involves lots of different elements including writing, performing, directing, designing sets and costumes, creating sound and lighting and devising, which is where you come up with new ideas together as a group, by playing and trying things out. Some theatre (the kind Akin makes!) also involves giving the audience sensory experiences, such as interesting things to touch and smell. Explore these different elements. Find people who want to explore them with you. Think of a story that you feel excited to tell, then play around with how the different moments could come alive. Perhaps one part needs a poem, and another needs shadow puppets made with a lamp and a sheet, and another part needs a dance. When you've put something together and practiced it so that you know exactly what comes next, then show it to other people. They can tell you what the most exciting part was, and if anything felt a bit long!
Discover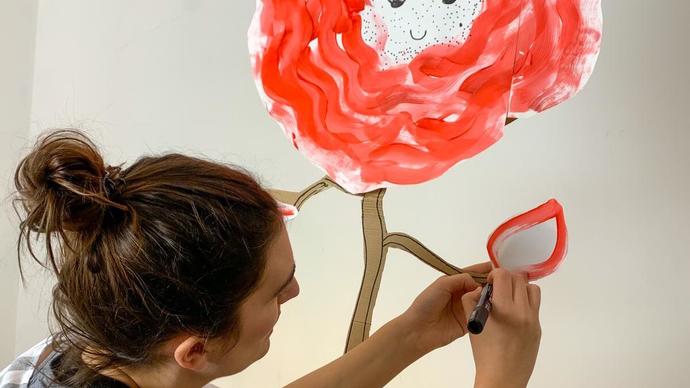 Akin founders Anna Beecher and Rachel Lincoln explore what inspired this new show.
Biographies
Rachel Lincoln
Performer, Co-Creator and Director
Co-founder of Akin, Rachel Lincoln is a theatre director and maker based in London. Her work includes: If We Were Older at the National Theatre; Nest at Southbank Centre, Lincoln Center New York and on UK tour; and The Curtain at the Young Vic. She was Associate Director with Ivo Van Hove for the National Theatre production of Hedda Gabler and has worked on three of his English language productions. Rachel Lincoln graduated from the BRIT School for the Performing Arts, and trained at the Jacques Lecoq school, the National Theatre Director's Course and the Young Vic Jerwood Assistant Director programme. She was a finalist in the 2019 National Theatre's Women of Tomorrow Directors Award.
Rachel Lincoln is also a visual artist, creating bold, surprising images in paint, ink, pen and digital media. The lockdown in 2020 gave her the chance to focus on her art, and the creative explosion that ensued inspired the story and aesthetic of We Cover the Universe.
Remmie Milner
Performer
Remmie Milner trained at The Bristol Old Vic Theatre School. Work in theatre includes Coriolanus and Chicken Soup at Sheffield Crucible; Nest for Akin; Terror for Lyric Hammersmith and Brisbane Arts Festival; The Winter's Tale, To Kill A Mockingbird and Chip Shop The Musical at the Octagon Theatre; Plastic Figurines for Box of Tricks; The Pier at Oxford Playhouse; Melody Loses Her Mojo at Liverpool Playhouse; I Started a Fire at the Arcola Theatre, and the Olympics Opening Ceremony: Pop Culture (Olympic Stadium). Work on TV includes: His Dark Materials: The Subtle Knife for BBC and HBO; Save Me Too and Save Me for Sky Atlantic; A Christmas Carol and The Hour for BBC; Philip K Dick's Electric Dreams on Channel 4; Whitechapel for ITV; and Trollied on Sky 1. Radio includes Stone on BBC Radio 4t
Anna Beecher
Writer, Co-Creator
Co-founder of Akin, Anna Beecher is a writer and theatre-maker. She creates work for both children and adults. Her theatre work has been presented at venues including Southbank Centre, Battersea Arts Centre, the Young Vic, the Edinburgh Festival Fringe, Latitude Festival and Lincoln Center, New York. She has also performed widely as a spoken-word artist and storyteller.
Anna Beecher's first novel, Here Comes the Miracle, will be published in February 2021 by Weidenfeld & Nicolson. She is a graduate of the BRIT School for the Performing Arts, University of Westminster and The University of Virginia where she earned her MFA in Fiction. She currently teaches writing and studies in drama at the University of Virginia.
Kirsty Harris
Set and Costume Designer
Kirsty Harris is an artist, designer and maker specialising in installation and performative works.
She makes immersive worlds and experiences in found environments, landscapes and theatres. Her work has been made for babies aged 6 months and all the ages that come after.
She has collaborated with and designed community projects for companies including Wildworks, Kneehigh, Punchdrunk, Shunt, the Young Vic, Coney, Likely Story Theatre and Battersea Arts Centre (BAC). She has had commissions from BAC, Southbank Centre, The Discover Centre, National Theatre Wales, The Museum of London, The National Trust, Leeds Castle and other organisations.
Kirsty Harris makes things. khmakesthings.co.uk
Max Perryment
Composer and Sound Designer
Max Perryment is a London-based composer and sound designer. He has an MA in Electroacoustic Composition from City University. Recent theatre includes: Shipwreck at the Almeida; The Convert at the Young Vic; A Guide for the Homesick and Rasheeda Speaking at Trafalgar Studio 2; The Sweet Science of Bruising at Wilton's Music Hall and Southwark Playhouse; Dust at New York Theatre Workshop (NYTW), Trafalgar Studio 2, and Soho Theatre; The Rise and Fall of Little Voice at the Park Theatre (Off West End Award nomination); Utility and Romeo and Juliet at the Orange Tree Theatre; Twilight Los Angeles 1992 at the Gate (Off West End Award nomination); The Tide at the Young Vic (YV Taking Part); and Dear Brutus at Southwark Playhouse.
Daniel Holme
Video Director
Daniel Holme is a filmmaker, actor, and producer. He is co-founder of Daniel and Daniel Film, a New York City-based film production company, where he works as an art director and filmmaker. He has created theatrical promotions, television commercials and music videos as well as creating reels and documenting events.
Daniel Holme also works as an actor and producer in both the USA and UK. He co-founded FAT CONTENT Theatre (with Anna Beecher and Rachel Lincoln) which creates and tours surreal, sensory theatre. He attended the BRIT School of Performing Arts and trained at The American Academy of Dramatic Arts. In 2019, he worked with Akin, performing in their production of Nest at Lincoln Center, New York.
What you'll need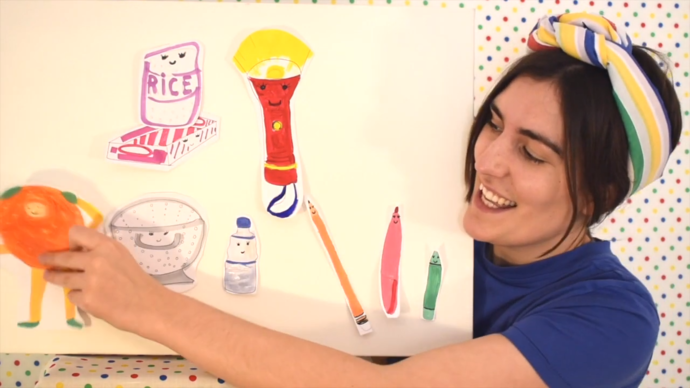 Watch: What you'll need
It's almost time for the show. Watch as Rachel Lincoln shows you which simple household items you can use to get involved.
What you'll need
We Cover the Universe is mainly for children under the age of 5 and their adults, and older siblings are very welcome. An adult must be present with their young person at all times during the performance.
Using Zoom:
· We invite you to watch the show mainly on speaker view. At certain moments, we'll ask you to change to gallery view.
· At points in the show, we will 'spotlight' some audience members. This means you will be visible onscreen. If you would rather not be seen, just make sure your camera is off.
Everyone will engage with the show in their own way. Some of you may want to create artworks, guided by what we are making on screen. Some may want to move your bodies along with the story. Some may want to simply watch. Some children may not look at the screen all that much, but enjoy the sounds of the show, and the way that the people with them are engaging. These are all great ways to enjoy the experience.
Grown-ups can support little ones to find their own ways to join in.
These objects will help you interact with the performance. If you can, bring them along when you watch:
Some paper
Something to draw with, such a pencil or pencils, pens or crayons
Some grains or seeds (rice works well) and a wide, shallow container (such as a casserole dish or tray) to put them in
An orange (or a clementine! Or a satsuma!)
A torch or phone light
A clear bottle of water
A colander
You might also want to bring a blanket or cushion, so that you can get nice and cosy at the end of the show. At the end, we'll also ask you to make your space dark if you can, by drawing the curtains and turning off the light.
Don't worry if you can't gather these objects. You can also join in just by bringing yourself!
How to adapt the activities
If you're bringing a baby to the show, or a child who isn't confident with holding pencils or crayons, you can 'draw' with your hands on your child's hands, arms or back. When you see us draw straight lines, you could trace a finger gently across the back of your baby's hand. When we draw circles, you could draw a circle with your finger in their little palm, or with a flat hand on their back. When we draw wiggly lines, you could give them a little tickle or bounce them on your knee.
 
If you don't have drawing materials, why not draw with your body? You can place a finger carefully onto the ground or a table, just like you'd put a pencil onto the page, and 'draw' straight lines, wiggles and squiggles and dots. You can also make your body into a picture! For example, you can move in straight lines, or wiggle or hop on the spot.
 
It's totally fine if your child wants to explore the materials and textures of things, rather than doing exactly what we are doing on screen. For example, the tactile experience of paper might be just as interesting to them as the idea of drawing. They might enjoy touching the smooth paper, scrunching it up or tearing it into pieces. The sound of sloshing water might capture your child's attention more than the way it looks. Be led by them and encourage them to explore.
 
Don't be shy to 'perform' a bit for your child. Seeing you engage by demonstrating activities for them and joining in with movement and song might be just as exciting to them as watching performers. We love seeing our audience, but it's completely up to you whether you leave your camera on or off during the show.
Processing the world around us
We want to take audiences on a sensory journey with our work, encouraging them to touch, hear, see, smell and perhaps even taste during our shows. An audience member described Akin's last show, Nest, which took place in a custom-built tent full of smells and light and tactile props, as, 'a beautiful mash-up between a baby sensory class and a piece of theatre.' We are fascinated by the way that young children use the senses to process the world around them, and by the way that sensory engagement can calm adults, bringing them into the moment and reminding them of the wonder of ordinary objects. There's a lot of research that indicates that sensory play has a huge role in child development, with effects on everything from fine motor control, to vision and social skills.
Making an online show presented an interesting challenge in terms of engaging the senses. In a theatre space, we could pass you things to touch and smell, whereas with this show, we'll be inviting you to explore objects in your own homes. We hope that audiences will bring the suggested objects to the show and/or after the event, find interesting ways to play that are inspired by the show. Sensory play isn't just about props. The sound of a voice, in whisper or sound, the feeling of moving your own body, blowing to create a gentle breeze or touching another person's hand can be magical sensory experiences too.
Beyond the show
Here are some activities to try at home before or after you come to the show.
Den making
Theatre is all about stepping into a magical space that's a little different to the places we go to each day. Theatres are often dark and a bit cosy. It can feel like a space to share secrets and tell enchanting stories. Dens can also feel like this! Have a go at building a den, using sheets or blankets, and draping them over bigger pieces of furniture, like tables, sofas and chairs. Pegs can be helpful for keeping things in place. You can make the floor nice and comfy with cushions if you like. And for some extra magic, why not add one of the 'special effects' we use in We Cover the Universe. You can shine a torch or phone-light through a colander and make stars. If you lie on your back and shine stars on the ceiling of your den, you might feel like you're camping under a glittering night sky, or wondering at the universe in your very own DIY planetarium.
Bath pond
Explore light in a bathtub or large container of water. Grown-ups will lead this activity. Carefully shine a beam of light onto the water (we recommend using a cheap torch rather than a phone, or holding your phone very, very carefully!) This will be most vivid in a fairly dark room. The light can be made to move like a fish, slowly or in quick darts. Children can track the fish, following its path with their finger. You can also explore what happens to the light if you make splashes and waves in the water. For an extra magical pond, you can also try dropping in glow sticks (most glow sticks are water-safe, but do check!)
About Akin
We are Akin. We make theatre which leads audiences into bold, enveloping, sensory worlds, guided by poetry.
Our first show, Nest, is a stunning multi-sensory performance work for babies and their parents and carers. It has toured throughout the UK, with over 100 performances to date at venues including Southbank Centre, Brighton Dome and more, and it had its US premiere in 2019 at New York's Lincoln Center.
Our work for young audiences is directly informed by our experiences as early years practitioners and by extensive research into child development. It's equally informed by our belief that family work can have meaningful, exciting content for adults.
Akin's founders Rachel Lincoln and Anna Beecher have been making theatre together for fifteen years. Rachel Lincoln is a director and theatre-maker who trained at The Lecoq School and on the National Theatre Directors' Course. She's interested in movement, tactility and play, and makes Akin's work boldly visual and as enveloping as an art installation. Anna Beecher is a novelist, poet and theatre-maker. Her texts thread through our shows like music. Language operates on two levels in our work. It's sonically playful for young children and emotionally rich for adults.
Above all our work is joyful. We want you to feel better when you leave an Akin show than when you went in. Our shows offer audiences magical, relaxed and relaxing spaces in which to share time with people they love.
Farnham Maltings supports, collaborates with and invests in theatre-makers, producers and programmers to make the best work that reaches regional, national and international audiences. We are committed to developing new theatre and audiences because we believe that by encouraging people to participate in the arts, as audiences and makers, we will foster a healthier, happier and safer contemporary Britain.
Akin are produced artists at Farnham Maltings along with Bert & Nasi, Bucket Club, Little Bulb Theatre and Victoria Melody. farnhammaltings.com
We Cover the Universe is supported by Arts Council England
Programme acknowledgements: thanks to Anna Beecher and Akin.