Following The Breath Panel Discussion
This is a free and ticketed event.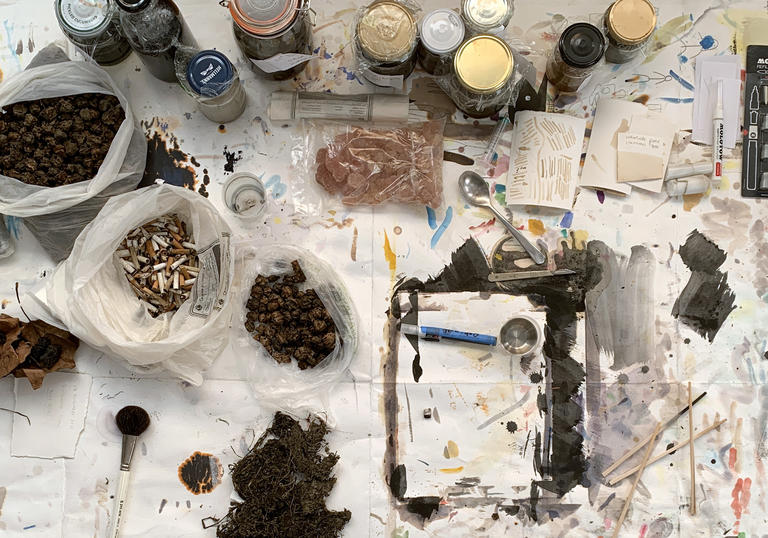 Join Sam Winston and panellists in the Conservatory as they discuss climate science, air quality, and embodied creative practice.
Join us for a panel discussion with practitioners from the world of sciences and the arts, where we'll be exploring how, in an age of information overload, mindful creative practice can foster in us a different type of knowledge.
Panel speakers are artist, Sam Winston, air pollution expert and scientist, Professor Stefan Reis and digital health and wellbeing specialist, Rohan Gunatillake. The discussion will be chaired by the Lead for Barbican Futures, Rebecca Gould.
This project is commissioned by Creative Learning; supported by Wellcome. 
Following the Breath was conceived by Sam Winston, and commissioned by Creative Learning. Supported by Wellcome.
Join us inside the Conservatory with artist Sam Winston who uses drawing and breathing to explore the relationship between air quality, environmental issues and mindful creative practice.
Rebecca Gould is a Theatre Director and Creative Producer. Since 2016 she's been Head of Arts for British Council Wales and is currently on secondment to the Barbican Centre, leading on Barbican Futures. Previously she held positions at the RSC, Soho Theatre, National Theatre, London and Theatre Royal Plymouth. She co-authored the Methuen Teacher's Toolkit for Shakespeare and is currently writing for Routledge's new publication Science and Performance on her work with playwrights and research scientists across India. Rebecca co-founded and co-ran the international Theatrescience project for 15 years. She is on the board of Gentle Radical, Dirty Protest Theatre and Wales Arts Review. 
 
Rohan Gunatillake is head of service design at NHS 24, the part of NHS Scotland that delivers 111 and NHS inform. Alongside that, he runs Mindfulness Everywhere, where he was the creator of Kara, Sleepfulness, Designing Mindfulness and the best-selling hit app buddhify. Rohan is the author of Modern Mindfulness, is based in Glasgow, and was named by Wired magazine in their Smart List of 50 people who will change the world. When not doing the above, he also runs Meditative Story, a surprisingly good podcast.
 
Sam Winston is an artist whose practice is concerned with language. Initially known for his typography and artist's books he employs a variety of different approaches including drawing, performance, and poetry.
Operating at the intersections of where visual culture and literature meet he has exhibited his work in museums and galleries around the world. Projects involving drawings, and installations have taken place at institutes such as The Victoria and Albert Museum, The Courtauld Institute of Art, and The Whitechapel Gallery. Tate Britain, the British Library, the Library of Congress in Washington, among others, hold his artist's books in their permanent collections.  
His first mass-market book in collaboration with Oliver Jeffers won the Bologna Ragazzi Award for fiction, debuted at no.5 on the New York Times Bestseller List, and has been translated into 20 languages. 
 
Stefan Reis heads the science area Atmospheric Chemistry and Effects at the UK Centre for Ecology & Hydrology, focusing on improving the understanding and quantifying the interactions between the biosphere and the atmosphere based on measurements, experiments and modelling of greenhouse gases, reactive air pollutants, water and energy. Stefan's own research interests are the integrated modelling and assessment of impacts of air pollution and climate change on human health and ecosystems. This includes approaches for improving the integration of models and environmental sensors, as well as the development and application of conceptual models to link and integrate human and ecosystem health impact assessment.
Booking Information
This event will last approximately 1.5 hours. You can access this panel discussion either in person or online. BSL, captioning and notetaking are in place; please indicate any access needs when you book. 
If you are attending in person, your ticket includes an invite to a Private View of the Following the Breath installation in the Conservatory, followed by the panel discussion, which will take place in the Barbican's Auditorium 1.
Private View of Following the Breath installation starts at 5pm
Panel Discussion start at 6:30pm
With Thanks To...