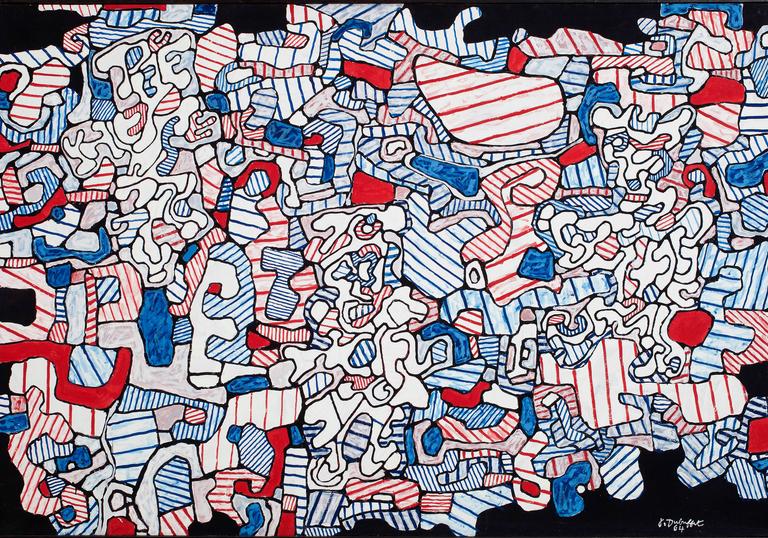 Course information
Who is the course for?
Anyone aged 18 and over, with a passion for art. Those who want to find out more about the French artist Jean Dubuffet, as well as learning about the artistic notions and philosophical concepts that shaped the postwar period, and are still effective today. No previous knowledge of art history is required. 
What can I expect?
The course will cover a period from 1942 to 1985 and will relate the work of Jean Dubuffet to important artistic movements of the period, including (but not limited to), American Abstract Expressionism, CoBrA, Art Informel, Art Brut and Street Art. The course will be organised around the following  themes stemming from the close study of Jean Dubuffet's work:
•    From Prehistory to History (1901–1942)
•    Matter and Memory (1942–45)
•    Art Brut (1945–48)
•    Rehabilitation of the Mud (1946–50)
•    Art Informel or 'formless' art? (1950–59)
•    Melting City, Parallel worlds (1961–1975)
•    Naming the unnameable (1975–85)
You can expect: 
•    An overview of Jean Dubuffet's career
•    An introduction to major Post-war artistic movements
•    To revisit historical events and contexts: Paris 1940s, New York 1950s and 1960s, the postwar boom in France. 
•    An understanding of the relationship between visual arts and works of literature and philosophy (how they continuously influence one another)
•    Comparative studies of paintings (how and why techniques and styles can travel between works produced in different context)
Eligibility
•    For everyone aged 18+
•    Applicants must have sufficient English language skills to cope with course demands.
About the Course Tutor
This course has been developed and will be led by Camille Houzé. 
Camille Houzé is a curator and art historian based in London, where he has been leading the research for Jean Dubuffet: Brutal Beauty at Barbican Art Gallery. He was previously Associate Curator at Kunstraum, London, and has been co-directing the London gallery Nicoletti Contemporary since 2018. He is the author of 'The Swallow and the Dagger', a study of Jean Dubuffet's late paintings that will be published in the exhibition catalogue Jean Dubuffet: Brutal Beauty, in which he also wrote an extensive chronology on the artist. Houzé has an MA in Art History from the Courtauld Institute of Art, London, completed under the supervision of Professor Sarah Wilson.
Online Short Courses Requirements
All sessions will take place online using Zoom. A Zoom link will be sent to you in advance of the course start date with further instructions.
To participate in online classes you will need the following:
•    An email address
•    A reliable internet connection
•    A laptop/tablet/desktop computer with a microphone and camera (most have these included)
•    Speakers/headphones (the speakers in your laptop/tablet/computer should be sufficient)
•    A fully updated web browser able to use the most up to date version of Zoom, or a fully updated Zoom client
If you have any questions regarding joining one of our online courses please contact the Guildhall.