Too Young For What? Celebrate the creativity of Basquiat on Saturday 7 October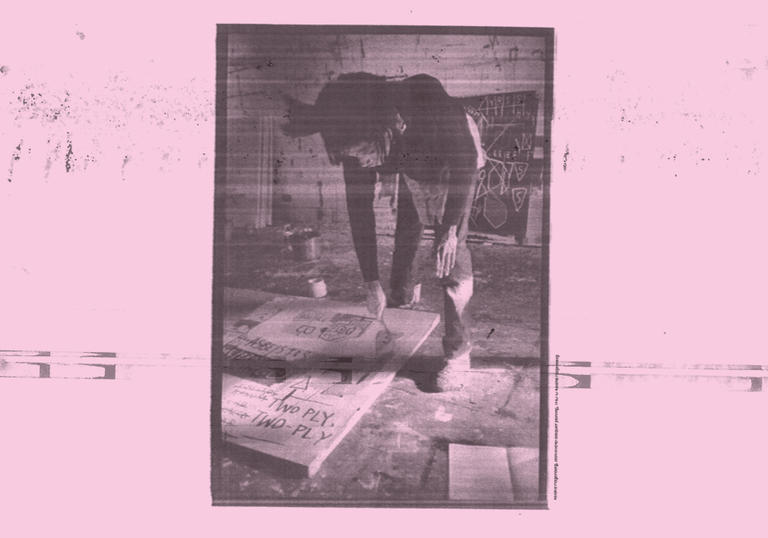 Too Young For What?
Celebrate the creativity of Jean-Michel Basquiat
Saturday 7 October 2017
Barbican Centre
Free admission
#TOOYOUNGFORWHAT
Too Young For What? is a free day of art and activities - an explosion of creativity across the Barbican Centre - stretching from the lo-fi to the high-tech, inspired by Barbican Art Gallery exhibition Basquiat: Boom For Real (21 Sep 2017 — 28 Jan 2018), the first large-scale exhibition in the UK of the work of American artist Jean-Michel Basquiat (1960­1988). Visitors can explore different forms of contemporary creation including poetry, zine-making, glitch art, performance and film. The day includes insightful talks and newly commissioned responses to Basquiat's work by cutting edge artists, art hacks, workshops, debates and installations – all driven by Barbican Guildhall Creative Learning's work with young artists and collectives from east London.
Basquiat came of age in the late 1970s in the post-punk underground art scene in downtown New York. Alongside his acclaimed paintings he collaborated with other artists, most famously Andy Warhol, created murals and installations for notorious New York nightclubs including the Mudd Club, Area and Palladium, and in 1983 produced Beat Bop, a classic hip hop record with K-Rob and Rammellzee. Basquiat's legacy continues to inspire new generations to reinvent and redefine creative expression, cross artistic boundaries and defy art-world conventions. Finding success while still in his teens, Basquiat was seventeen when one curator told him that he was still 'too young'. His response: 'Too young for what?''
The day includes a free screening of Downtown '81, starring Basquiat, and free entry to John Akomfrah's installation Purple in the Curve. Visitors aged from 14 to 25 can sign up to the free Young Barbican membership scheme to pre-book entry to Basquiat: Boom for Real for just £5. In the evening, Young Barbican members can book discounted £10 tickets to catch legends of downtown New York's 1980s scene Kid Creole & the Coconuts and Arto Lindsay.
Too Young For What? is organised by Barbican Guildhall Creative Learning, which supports people of all ages and backgrounds to access and engage with world-class arts.
Jenny Mollica, Head of Barbican Guildhall Creative Learning said:
"Basquiat's legacy continues in the energetic pace of creation and collaboration amongst young people today. Barbican Guildhall Creative Learning is proud to provide a platform for some of the UK's most dynamic artists to draw upon his enduring influence. Too Young For What builds on our long term commitment to help young people find their creative voice and access the best arts events, cultivate their creativity and gain new skills"
SAMO© Stage
Co-curated with Poet in the City, the SAMO© Stage hosts artists creating specially commissioned pieces and hosting talks. Glitch artist Antonio Roberts will continuously create and curate a collaged response to the day's activities. Roberts will collaborate with participants to create a digital and analogue collage that provides a backdrop to the stage and morphs and grows throughout the day.
Poet Jacob Sam-La Rose and performance maker Paula Varjack will perform newly commissioned work inspired by Boom for Real alongside a sharing of 'poetic minutes' inspired by the conversations of the day
The SAMO© Stage will conclude with a sharing of new work created in a two-day 'art hack' by Barbican Guildhall's Young Creatives, supported by artist mentors Rachel Long, Chiel Busscher, Jordan McKenzie and culture sector champion Mar Dixon.
Make a Scene Room
'Make a Scene' invites visitors to take part in workshops, collaborative debates and interactive installations inspired by the SAMO© Stage Visitors are invited to participate and contribute to the discussions.
Take part in a drop-in zine making workshop and contribute pages to an ever-changing zine documenting the events within Too Young For What?
Step into a downtown scene inspired photo studio and become a part of a giant collage art project hosted by Slashstroke Magazine.
Roundtable discussions hosted by Jacob Sam-La Rose and Poet in the City.
Barbican Foyers
Polaroid artist and author of Polaroid: The Missing Manual, Rhiannon Adam will create a growing Polaroid installation; capturing the day and deconstructing Polaroid film as material culture.
Barbican Young Programmers work with Tim Lawrence, author of Life and Death on the New York Dancefloor, to curate a programme of short films evocative of the fertile, renegade spirit of New York culture in the late 70s and early 80s.
Young Creatives Cross Arts Hack
In association with Too Young For What? , Barbican Guildhall Creative Learning are running an 'Art Hack' event for current and past members of our Young Creatives programmes, inviting them to come together to create new cross-arts work in response to Basquiat's life and work.
A multidisciplinary group of young artists, poets, musicians, curators, filmmakers and photographers will be supported by poet Rachel Long, artist Jordan McKenzie, composer Chiel Busscher and young people's advocate Mar Dixon to create new interactive work which will be rapidly developed and shared on the SAMO© Stage.
Downtown 81 (15), Cinema 1
A special screening of Downtown 81, in which a young Jean-Michel Basquiat stars as the well-known artist he has yet to become. Followed by a panel discussion with Producer Maripol and author Tim Lawrence.
Kid Creole and the Coconuts and Arto Lindsay + Justin Strauss (ticketed)
An evening of music drawn from New York's Downtown scene of the 1980s featuring Kid Creole and the Coconuts and Arto Lindsay, with tickets available for £10 for Young Barbican members. Both acts captured the frenzied creativity that defined the scene, with Kid Creole and the Coconuts blending calypso, funk, disco and much more, and No Wave legend Arto Lindsay shifting from noise to tropicalia-indebted balladeering, embracing everything in between.
ENDS
Notes to Editors
Press Information
For further information, images or to arrange interviews, please contact:
Sagar Shah, Communications Officer / sagar.shah@barbican.org.uk/ 0207 382 7321
Barbican Art Gallery, London, UK
21 September 2017 — 28 January 2018
Media View: Wednesday 20 September, 10am – 1pm
#BoomForReal @barbicancentre
The exhibition is sponsored by NET-A-PORTER, tp bennett and PHILLIPS
Basquiat: Boom for Real is the first large-scale exhibition in the UK of the work of American artist Jean-Michel Basquiat (1960­—1988). One of the most significant painters of the 20th century, Basquiat came of age in the post-punk underground art scene in Lower Manhattan in the late 1970s. By 1982, he had gained international recognition and was the youngest ever artist to participate in Documenta in Kassel. Basquiat's vibrant, raw imagery springs from an impressive erudition, seen in the fragments of bold capitalised text that abound in his works — offering insights into both his encyclopaedic interests and his experience as a young artist with no formal training. Since his death in 1988, Basquiat has had remarkably little exposure in the UK – where there is not a single work in a public collection. Drawing from international museums and private collections, Basquiat: Boom for Real brings together an outstanding selection of more than 100 works, many never before seen in Britain, and opens at Barbican Art Gallery on 21 September 2017.
More than any other exhibition to date, Basquiat: Boom for Real focuses on the artist's relationship to music, text, film and television, placing it within the wider cultural context of the time. Paintings, drawings and notebooks are presented alongside rare film, photography, music and ephemera in a design that aims to capture the dynamism of Basquiat's practice. These exhibits are brought together for the first time in 35 years, allowing visitors to understand how Basquiat so quickly won the admiration of his fellow artists and critics.
www.barbican.org.uk/BasquiatNews
John Akomfrah: Purple
The Curve, Barbican Centre
Friday 6 October 2017 – Sunday 7 January 2018
Media view: Thursday 5 October, 10am –1pm
Free Admission
Barbican Art Gallery has commissioned experimental filmmaker John Akomfrah to create a new work for the Curve. Akomfrah's films are characterised by their investigations into subjects such as memory, identity, post-colonialism and often explore the experience of the African diaspora in Europe and the United States.
A founding member of the influential Black Audio Film Collective (1982), his first film Handsworth Songs(1986) focussed on the riots in Birmingham and London through a charged combination of archive footage, documentary photographs and newsreel. Akomfrah's standout work at last year's Venice 56th Biennale was his paen to the ocean, Vertigo Sea (2015).
A three-channel video installation comprising of thousands of hours of archival footage, spliced with new material and a hypnotic sound score, V ertigo Seafocused on a range of histories from whaling, deep sea excavation to migration. Born in 1957, Accra, Ghana, Akomfrah lives and works in London.
For information and images please visit: http://www.barbican.org.uk/JohnAkomfrahNews
About the Barbican
A world-class arts and learning organisation, the Barbican pushes the boundaries of all major art forms including dance, film, music, theatre and visual arts. Its creative learning programme further underpins everything it does. Over 1.1 million people attend events annually, hundreds of artists and performers are featured, and more than 300 staff work onsite. The architecturally renowned centre opened in 1982 and comprises the Barbican Hall, the Barbican Theatre, The Pit, Cinemas One, Two and Three, Barbican Art Gallery, a second gallery The Curve, foyers and public spaces, a library, Lakeside Terrace, a glasshouse conservatory, conference facilities and three restaurants. The City of London Corporation is the founder and principal funder of
Sagar Shah, Communications Officer: 0207 382 7321, sagar.shah@barbican.org.uk