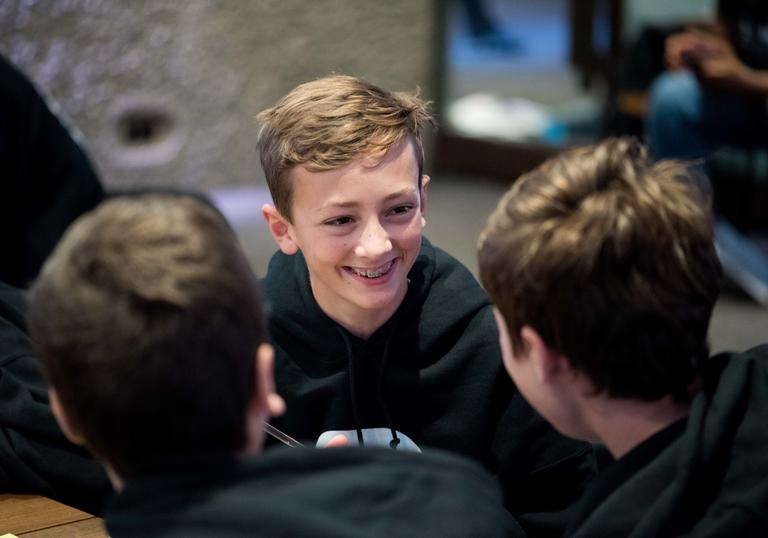 About
We will select 15 young people to be part of the new Youth Panel cohort. 
Members of the Barbican Youth Panel will meet once a month for a year to share their views on the arts programming and ethos of the organisation, working with departments ranging from Music and Theatre, to Marketing and Human Resources.
They will have the opportunity to get involved with the development of the Young Barbican programme, as well as gaining experience of teamwork, project management and leadership. There will be mentoring opportunities available, free tickets to some Barbican events, and travel expenses within London will be provided. 
The role of a Barbican Youth Panel member is to:
Be youth advisors to the Barbican Centre.
Support our vision of 'arts without boundaries' to help open up the Barbican to even more young people.
Give your views on our arts programming and the ethos of the organisation.
Liaise with decision-makers within the Barbican.
Work with different Barbican departments ranging from our art form teams (music, theatre and dance, visual art, film) to marketing, human resources and audience experience to help shape how the Barbican's future.
Represent the Barbican Youth Panel at events.
Commit to a minimum of one year as a Youth Panel member.
How to Apply
This year's Barbican Youth Panel is open to 14 - 18 year olds. 
We welcome applications from a range of young people from all over London, with lots of, or very little experience of the Barbican - to ensure a variety of young voices around the table. We are looking for passion over experience. All we ask for is your commitment to the Youth Panel for a minimum of a year.
Fill out the application form here. 
Complete the online application form before 5pm, Monday 5 November 2018.
Please note you also have the option of applying through a video or voice recording of your answers. Please read through the form for more information on how to complete the application. 
If you are having issues with your application please call the Creative Learning department on 020 7382 2333 or email Creative.Learning@barbican.org.uk. There will also be a Open Day on Tuesday 23 October for interested candidates to find out more about the Barbican and get some advice on the application process. 
Open Day
23 October 2018, 11am - 4pm: Open Day
Interested candidates will have the opportunity to come along to the Barbican for the day for a short tour and a chance to find out more about the Barbican and the role of the Youth Panel. There will be fun activities on the day and a drop-in workshop for those that would like some advice on the application process.
A welcome session and tour around the Barbican commences at 11am. Food and drink will be provided on the day.  
Key Dates
5 November 2018, 5pm: Application Deadline
 
12 November 2018: Applicants Shortlisted
Successful applicants will be contacted. If you haven't heard from us by this day your application has been unsuccessful. 
Join Young Barbican
Be there when it happens with discounted access to unmissable art and entertainment as well as events and creative opportunities for 14-25 year olds