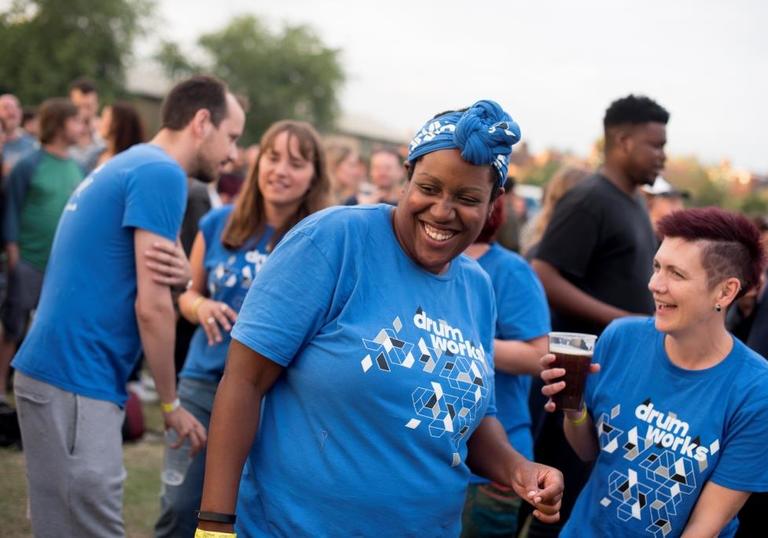 The Ideas Kitchen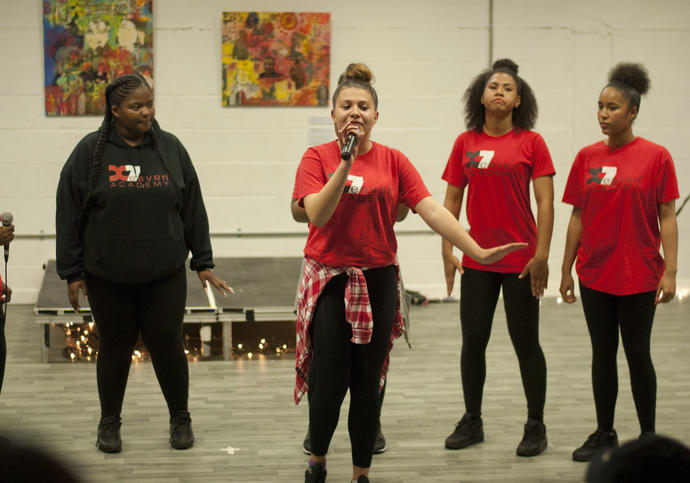 The Ideas Kitchen
The Ideas Kitchen is where great ideas become great projects in your community. It's where local people pitch ideas to their neighbours who vote for the project they'd like to see realised. 
If you have a creative idea that will benefit your community, and you live, work or study in the borough of Waltham Forest, you can submit an idea to the Community Board made up of The Barbican, Bebop Baby, Gnome House, The Mill and x7eaven. The board selects four ideas to be shared at a community dinner held locally in the borough.
The next community dinner will be held on the 30 November. 
Find out more
Creative Citizens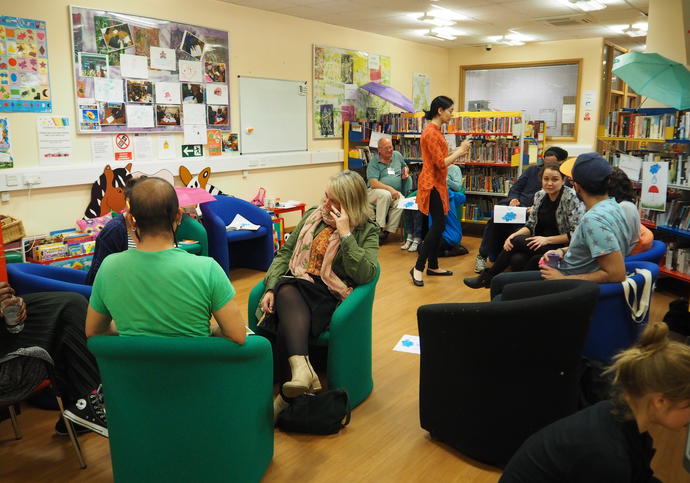 Creative Citizens with the Barbican and the London Borough of Waltham Forest
 The Creative Citizens programme launched in January 2018. The programme is produced by Beyond Barbican in partnership with the London Borough of Waltham Forest thanks to a grant from the Heritage Lottery Fund and Arts Council England through the Great Place Scheme.
The Creative Citizen Fellowship builds on the Barbican and LBWF's pioneering partnership model between a leading international arts centre, a local authority and a local community. It is developed in conjunction with the jointly produced Walthamstow Garden Party and takes inspiration from both the Walthamstow Garden Party programme and the ideas and writings of its celebrated host, the late textile designer William Morris.
Find Out More
Ambassadors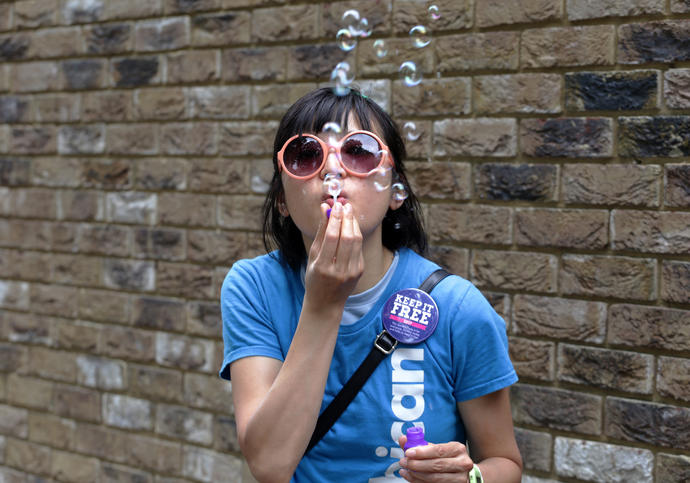 Become an ambassador and represent the Barbican in your community
Our Ambassadors are incredible people, aged 16+ who are actively engaged with their community and want to bring more opportunities to the people in it. 
By becoming a Barbican Ambassador you will promote the Barbican and the work we develop in east London to diverse community groups, children's centres, schools, public libraries and community organisations – especially those who haven't heard of the Barbican before.
The Ambassadors work together to identify potential community partnerships and encourage local engagement with the Barbican, to ensure that everyone can have access to a world class art and learning offer.
We are not currently recruiting Ambassadors but sign up to our Creative Learning newsletter and get information our programmes and opportunities. 
'The Barbican injected some energy and helped us to see the light at the end of the tunnel. They have a real passion for their local communities and I feel like we've made connections for life''
Sam Francis, board member of the Ideas Kitchen
Future Band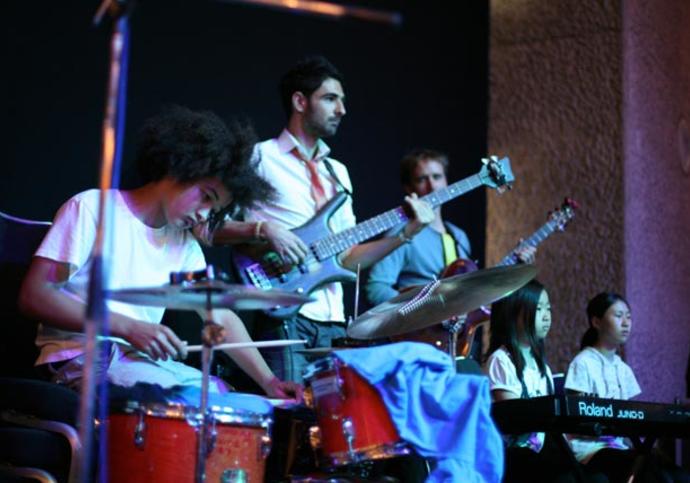 Young people and adults to come together and explore music making
Future Band is a creative ensemble made up of 20–30 young musicians aged 8–14 from across London, led by Guildhall MMus Leadership graduates Natasha Zielazinski and Detta Danford. 
During holiday time the band comes together for 3 or 4 day projects to explore music making; to think, compose, interpret and play. The musical identity of the group reflects the personality and creative voice of every band member, as well as taking inspiration from musicians and artists from all over the globe. Over the past 5 years Future Band have performed at Barbican and beyond, including the Vortex Jazz Club in Dalston, Union Chapel, Walthamstow Garden Party and the Olympic Park.
To find out more about the project, and be in the band, email creative.learning@barbican.org.uk
Discover future band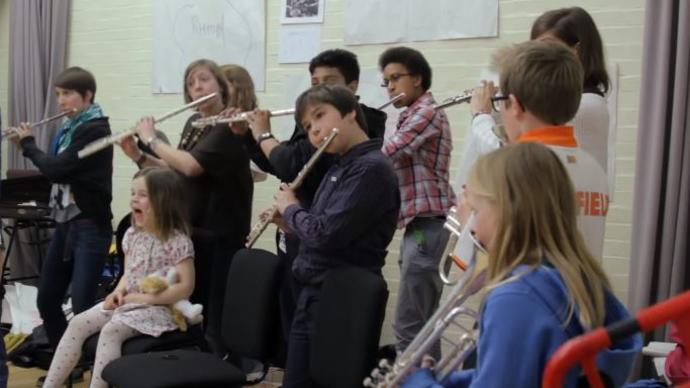 Watch: Future Band
Future Band is a creating, composing ensemble made up of young artists from across London.
'[the Barbican] allows our clients to focus on constructive areas of their lives and taking part in this project enables us to build lasting and meaningful relationships with our clients'
Project Manager, St. Mungo's
The Messengers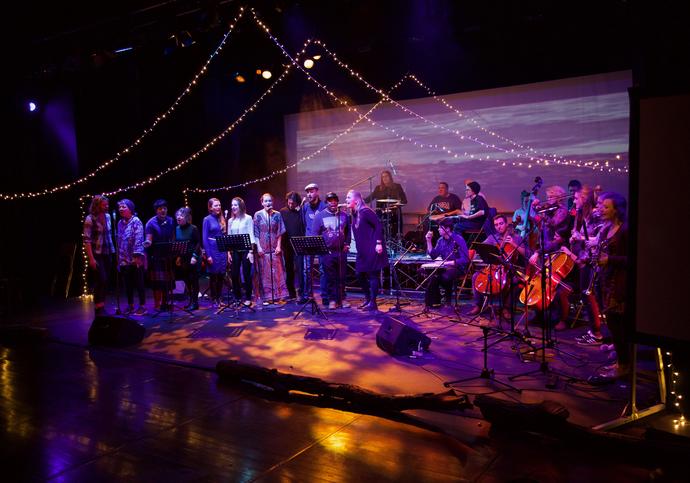 The Messengers
The Messengers is a band comprised of Masters students at the Guildhall School of Music and Drama and people who seek support from St Mungo's Homeless Charity. It is a unique collaborative project between people from very different backgrounds brought together by their love of making music. The band is led by Sigrun Sævarsdóttir-Griffiths, Guy Wood and Ashton Mills and in four years has grown from playing in small community halls to the main stage at Field Day and Walthamstow Garden Party. Recently the group has worked with legendary outsider musician Doug Hream Blunt and is currently recording an album with David Byrne's Luaka Bop Label.
Meet The Messengers
Drum Club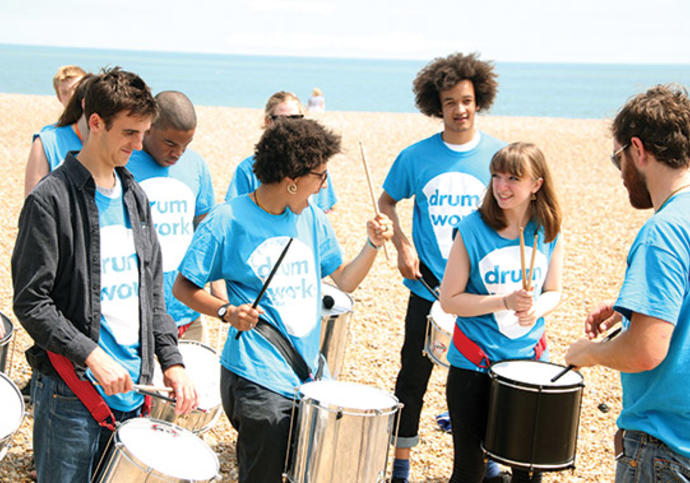 Play Drum Works beats and learn drumming technique at Tuesday evening Drum Club sessions.
Whether you're an experienced musician or a complete beginner, Drum Club is an opportunity to learn new skills and make some music in a friendly, supportive environment.
Led by leaders and tutors from Barbican artistic associate Drum Works, weekly sessions include working on drumming technique, learning some of the project's core rhythms and writing new material. The band perform at their own events and join in with the school ensembles for our en-masse performances at summer festivals.
Drum Club meets at the Barbican on Tuesday evenings, 6.30–8.15pm, and is open to anyone over 18 regardless of musical experience.
Find out more