Sidi Larbi Cherkaoui directs Japanesese-language play based on manga comics by Osamu Tezuka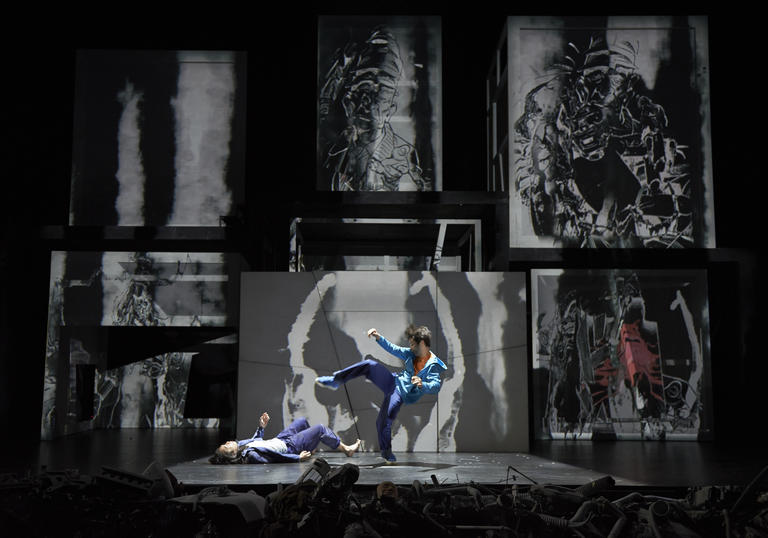 Sidi Larbi Cherkaoui/Bunkamura Theatre Cocoon
Pluto
Barbican Theatre, Barbican Centre, Silk Street, London, EC2Y 8DS
Thursday 8–Sunday 11 February 2018, Barbican Theatre
Press night: Thursday 8 February 2018, 7.15pm
Please click here to request press tickets
The Barbican presents the UK premiere of Sidi Larbi Cherkaoui and Bunkamura Theatre Cocoon's Pluto. The pioneering Belgian choreographer directs a genre-defying play honouring the Japanese art form of manga. Sensational visual effects, impactful storytelling and performances of physical grace illuminate this iconic Astro Boy tale by the father of manga, Osamu Tezuka.
Created in the 1950s, the Astro Boy series starred Atom, a humanoid robot. He and other characters from The Greatest Robot on Earth storyline feature in Pluto – originally serialised in 2003 by Naoki Urasawa and Takashi Nagasaki and now the basis for this first full-length theatre production.
Depicting a universe where people and robots both coexist and find themselves in conflict, Pluto investigates what humanity can learn from automatons. Starring skilled Japanese actors known for their versatility, including Mirai Moriyama, alongside dancers and elaborate puppet creations, the staging is characterised by an energy and scale faithful to the original comic book.
Pluto is performed in Japanese with English surtitles.
The cast is Mirai Moriyama, Tao Tsuchiya, Shunsuke Daito, Kazutoyo Yoshimi, Mitsuru Fukikoshi, Akira Emoto.
The dancers are Kazutomi 'Tsuki' Kozuki, Shintaro Oue, Masaru Ikejima, Daisuke Omiya, Nobuhiro Shibuya, Ayumi, Ema Yuasa, Jun Morii, Ryoji Sasamoto.
Pluto is Cherkaoui's second work based on the manga of Osamu Tezuka. The first, a dance piece entitled TeZuKa, premiered at Sadler's Wells in 2011, and was inspired by the philosophy, drawings and characters of the manga artist and animator.
Sidi Larbi Cherkaoui is a multi-award winning dancer, choreographer and director. He has created over 50 choreographic works for dance, theatre and films. From 2004 to 2009, Cherkaoui was artist in residence at Toneelhuis in Antwerp. In 2008 he premiered Sutra, a collaboration with Antony Gormley, which won an Olivier Award for Best New Dance Production. The production is remounted at Sadler's Wells for its tenth anniversary in March 2018, where Cherkaoui is an Associate Artist. Cherkaoui has collaborated with a host of choreographers, visual artists and directors including Akram Khan (zero degrees 2005), Marina Abramović (Boléro, Paris Opera Ballet, 2013), Joe Wright (Anna Karenina, 2012 film and A Season in the Congo, 2014, Young Vic). In 2015 Cherkaoui was movement director for Lyndsey Turner's Hamlet starring Benedict Cumberbatch which played in the Barbican Theatre, and was broadcast to cinemas worldwide by NT Live. Cherkaoui is currently Artistic Director of the Royal ballet of Flanders.
ENDS
Press information
For further information please contact:
Freddie Todd Fordham, Communications Officer for Theatre and Dance, 020 7382 7399 or freddie.todd-fordham@barbican.org.uk
Public information
Box office: 0845 120 7511
www.barbican.org.uk/theatre
Listings information
Pluto
Sidi Larbi Cherkaoui/Bunkamura Theatre Cocoon
Japan/Belgium
Original Manga by Naoki Urasawa, Osamu Tezuka
Story Co-Authored by Takashi Nagasaki
Supervised by Macoto Tezka
With the cooperation of Tezuka Productions
In association with Shogakukan
Direction and Choreography by Sidi Larbi Cherkaoui
Set Design and Video by Taiki Ueda
Lighting by Willy Cessa
Music by Shogo Yoshii and Olga Wojciechowska
Sound by Masahiro Inoue
Costumes, Hair and Make-up by Isao Tsuge
Thu 8–Sun 11 Feb 2018 (5 performances)
Barbican Theatre
7.15pm; also 1.30pm on Sat 10 Feb; 3pm only on Sun 11 Feb 2018
Approximately 3 hours/including an interval
£16-35 plus booking fee
Age guidance: 14+
Press night: Thu 8 Feb 2018, 7.15pm
Presented by the Barbican
Produced by Bunkamura TBS
Supported by the Agency for Cultural Affairs, Government of Japan and Performing Arts Japan for Europe
#Pluto
Barbican newsroom
All Barbican Centre press releases, news announcements and the Communications team's contact details are listed on our website at www.barbican.org.uk/news/home
About the Barbican
A world-class arts and learning organisation, the Barbican pushes the boundaries of all major art forms including dance, film, music, theatre and visual arts. Its creative learning programme further underpins everything it does. Over 1.1 million people attend events annually, hundreds of artists and performers are featured, and more than 300 staff work onsite. The architecturally renowned centre opened in 1982 and comprises the Barbican Hall, the Barbican Theatre, The Pit, Cinemas One, Two and Three, Barbican Art Gallery, a second gallery The Curve, foyers and public spaces, a library, Lakeside Terrace, a glasshouse conservatory, conference facilities and three restaurants. The City of London Corporation is the founder and principal funder of the Barbican Centre.
The Barbican is home to Resident Orchestra, London Symphony Orchestra; Associate Orchestra, BBC Symphony Orchestra; Associate Ensembles the Academy of Ancient Music and Britten Sinfonia, Associate Producer Serious, and Artistic Partner Create. Our Artistic Associates include Boy Blue Entertainment, Cheek by Jowl, Deborah Warner, Drum Works and Michael Clark Company. International Associates are Royal Concertgebouw Orchestra of Amsterdam, New York Philharmonic, Los Angeles Philharmonic, Gewandhaus Orchestra Leipzig and Jazz at Lincoln Center.
Find us on Facebook | Twitter | Instagram | YouTube | Spotify