Press room
Viviana Durante Company stages Isadora Now at the Barbican, paying tribute to the American dancer and feminist icon Isadora Duncan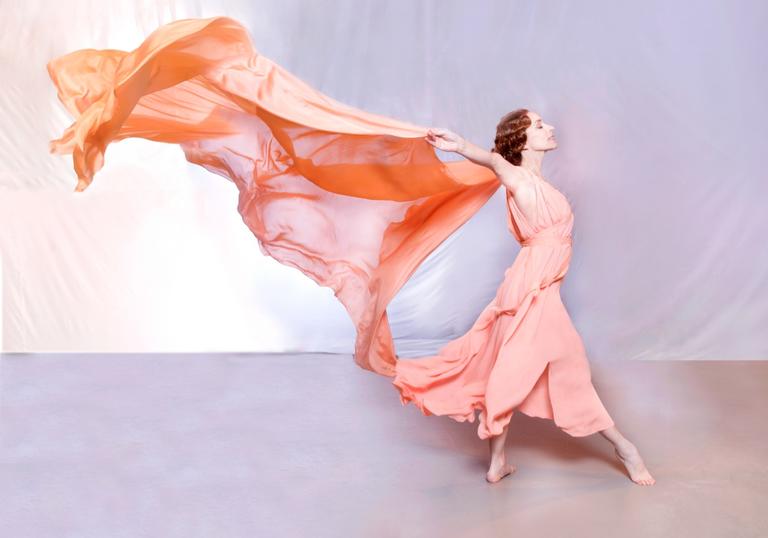 Viviana Durante Company stages Isadora Now at the Barbican, paying tribute to the American dancer and feminist icon Isadora Duncan
Part of Inside Out, a year exploring the relationship between our inner lives and creativity, Viviana Durante Company brings the world premiere of Isadora Now to the Barbican Theatre in February 2020. An evening of performance paying tribute to the American dancer Isadora Duncan, a timeless feminist icon who made work that enabled women to express themselves physically on their own terms.
To open, a rare opportunity to see Duncan's own choreography. Dance of the Furies was created in 1911 and exemplifies daring, courage and ambition - qualities that were widely disapproved of in female dancers at the time. Next the evocative Five Brahms Waltzes in the Manner of Isadora Duncan (1975) by Frederick Ashton, performed here by the legendary ballerina Viviana Durante in her first solo appearance for a decade. And to close, UNDA, a new group piece by choreographer Joy Alpuerto Ritter, co-commissioned by the Barbican, set to specially composed live music by Lih Qun Wong.  
With an all-female ensemble, Durante's show celebrates one of Duncan's biggest legacies – a freedom of movement and spirit that has inspired artists and thinkers everywhere – while introducing original dance profoundly influenced by that same revolution today.
The dancers are Begoña Cao, Viviana Durante, Nikita Goile, Sharia Johnson, Charmene Pang and Serena Zaccagnini.
Viviana Durante said: "When dance is becoming increasingly about athleticism, Isadora Duncan is a vital reminder that our art form lives or dies by its artistry and ability to communicate. I want to celebrate the freedom that Isadora brought to dance – and particularly to women dancers and choreographers, who continue to develop her legacy today."
Toni Racklin, Head of Theatre and Dance at the Barbican, said: "We're delighted to welcome Viviana Durante Company back to the Barbican. This time we see the company in the Theatre with an evening inspired by the great feminist icon Isadora Duncan which allows us to see choreographic work from across the generations – a rarely seen piece created by Duncan, a stunning solo by Sir Frederick Ashton performed by Durante herself, and an exciting contemporary response from the talented Joy Alpuerto Ritter."
Born in Rome, Viviana Durante trained at The Royal Ballet School from age 11 and joined The Royal Ballet at 17. Two years later she attracted national attention when she took over as Odette/Odile in midperformance, never having been taught the role. Promoted to Principal Dancer at 21, she danced all the major roles, winning equal acclaim in the classics and in dramatic ballets by MacMillan, creating roles in his Winter Dreams and The Judas Tree among many new works. She guested with leading companies worldwide and, after leaving The Royal Ballet in 2000, was a principal dancer with American Ballet Theatre, La Scala Milan and Japan's K-Ballet while also acting on stage and screen. She has received many international awards and has been named dancer of the year in four countries.
In 2017 she founded Viviana Durante Company to bring both neglected masterpieces and exceptional new work to the stage. The Company made its debut at the Barbican Pit in 2018 with Kenneth MacMillan: Steps Back in Time and the following year presented a Kurt Weill programme at Wilton's Music Hall, including a new work by Javier de Frutos that saw Viviana return to active performing. Viviana Durante was appointed Director of Dance at the English National Ballet School for the 2019/2020 academic year.
Joy Alpuerto Ritter was born in 1982 in Los Angeles. She moved to Germany when she was 4 and grew up in Freiburg im Breisgau where she took her first ballet classes at the Ballettstudio Krain. Since 2005 she has practiced different styles of hip hop, breakdance and voguing. Since 2012 she has been working and touring internationally with Wang Ramirez and the Akram Khan Company (iTMOi and Until the Lions). She was nominated as Outstanding Female Dancer (contemporary) at the UK National Dance Awards in 2017 for her performance in Until the Lions.
Notes to Editors
Inside Out is the Barbican's year-long programme exploring the relationship between our inner lives and creativity.
Throughout 2020, Inside Out will showcase the work of artists who have found pioneering ways to articulate their innermost thoughts, feelings and desires, and how this can help us to better understand ourselves and empathise with each other's experience of the world.
The programme will interrogate themes such as identity, self-expression and how we shape our private selves in a world in which we are more socially connected than ever. It will highlight courageous artists and individuals who have challenged society's definition of them, including those that have found ways to express themselves during times of censorship.
www.barbican.org.uk/inside-out
Listings information
Isadora Now
Viviana Durante Company
UK
Directed by Viviana Durante
Choreographed by Isadora Duncan, Frederick Ashton, Joy Alpuerto Ritter
Music by Johannes Brahms, Christoph Willibald Gluck, Lih Qun Wong
Set Design Fabiana Piccioli and by Marie Cantenys Studio, with the participation of Margaux Lalanne
Lighting by Fabiana Piccioli
Dancers are Begoña Cao, Viviana Durante, Nikita Goile, Sharia Johnson, Charmene Pang, Serena Zaccagnini
Musicians are Anna Geniushene and Lih Qun Wong
Fri 21–Sat 29 Feb 2020 (7 performances)
No performances on Sun 23 & Mon 24 Feb 2020
Barbican Theatre
7.45pm
1 hour 10 mins/including an interval
£16–50 plus booking fee (£3 off top four prices on Fri 21 and Sat 22 Feb 2020)
Age guidance: 8+
Open rehearsal for Members: Tue 11 Feb 2020, 6pm, The Pit
Press night: Tue 25 Feb 2020, 7.45pm
Post-show talk: Thu 27 Feb 2020 (free to same-day ticket holders)
Presented by the Barbican
New work by Joy Alpuerto Ritter co-commissioned by the Barbican
Dates: Friday 21–Saturday 29 February 2020
Press night: Tuesday 25 February 2020, 7.45pm
Venue: Barbican Theatre
Freddie Todd Fordham, Communications Officer for Theatre and Dance: +44 207 382 7399 or [email protected]