Press room
Rhiannon Faith's dance-theatre show shines light on domestic abuse & Barbican becomes J9 venue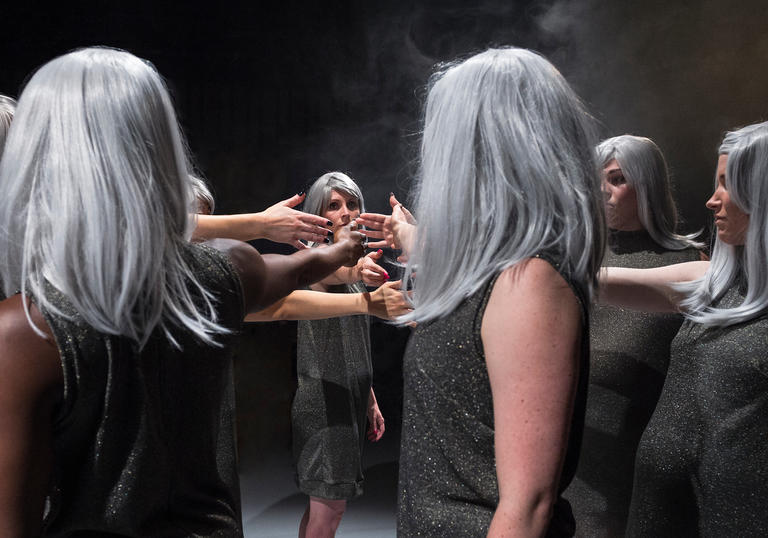 Rhiannon Faith
Smack That (a conversation)
The Pit, Barbican Centre, Silk Street, London, EC2Y 8DS
Tuesday 12–Saturday 16 June 2018, The Pit
Press night: Tuesday 12 June 2018, 7.45pm
Please click here to request press tickets
Endlessly inventive choreographer and theatre-maker Rhiannon Faith shines a light on the complex subject of domestic abuse in Smack That (a conversation), an empowering and participatory performance highlighting human resilience. Smack That (a conversation) is part of the Barbican's 2018 season, The Art of Change, which explores how artists respond to, reflect and can potentially effect change in the social and political landscape.
Beverly is having a party and the audience are her guests. There are games, drinks, shared conversation, energetic dance and heart-breaking moments as she bravely gives a raw and honest account of surviving an abusive relationship.
Each member of the all-female cast, a close-knit group of non-performers and dance artists, fearlessly takes on the persona of Beverly to convey turbulent, real experiences. The unusual setting creates a safe space for them to reveal the challenges they have faced and celebrate their endurance. Faith's work with a support group at charity Safer Places underpins this show, which seeks to raise social consciousness around domestic abuse by supporting women to talk about their experiences openly.
Smack That (a conversation) has been developed through the Barbican's Open Lab programme, which supports the development of emerging artists, giving practitioners the chance to experiment in a working theatrical space. Smack That (a conversation) will be published by Oberon in June 2018 and during the month of November 2018 Rhiannon Faith and Oberon will waive the rights for groups to perform the work and fundraise for women's groups, charities and refuges.
To coincide with the arrival of Smack That (a conversation) in London, the Barbican is becoming a J9 venue. This national initiative aims to provide safe and secure opportunities for people to disclose domestic abuse and access a full support system. J9 venues display pink J9 stickers in their windows, signalling to the public that it is safe to talk. Staff at each J9 contact point are trained to signpost, advise and spot the signs of domestic abuse. Each venue has a safe place where people can access information and use a phone to call for further help.
Rhiannon Faith said:
"'When making Smack That (a conversation) we felt very strongly about creating a legacy for the work. J9 is a campaign introduced to us by Safer Places that we are asking venues to get on board with.  We are making arts venues a safe space for victims of domestic abuse, by providing staff with free training to raise awareness and increase understanding of domestic abuse.
"We are absolutely thrilled that the Barbican has committed to become the first London arts venue to sign up to this campaign. The Barbican is setting an example to embrace training that will benefit their communities and make the biggest possible social impact.  We are delighted that the show will have brought about this significant change in the way we support and raise awareness for victims of domestic abuse.  That was always our aim and we are so glad that the Barbican has worked alongside us to achieve our artistic ambition."
Rhiannon Faith, recipient of the Smith-Artaud Award for excellence in Dance Theatre, is a socially conscious artist whose work is an agent for discourse and change. She makes form-defying autobiographical shows drawn from the communities and artists she works with. Her work uses dance and theatre to take the audience on a narrative-led journey, which is both challenging and accessible. Her collaborating partners have included a psychologist, a neuroscientist, a domestic abuse charity, and most recently a philosopher.
Based in Essex, and supported by Arts Council England, she is currently touring I Don't Care Bear to rural venues in the UK. Previous work includes The Date, which had its London premiere at BAC in 2015 and Scary Shit, which received 5 star reviews in a run at the 2016 Edinburgh Fringe Festival. Both subsequently toured extensively to critical and audience acclaim.
Rhiannon Faith has recently choreographed for Channel 4 Documentaries with Bryony Kimmings (Sex clinics residency) and VEVO live music events, and is the Movement Director for Springhead Film Company (winner of 'Coup de Coeur' at Cannes) for the 2015 film Soror. Commissions also include Secret Cinema's The Red Shoes, Grease, and Diva.
Notes to Editors
The Barbican's 2018 season The Art of Change explores how the arts respond to, reflect and potentially effect change in the social and political landscape. It presents bold artistic responses to vital global issues including feminism, climate change and human rights, while providing a platform for voices currently underrepresented in the arts. The season includes world-class music, theatre, dance, film, visual arts and learning and runs throughout 2018. barbican.org.uk/whats-on/series/the-art-of-change
ENDS
Press information
For further information please contact:
Angela Dias, Senior Communications Manager for Theatre and Dance, 020 7382 7168 or angela.dias@barbican.org.uk
Public information
Box office: 0845 120 7511
barbican.org.uk/theatre
barbican.org.uk/whats-on/series/the-art-of-change
Listings information
Smack That (a conversation)
Rhiannon Faith
UK
Choreographed by Rhiannon Faith
Produced by Maddy Morgan
Dramaturgy by Lou Cope
Design by Amelia Jane Hankin
Lighting by Azusa Ono
Tue 12–Sat 16 Jun 2018 (5 performances)
The Pit
7.45pm
1 hour 20 minutes/no interval
£18 plus booking fee
Age guidance: 16+
Press night: Tue 12 Jun 2018, 7.45pm
BSL-interpreted performance: Thu 14 Jun 2018, 7.45pm
Presented by the Barbican and developed through Barbican Guildhall Open Lab
Commissioned by Harlow Playhouse
Supported by Arts Council England, Essex County Council, DanceEast, Rich Mix and Arts Depot
Also supported by charity Safer Places, the leading care provider for domestic abuse victims in Essex and the City of London Corporation through their Inspiring London Through Culture fund
#SmackThatAConversation
Barbican newsroom
All Barbican Centre press releases, news announcements and the Communications team's contact details are listed on our website at www.barbican.org.uk/news/home
About the Barbican
A world-class arts and learning organisation, the Barbican pushes the boundaries of all major art forms including dance, film, music, theatre and visual arts. Its creative learning programme further underpins everything it does. Over 1.1 million people attend events annually, hundreds of artists and performers are featured, and more than 300 staff work onsite. The architecturally renowned centre opened in 1982 and comprises the Barbican Hall, the Barbican Theatre, The Pit, Cinemas One, Two and Three, Barbican Art Gallery, a second gallery The Curve, foyers and public spaces, a library, Lakeside Terrace, a glasshouse conservatory, conference facilities and three restaurants. The City of London Corporation is the founder and principal funder of the Barbican Centre.
The Barbican is home to Resident Orchestra, London Symphony Orchestra; Associate Orchestra, BBC Symphony Orchestra; Associate Ensembles the Academy of Ancient Music and Britten Sinfonia, Associate Producer Serious, and Artistic Partner Create. Our Artistic Associates include Boy Blue, Cheek by Jowl, Deborah Warner, Drum Works and Michael Clark Company. International Associates are Royal Concertgebouw Orchestra of Amsterdam, New York Philharmonic, Los Angeles Philharmonic, Gewandhaus Orchestra Leipzig and Jazz at Lincoln Center.
Find us on Facebook | Twitter | Instagram | YouTube | Spotify