Press room
Pit Party curated by and starring Inua Ellams, with a screening of cult-classic The Warriors plus poetry, hip-hop music and dance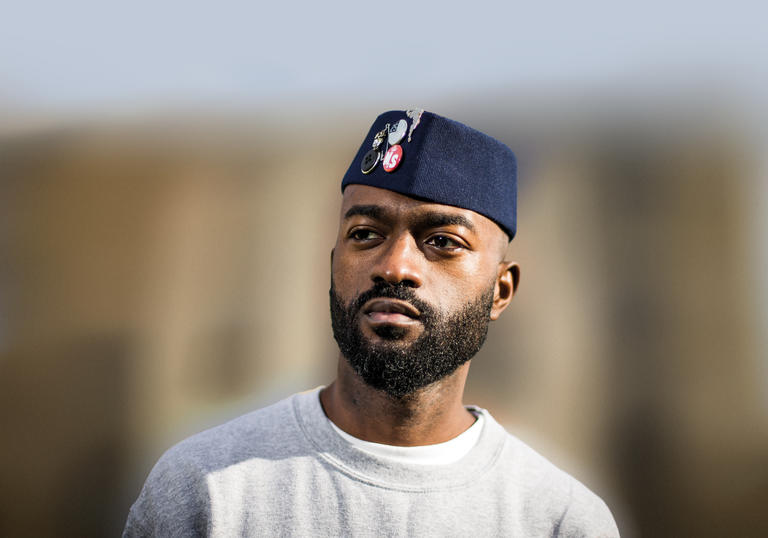 Prolific poet-playwright Inua Ellams hosts a double bill, combining hip-hop, dance, poetry and readings with the 1979 cult classic stylised action film, The Warriors, directed by Walter Hill, serving as cinematic backdrop.
After a screening of Hill's film, poets deliver lyrical meditations about tribes and territory, poverty and struggle. The poets contributing to this hack, a concept conceived by Ellams that looks at how watching films could change with the introduction of poetry readings are: Jay Bernard, Caroline Bird, Caleb Femi and Bohdan Piasecki.
In the evening, poetry and hip-hop music alternate in a rhythm and poetry party, which ruminates on the themes in Hill's film. Featuring a gathering of artists, including Barbican Open Lab alumni, this is a laidback evening of eloquent speeches, dance and movement merging with a DJ's selections. Poets are Polar Bear, Jeremiah Brown, Paul Cree, Inua Ellams, Theresa Lola, Tania Nwachukwu, Laurie Ogden, Sarah Perry, Bohdan Piasecki and Indigo Williams, with dance from Avant Garde Dance led by artistic director Tony Adigun.
Born in Nigeria, Inua Ellams is a poet, playwright, performer, graphic artist and designer. His most recent play, Barber Shop Chronicles received critical acclaim during its runs at West Yorkshire Playhouse and the National Theatre in 2017. Ellams created The Midnight Run, an arts-filled, night-time cultural journey through urban spaces that attempts to reconnect inner city lives with inner city spaces. Ellams' new play, The Half God of Rainfall, premieres in April 2019 as part of Kiln Theatre's inaugural season.
Ellams has been commissioned by the Royal Shakespeare Company, National Theatre, Tate Modern, Louis Vuitton, Chris Ofili, and the BBC. His poetry includes Thirteen Fairy Negro Tales and Candy Coated Unicorn and Converse All Stars and The Wire-Headed Heathen. Ellams has been recognised with a number of awards including The Live Canon International Poetry Prize, Edinburgh Fringe First Award, The Arts Council of England Award, a Wellcome Trust Award, Liberty Human Rights Award. Ellams was shortlisted for the Brunel Prize for African Poetry and longlisted for the Alfred Fagan Award.
Notes to Editors
Fluid in its format, the Barbican's Pit Parties invite a guest artist, producer or organisation to curate a programme of work by multiple artists that interest them, and offers time for audiences and artists to socially interact in a relaxed environment. The inaugural Pit Party took place in 2016, curated by nitroBEAT. Since then the Barbican has presented Pit Parties in collaboration with Touretteshero, Studio 3 Arts, and Transform Festival.
The Barbican's Open Lab programme supports the development of emerging and practicing artists, giving artists the chance to experiment in a working theatrical space without the expectation of a final product.
Press information
For further information please contact:
Freddie Todd Fordham, Communications Officer for Theatre and Dance, 020 7382 7399 or freddie.todd-fordham@barbican.org.uk
Listings information
Inua Ellams Pit Party
UK
Sun 18 Nov 2018
The Pit
Poetry + Film / Hack: 2.30pm–5pm (£10 plus booking fee)
Open Lab Rhythm and Poetry Party: 7pm–10.30pm (£15 plus booking fee)
Both performances for £20 plus booking fee
Age guidance: 15+
Presented by the Barbican
#InuaEllamsPitParty
Date: Sunday 18 November
Time: Poetry + Film / Hack: 2.30pm–5pm; Open Lab Rhythm and Poetry Party: 7.30pm–10.30pm
Venue: The Pit, Barbican Centre
Freddie Todd Fordham, Communications Officer for Theatre and Dance: freddie.todd-fordham@barbican.org.uk or 020 7382 7399