Press room
Milton Court showcases artistic partnership between Barbican and Guildhall School in 2019/20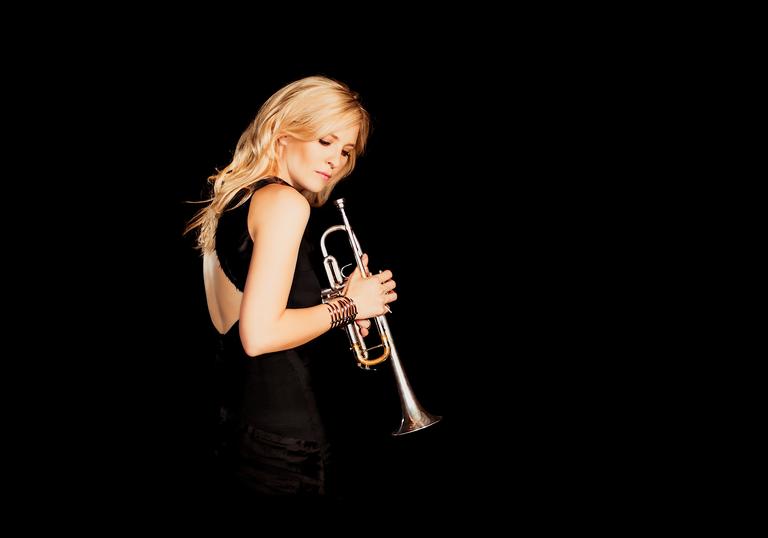 Barbican Presents season features Artist-in-Residence Alison Balsom and International Associate Ensemble the Australian Chamber Orchestra
Since its opening in September 2013, Guildhall School's Milton Court Concert Hall has established itself as a flexible venue with a first-rate acoustic which is ideal for solo recitals, chamber ensembles and chamber orchestra concerts. In addition to the School's public programme, Milton Court hosts a year-round series of concerts, programmed in collaboration between the Barbican and Guildhall School, as part of Barbican Presents. The artistic partnership between the two organisations includes the appointment of an annual Artist-in-Residence as well as hosting the Barbican's International Associate Ensemble at Milton Court. The partnership offers the opportunity for Guildhall musicians to participate in masterclasses and to work side by side with leading international musicians.
This year, the Barbican Presents season in Milton Court offers a series of concerts from one of the world's most exciting chamber orchestras – the Australian Chamber Orchestra and its Artistic Director Richard Tognetti, as well as a residency with acclaimed trumpeter and Guildhall School alumna Alison Balsom. From Baroque reinvention and jazz reimaginations, to audio visual collaboration with renowned Australian photographer Bill Henson, both Balsom and the ACO will demonstrate the versatility of Milton Court Concert Hall across their respective residencies.
Australian Chamber Orchestra and Richard Tognetti – Barbican International Associate Ensemble at Milton Court, 3 – 5 October
In October 2019, the Australian Chamber Orchestra and Artistic Director Richard Tognetti return for their second residency as the Barbican's International Associate Ensemble at Milton Court. The programme they bring to London once again demonstrates their imaginative programming, versatility, and unmistakable style and energy. Across the residency the orchestra performs a string arrangement of Bach's Goldberg Variations, Tognetti's arrangement of Bach's Canons on a Goldberg Ground, music by Adès, Webern and Britten, as well as works by Vaughan Williams and Schoenberg, performed side-by-side with Guildhall School musicians. Similar to the previous years, the residency includes a visual spectacle. Luminous is a 2005 cross-genre musical and visual collaboration with Australian photographer Bill Henson, which includes music by Britten, Janáček, Vasks and REM. In this UK premiere, Henson's haunting, dramatic photography will remain the visual focus as the ACO is joined on stage by Israeli-Australian singer-songwriter Lior on vocals. In an interview during their last visit, Tognetti commented to The Sydney Morning Herald that the residency is "a dream come true […] the invitation to be a small component of the Barbican means we've found a space. We've been after such an opportunity for a long time."
Alison Balsom – Milton Court Artist-in-Residence
In the fourth iteration of the Barbican's Milton Court Artist Residency, renowned trumpeter Alison Balsom joins other Milton Court Artists-in-Residence Richard Tognetti (2016-17), Jeremy Denk (2017-18), and Roderick Williams (2018-19). As part of her residency, Balsom will bring three projects to the Barbican's programme starting with Gabriel in October. A theatrical celebration of Baroque music and 17th-century London, and a testament to the power of the trumpet, Gabriel premiered at Shakespeare's Globe in 2013. Dreamt up by Alison Balsom, award-winning playwright Samuel Adamson and director Dominic Dromgoole, the colourful play has now been reimagined for the Barbican as part of Balsom's Milton Court artist residency. Balsom is joined by The English Concert with a chorus of singers from Guildhall School, soprano Elizabeth Watts, countertenor Tim Morgan, tenor Gwilym Bowen and actors Jamie Parker, Jack Farthing, Anjana Vasan and Amanda Wilkin. The residency continues in March with a performance of Miles Davis' Sketches of Spain (arr. Gil Evans) with Guildhall Jazz Orchestra and director Scott Stroman, and concludes in May, when Balsom leads Britten Sinfonia, who are Associate Ensemble at the Barbican, in the world premiere of John Woolrich's Hark! The echoing air. This will be part of a concert showcasing composers' fascination with other composers' music.