Press room
Margarethe von Trotta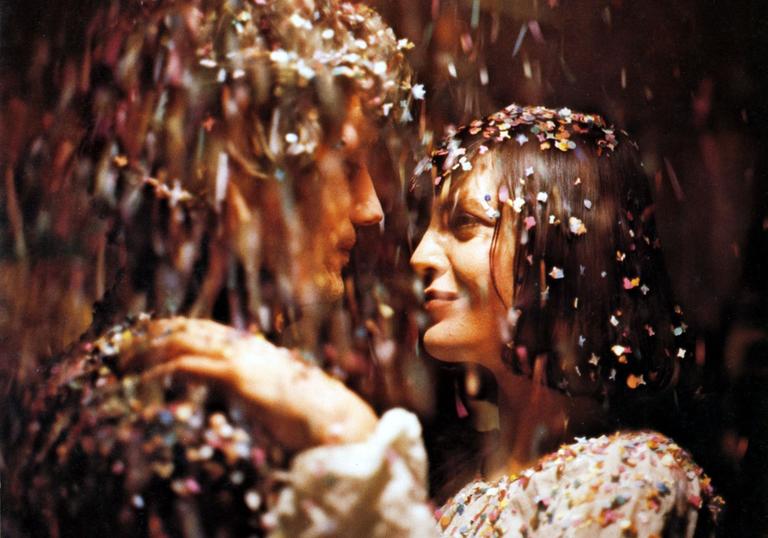 2-6 Oct 2018
The first female director to win the Golden Lion at the Venice Film Festival, Margarethe von Trotta (1942) is to thank for some of the most trailblazing films over the past five decades.
The Barbican is delighted to welcome Margarethe von Trotta for a ScreenTalk on 2 Oct to discuss her illustrious career, following a screening of her 1986 Palme d'Or nominated film Rosa Luxemburg, in a newly restored print. This will be complemented by two further screenings from her body of work, The Lost Honour of Katharina Blum and The Second Awakening of Christa Klages (also in new prints).
One of the most gifted – but often overlooked – directors to emerge from the New German Cinema movement at the same time as Rainer Werner Fassbinder and Werner Herzog – von Trotta has never shied away from topics that resonate with contemporary lives and provoke revolutionary discussion. The power of mass media, historical events, radicalisation and women's rights, have all been visible elements in her films since the politically turbulent 1970s.
Not to mention her wonderfully complex and outspoken female characters, who have inspired those taking centre stage in the best works by more contemporary directors such as Jane Campion, Andrea Arnold and Lone Scherfig.
The three films that are screening in this mini-season represent the best of New German Cinema and von Trotta's remarkable talent in portraying how the personal is political. The Lost Honour of Katharina Blum (co-directed with Volker Schlöndorff) is a stinging commentary on individual freedom and media manipulation that is as relevant today as it was back in 1970. The Second Awakening of Christa Klages is based on a true story of young mother who robbed a bank in order to raise funds for her daughter's day-care centre. And in Rosa Luxemburg, the eponymous philosopher and socialist is brought alive by von Trotta's long-time regular actor Barbara Sukowa (Fassbinder's Lola).
Gali Gold, Head of Cinema, comments:
"We are delighted to shine a light on one of the pioneers of German New Wave cinema who has never stopped producing original films, celebrating trailblazing women, engaging with the most timely issues and not hesitating to delve into big ideas with great courage and cinematic zeal.
Having her here at the Barbican will be a rare opportunity to hear firsthand from an outspoken feminist filmmaker about her long-lasting career – a historical perspective that it both timely and urgent."
In association with the ICO, courtesy of Studiocanal and screening under the Vintage World Cinema banner. With thanks to the Goethe-Institute London.
These titles will also be released by Studiocanal on their Vintage World Cinema label in January 2019, for more information please contact: vintage@organic-publicity.co.uk
Film Screenings
Rosa Luxemburg & ScreenTalk with Margarethe von Trotta
West Germany 1986, dir Margarethe von Trotta, 124 mins
2 Oct 18.30, Cinema 2
In this biopic, Rosa Luxemburg (Barbara Sukowa), a dedicated Marxist and pacifist, is arrested in 1905 for her political activities. Determined to stick to her principles, she goes on to be repeatedly convicted and imprisoned for her protests and speeches. In 1915, growing disillusioned with the German Social Democrats when they endorse World War I, she founds the Sparticist League as an alternative. Despite the many men in her life, Rosa remains focused on social justice.
The Lost Honour of Katharina Blum + intro by Margarethe von Trotta
West Germany 1975, dir Margarethe von Trotta & Volker Schlöndorff, 84 mins
3 Oct, 18.30, Cinema 2
When Katharina Blum spends the night with an alleged terrorist, her quiet, ordered life falls into ruins. Suddenly a suspect, Katharina is subject to a vicious smear campaign by the police and a ruthless tabloid journalist, testing the limits of her dignity and her sanity. Volker Schlöndorff and Margarethe von Trotta's powerful adaptation of Heinrich Böll's novel is a stinging commentary on state power, individual freedom, and media manipulation––as relevant today as on the day of its release in 1975.
The Second Awakening of Christa von Klages
West Germany 1978, dir Margarethe von Trotta, 93 mins
6 Oct, 16.15, Cinema 2
Margarethe von Trotta's solo directorial debut and the film that marked her out as one of the key women writer-directors of the New German Cinema movement, The Second Awakening of Christa Klages is an acutely observed reflection of her favourite theme: the powerful and often mysterious psychic bond among women.
This follows a young woman who robs a bank to pay for her daughter's day-care with the help of her lover. On the run, she is pursued by the police and more ambiguously, also by the young woman who was her hostage in the raid.
Ends
Ticket prices:
Standard: £13.50 Barbican Members: £10.80 Concessions £12.50,
Young Barbican £5
Ian Cuthbert, Communications Manager, Cinema : ian.cuthbert@barbican.org.uk