Press room
Man vs Machine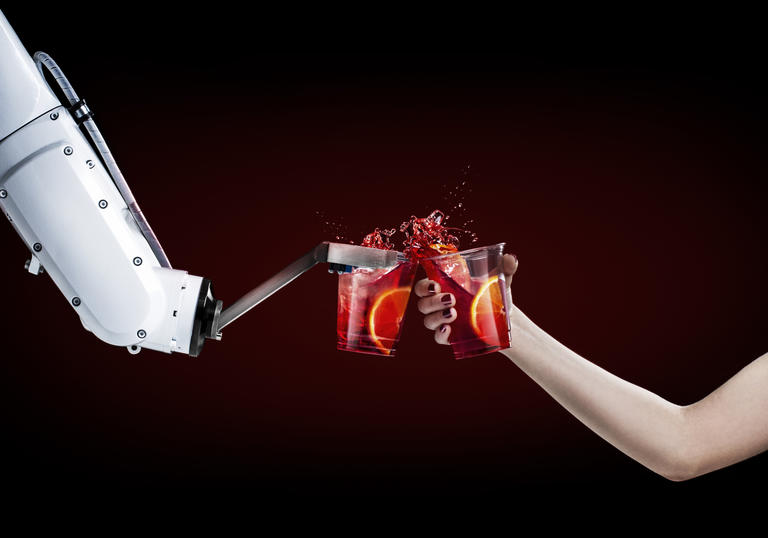 London's first ever robotic bartender will challenge its human counterparts to make the perfect Negroni at the Barbican, as part of its AI: More than Human exhibition.
On Wednesday 7 August, 6pm, Makr Shakr, the world's leading producer of automated cocktail makers, will go head to head with real life bartenders in a man vs machine match.
Cocktails will be judged on taste, speed and appearance in two rounds: making the perfect Negroni to mark 100 years of the Italian classic cocktail and creating their own bespoke cocktail, the More than Human, to tie into the Barbican exhibition.
Bartenders taking on the robot include Luca Rapetti from L'oscar, Felix Cohen from Every Cloud Bar, Giancarlo Quiroz Jesus from Happiness Forgets, Cosmin Tigroso from Do Not Disturb, Mikey Pendergast from East London Liquor Company and Samet Ali from Oriole.
Hosted by Time Out's Drinks Editor Laura Richards, the judges will be Richard Godwin, journalist and author of the The Spirits, Dawn Davies, Head Buyer at Specialty Drinks, Sly Augustin, Managing Director Trailer Happiness, and Antonia Voss, Events Director at Quintessentially.
The Makr Shakr is currently installed on the Barbican's Level G, serving a variety of classic cocktails and mocktails, including the 'More than Human' created especially for the Barbican's major summer exhibition.
Modelled on the gestures of Italian dancer and choreographer Marco Pelle from New York Theatre Ballet, 'Toni' by Makr Shakr is the most advanced drink-mixing robot on the market.
Launched in April 2019, 'Toni', features two mechanical arms which can precisely prepare and serve any drink in seconds – shaking, stirring and muddling with coordinated, dance-like movements. It can skillfully manage more than 150 bottles of different spirits hanging from the ceiling of the bar structure to create an infinite number of combinations.
Using Makr Shakr's mobile app, users can either select premade recipes developed by international bartenders, or create and name brand-new, customised cocktails of their own.
Cocktails can be pre-ordered online, at a special discounted rate of £7
AI: More than Human is an unprecedented survey of the creative and scientific developments in artificial intelligence, exploring the evolution of the relationship between humans and technology. Taking place all over the centre, it presents immersive art installations, interactive exhibits and digital projects to examine the subject from multiple, global perspectives. On Wednesday 7 August, the exhibition will stay open until 8pm.
Man vs Machine Competition: Wednesday 7 August 2019, Barbican Centre, 6 pm
Anna Dabrowski, Senior Communications Manager: 020 7638 4141 ext: 8178, M: 07742 400902, [email protected]
Daphne Leprince-Ringuet, Communications Assistant: 0207 638 4141 ext:5171, [email protected]