Press room
Kenneth MacMillan celebration at the Barbican from Viviana Durante Company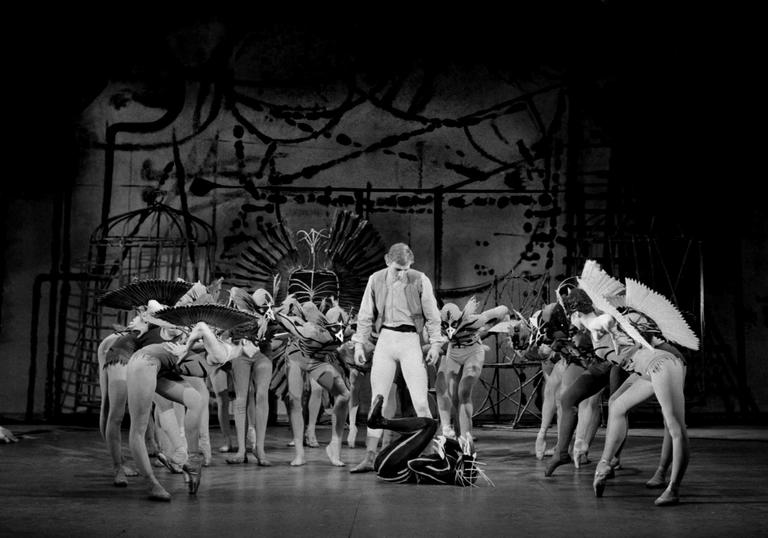 Viviana Durante Company
Kenneth MacMillan: Steps Back in Time
The Pit, Barbican Centre, Silk Street, London, EC2Y 8DS
Wednesday 18–Saturday 21 April 2018
Press night: Wednesday 18 April 2018, 7.45pm
Please click here to request press tickets
In honour of Kenneth MacMillan, the hugely influential and ahead-of-his-time choreographer, the legendary ballerina Viviana Durante directs a programme from his enthralling earliest works.
Tearing up convention and turning staid ideas on their head, MacMillan began creating his own ballets in the 1950s. Believing that dance had the power to explore the human condition, he made potent stories with an emotional quality that invited audiences to become caught up in the fate of his characters.
As an artist whose association with MacMillan dates back to their time at the Royal Ballet, Durante has both danced and revived his creations. To celebrate his legacy and to mark 25 years since his death in 2017, she selects extracts from House of Birds and Danses Concertantes and presents Laiderette in full. Together, they highlight the boldness, insight, complexity, wit and relevance of MacMillan's choreography. Performed by artists from Ballet Black, Scottish Ballet and the Royal Ballet, including principals Lauren Cuthbertson, Francesca Hayward and Thiago Soares, each contains a passionate pas de deux, another famous MacMillan forte.
Born in Rome, Viviana Durante trained at the Royal Ballet Lower and Upper Schools from the age of 10. She joined the Royal Ballet in 1984, aged 17, and was promoted to principal dancer at 21. Three years later, in 1992, Durante and fellow principal dancer, Darcey Bussell, were joint subjects of The South Bank Show on ITV.
Noted for her versatility, Durante danced all the major roles in the classical repertoire and won particular acclaim for her performances in ballets by MacMillan. MacMillan created roles in Winter Dreams and The Judas Tree for Durante. She left the Royal Ballet in 2000, joining American Ballet Theatre as principal dancer and as principal guest artist at La Scala Ballet, Milan and K-Ballet, Tokyo, while continuing to perform with leading companies worldwide and acting on screen and stage.
In 2015 Durante earned diplomas in dance teaching from the Royal Ballet School and Trinity College, London, and the following year she returned to the Royal Ballet as a regular guest coach. She has since worked as a coach on Anastasia, The Nutcracker, The Judas Tree and The Sleeping Beauty for the company as well as Romeo and Juliet and Swan Lake for American Ballet Theatre. She has judged many competitions including Prix de Lausanne, Beijing International Ballet Competition, ENB Emerging Dancer, and the Royal Ballet School Choreographic Awards. She has choreographed at National Theatre Studio and Dance Base, Edinburgh and has acted as a mentor for BBC Young Dancer.
She is Artistic Director of Viviana Durante Company which she founded in 2010. Among her other roles she is a development board member of One Dance UK, an associate artist of Wilton's Music Hall, the consultant on the forthcoming book Ballet: The Definitive Illustrated Story (DK Publishing), and a patron of the Hammond School and New English Ballet Theatre. She has won many international awards and honours, beginning in 1989 when she became the youngest ever recipient of the Evening Standard Ballet Award, and has been named Dancer of the Year in the UK, Italy, Japan and Chile.
Notes to Editors
Journalists please note: Thiago Soares will replace Edward Watson in Kenneth MacMillan: Steps Back in Time, who has had to withdraw due to injury.
ENDS
Press information
For further information please contact:
Angela Dias, Senior Communications Manager for Theatre and Dance, angela.dias@barbican.org.uk or 020 7382 7168
Public information
Box office: 0845 120 7511
barbican.org.uk/theatre
Listings information
Kenneth MacMillan: Steps Back in Time
Viviana Durante Company
UK
Performed by artists from The Royal Ballet, Ballet Black and Scottish Ballet
House of Birds performed by Lauren Cuthbertson, Meaghan Grace Hinkis and Thiago Soares
Laiderette performed by Francesca Hayward and Thiago Soares
Danses Concertantes performed by José Alves, Benjamin Ella and Akane Takada
Corps de ballet from Ballet Black and Scottish Ballet
Wed 18–Sat 21 April 2018 (5 performances)
7.45pm; 2.30pm on Sat 21 Apr 2018
1 hour/no interval (includes post-show talk after each performance)
£18 plus booking fee
Age guidance: 10+
Press night: Wed 18 Apr 2018, 7.45pm
Presented by the Barbican
#MacMillanBarbican
Barbican newsroom
All Barbican Centre press releases, news announcements and the Communications team's contact details are listed on our website at www.barbican.org.uk/news/home
About the Barbican
A world-class arts and learning organisation, the Barbican pushes the boundaries of all major art forms including dance, film, music, theatre and visual arts. Its creative learning programme further underpins everything it does. Over 1.1 million people attend events annually, hundreds of artists and performers are featured, and more than 300 staff work onsite. The architecturally renowned centre opened in 1982 and comprises the Barbican Hall, the Barbican Theatre, The Pit, Cinemas One, Two and Three, Barbican Art Gallery, a second gallery The Curve, foyers and public spaces, a library, Lakeside Terrace, a glasshouse conservatory, conference facilities and three restaurants. The City of London Corporation is the founder and principal funder of the Barbican Centre.
The Barbican is home to Resident Orchestra, London Symphony Orchestra; Associate Orchestra, BBC Symphony Orchestra; Associate Ensembles the Academy of Ancient Music and Britten Sinfonia, Associate Producer Serious, and Artistic Partner Create. Our Artistic Associates include Boy Blue, Cheek by Jowl, Deborah Warner, Drum Works and Michael Clark Company. International Associates are Royal Concertgebouw Orchestra of Amsterdam, New York Philharmonic, Los Angeles Philharmonic, Gewandhaus Orchestra Leipzig and Jazz at Lincoln Center.
Find us on Facebook | Twitter | Instagram | YouTube | Spotify