Press room
Jamie Hale performs in and curates CRIPtic Pit Party - a mixed-bill of work by D/deaf and disabled artists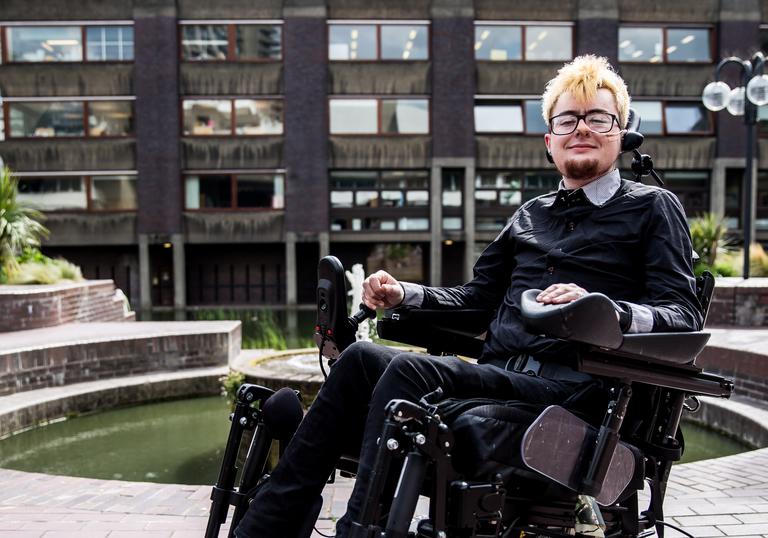 Jamie Hale
CRIPtic Pit Party
A hit at Transpose at the Barbican, Jamie Hale's searingly honest, incisive and deft poetry gripped audiences. Now they perform in and curate CRIPtic Pit Party, comprising a solo replete with hope, NOT DYING directed by Kate O'Donnell, and a mixed-bill of work by D/deaf and disabled artists directed by Shereen Hamilton and produced by Lucy Hayward.
In NOT DYING, Hale recounts their full-circle story of progressive disability - from the agony and gracelessness of imminent death to the jubilance and defiance of survival. Developed through the Barbican's Open Lab programme, the show was conceived as Hale underwent experimental medical treatment. Determined to confront and dismantle barriers often encountered by disabled people, this thought-provoking piece intertwines video and narrative.
The vibrant second-half showcase sees D/deaf and disabled artists, Signkid, Jackie Hagan, Amelia Cavallo, Elle Chante and Katie Walters, Donna Williams  (Fri 11 Oct only) and Jessi Parrott (Sat 12 Oct only, directed by Crispin Lord) take to the stage. Revealing their own personal experiences of anger, fortitude and joy, performing short sets of music, dance and spoken word, each artist expands on the themes of NOT DYING. This Pit Party is a spirited, celebratory evening of voices rarely represented on stage and all performances are chilled performances.
Jamie Hale is a queer part-human part-cyborg poet/performer whose creative work narrates the agency and urgency of living as a disabled person in the world. They explore the intimate connections between the medicalisation of illness and mortality, and the social and political implications of disability. They have recently performed poetry at the Tate Modern and the Lyric Theatre and were one of the winners of the London Writers' Awards for Poetry 2018.
Shereen Hamilton is an actor, director, stage manager, and producer. Her work centres around intersectional identity, current and historical politics, diversity and education. Hamilton's recent credits include Assistant Director on seven methods of killing kylie jenner at the Royal Court (2019) and co-directing and producing Bitchcraft at Tristan Bates Theatre (2019).
Lucy C Hayward is a playwright, producer and director who creates work which is accessible for blind and visually impaired audiences. She is currently associate artist at Birmingham Old Rep and completing a Regional Theatre Young Directors Scheme placement with Talking Birds Theatre.
Kate O'Donnell is an award-winning transgender performer, activist, theatre and cabaret maker. In 2016 she founded Trans Creative, a trans theatre company and curated Trans Vegas in which 50 trans voices were heard and was part of the Manchester International Festival opening event 'What is The City but the people?'. Other credits include: Feste in Twelfth Night (The Royal Exchange) Boy Meets Girl (BBC), and Hush (LIFT Festival/The Royal Exchange).
Notes to Editors
Fluid in its format, the Barbican's Pit Parties invite a guest artist, producer or organisation to curate a programme of work by multiple artists that interest them, and offers time for audiences and artists to socially interact in a relaxed environment. The inaugural Pit Party took place in 2016, curated by nitroBEAT. Since then the Barbican has presented Pit Parties in collaboration with Touretteshero, Studio 3 Arts, Transform Festival and Inua Ellams.
The Barbican's Open Lab programme supports the development of emerging and practicing artists, giving artists the chance to experiment in a working theatrical space without the expectation of a final product.
A chilled performance takes a casual approach to noise and movement in the auditorium, but the performance itself is unchanged. This performance is ideal for people who would feel more at ease knowing they can go in and out of the auditorium during the show, including people with dementia. This performance is for everybody and babes in arms are welcome, (not walking or requiring their own seat). 
Listings information
CRIPtic Pit Party
UK
Performed and curated by Jamie Hale
Showcase directed by Shereen Hamilton
Creative Producer Lucy Hayward
NOT DYING directed by Kate O'Donnell
Fri 11 & Sat 12 Oct 2019 (2 performances)
Fri 11 Oct: Jamie Hale, Signkid, Jackie Hagen, Amelia Cavallo, Elle Chante and Katie Walters, Donna Williams 
Sat 12 Oct: Jamie Hale, Signkid, Jackie Hagen, Amelia Cavallo, Elle Chante and Katie Walters, Jessi Parrott
The Pit
7.45pm
2 hours 15 mins/including an interval
£18 plus booking fee
Age guidance: 12+ (Fri 11 Oct); 16+ (Sat 12 Oct, contains adult themes)
Press performance: Fri 11 Oct 2019, 7.45pm
Audio-described and BSL-interpreted performance and a BSL-interpreted post-show talk: Fri 11 Oct 2019, 7.45pm
Captioned performance: Sat 12 Oct 2019, 7.45pm
All performances are chilled performances
Presented by the Barbican
Angela Dias, Senior Communications Manager for Theatre and Dance: [email protected] or 020 7382 7168
Venue: The Pit
Dates: Friday 11 & Saturday 12 October 2019
Press night: Friday 11 October 2019, 7.45pm