Press room
Ivo van Hove directs Internationaal Theater Amsterdam in the UK premiere of a new theatrical adaptation of Death in Venice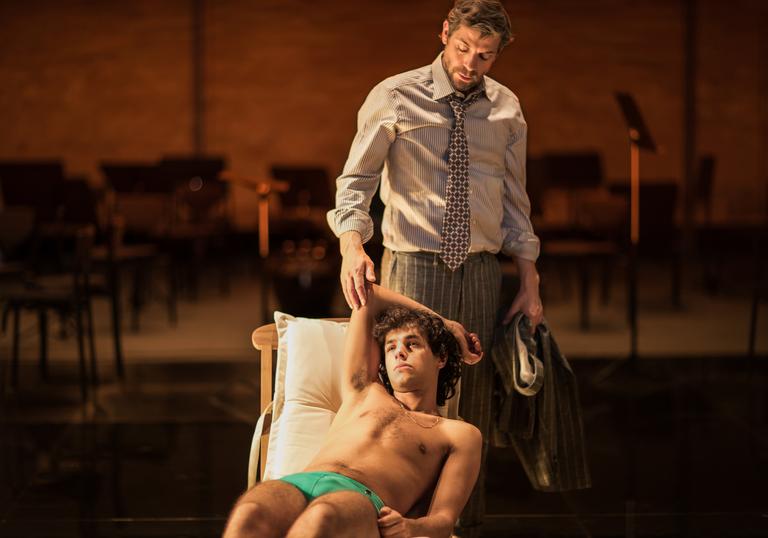 Ivo van Hove directs Internationaal Theater Amsterdam in the UK premiere of a new theatrical adaptation of Death in Venice
Ivo van Hove directs Internationaal Theater Amsterdam (ITA) in the UK premiere of a new theatrical adaptation of Death in Venice, which draws on the eponymous novella by Thomas Mann, and events in the German author's own life. It is part of the Barbican's Inside Out season, a year exploring the relationship between our inner lives and creativity.
An intense infatuation fuels the tension between social expectations and personal desire in this deft combination of theatre and music. Celebrated author Thomas Mann is in crisis. He is struggling with writer's block and a forbidden attraction to a young boy. Secluded in his workshop, he creates a fictional counterpoint of himself: Von Aschenbach, the man he dares not be in the real world.
Death in Venice is adapted for the stage by former Dutch poet laureate and ITA ensemble actor Ramsey Nasr, who performs the role of Aschenbach. It highlights the inner struggle of an artist who channels his experiences through his writing whilst also introducing the viewpoint of Mann's wife. New music by American composer Nico Muhly features alongside Strauss and Schoenberg, performed live by Barbican Associate Ensemble Britten Sinfonia conducted by Ben Glassberg, and counter tenor Yuriy Mynenko.
Death in Venice is performed in Dutch with English surtitles.
Ramsey Nasr, ITA, said: "While researching Death in Venice I found out that this novella was Thomas Mann's most autobiographical work, recalled in the memoirs of his wife Katia, at the end of her life. Every scene in the novella, every event happening to Von Aschenbach had happened to Mann himself whilst on vacation in Venice with his wife. It made me wonder: what was it like for her to witness it all? That gave me all the ingredients for a drama encapsulating the story."
David Butcher, Artistic Director and Chief Executive of Britten Sinfonia said: 'The Barbican and Britten Sinfonia, as its Associate Ensemble, enjoy a dynamic collaborative relationship which over the years has resulted in a string of world leading performances of major new opera and dance in the Barbican Theatre. For Britten Sinfonia, working with leading international choreographers, performers and designers, often on stage, and bringing music to audiences beyond the concert hall, has been a particularly stimulating experience. We look forward to continuing this vibrant exploration of the meeting of music and theatre with Ivo van Hove, one of theatre's most inventive and inspiring directors.'
Since 2001, Ivo van Hove has been General Director of Internationaal Theater Amsterdam (ITA, formerly Toneelgroep Amsterdam). The Barbican's relationship with Van Hove and ITA began with the six-hour epic production of Roman Tragedies in 2009, followed by Antonioni Project (2011) and Scenes from a Marriage (2013). Van Hove directed Juliette Binoche in Antigone, a Barbican production, in 2015, and the following year the Barbican staged another of Van Hove's Shakespeare marathons, Kings of War. In 2017 the Barbican hosted an ITA residency, which saw Roman Tragedies return, followed by Obsession with Jude Law (a Barbican co-production) and After the Rehearsal/Persona. Last year saw the long-awaited return of the renowned Comédie-Française to London with The Damned (Les Damnés) directed by Van Hove at the Barbican. Later this year (Friday 5–Thursday 11 June 2020) he directs the celebrated screen and stage actress, Isabelle Huppert, in the UK premiere at the Barbican of The Glass Menagerie by Odéon–Théâtre de l'Europe, Paris.
In 2014 Van Hove directed A View from the Bridge at the Young Vic for which he won Best Director at the Olivier Awards and Critics' Circle Theatre Awards. The production transferred to the West End and played on Broadway, where it won two Tony Awards for Best Play Revival and Best Director. Van Hove staged the world premiere of the opera Brokeback Mountain (2014) at Teatro Real in Madrid and Lazarus (2015) by David Bowie and Enda Walsh which played at Kings Cross Theatre and in Amsterdam having transferred from New York Theatre Workshop. In 2016 Van Hove's Tony Award-nominated The Crucible, with Saoirse Ronan and Ben Whishaw, played on Broadway. At the National Theatre, Van Hove has directed Hedda Gabler (2016) and Network (2018) with Bryan Cranston. In 2019 Van Hove adapted All About Eve for the stage, starring Gillian Anderson and Lily James at the Noël Coward Theatre, and The Diary of One Who Disappeared for The Royal Opera. Van Hove's new staging of West Side Story is currently on Broadway. He was awarded the Dutch state art prize - the Johannes Vermeer prize, last year.
ENDS
Listings information
Death in Venice
Internationaal Theater Amsterdam
The Netherlands
By Ramsey Nasr, after Thomas Mann
Directed by Ivo van Hove
Set Design, Video and Lighting by Jan Versweyveld
Costumes by An D'Huys
Dramaturgy by Krystian Lada
Musical Adaptation by Nico Muhly, Theo Verbey
Music performed by Britten Sinfonia
Performed by Achraf Koutet, Aus Greidanus Jr, Marieke Heebink, Ramsey Nasr, Steven van Watermeulen
Translation by Hans Mon
Conducted by Ben Glassberg
Counter tenor: Yuriy Mynenko
Thu 16–Sun 19 Apr 2020 (4 performances)
Barbican Theatre
7.45pm; 3pm only on Sun 19 Apr 2020
1 hour 45 mins/no interval
£16–60 plus booking fee
Age guidance: 16+ (contains adult themes and nudity)
Press night: Thu 16 Apr 2020, 7.45pm
Presented by the Barbican
Co-produced by Théâtre du Châtelet and Croatian National Theatre Zagreb
This project is supported by the Performing Arts Fund NL
About Internationaal Theater Amsterdam
Stadsschouwburg Amsterdam and Toneelgroep Amsterdam merged on 1 January 2018, and from the 18/19 season they have operated under the name Internationaal Theater Amsterdam (ITA). ITA is a new organization that acts as a beacon for contemporary theatre and caters to audiences from Amsterdam and around the world, leading the way at national and international levels. It produces a high-quality programme with 600 pluriform national and international theatre and dance performances every year, and social programmes that appeal to a wide range of audiences, bringing them new ways of understanding and seeing the world. ITA is one of the leading lights in Dutch theatre, with a large ensemble of world-famous actors and a pioneering team of directors. Performances are held not only at the Amsterdam venue, but also at around 100 other venues around the world. The new theatre is also a major talent centre focusing on education, development and collaboration. They are home to major festivals such as Brandhaarden, Julidans, the Holland Festival and the Netherlands Theatre Festival. A modern meeting place with its own café/brasserie where front of house can meet and mingle with backstage, and the boundaries between the audience and those involved in the production can disappear.
About Britten Sinfonia
Just over 25 years ago, Britten Sinfonia was established as a bold reimagining of the conventional image of a chamber orchestra. A flexible ensemble of some of the UK's leading soloists and chamber musicians came together with a unique vision: to collapse the boundaries between old and new music, to collaborate with composers, performers and guest artists across artforms and genres; and to create involving, intelligent music events that both audiences and performers experience with an unusual intensity.
Britten Sinfonia is an Associate Ensemble at the Barbican and Resident Orchestra at Saffron Hall, with residencies in Norwich and Cambridge and performs a chamber music series at Wigmore Hall. The orchestra has a busy international touring schedule, appearing throughout Europe, the USA and Asia and its 2018 performance with The Sixteen at the Sistine Chapel reached more than a million people worldwide.   
Angela Dias, Senior Communications Manager for Theatre and Dance: +44 (0)20 7382 7168 or [email protected]
Dates: Thursday 16–Sunday 19 April 2020
Press night: Thursday 16 April 2020, 7.45pm
Venue: Barbican Theatre