Press room
Intoxicating dance production Kalakuta Republik examines the life of Fela Kuti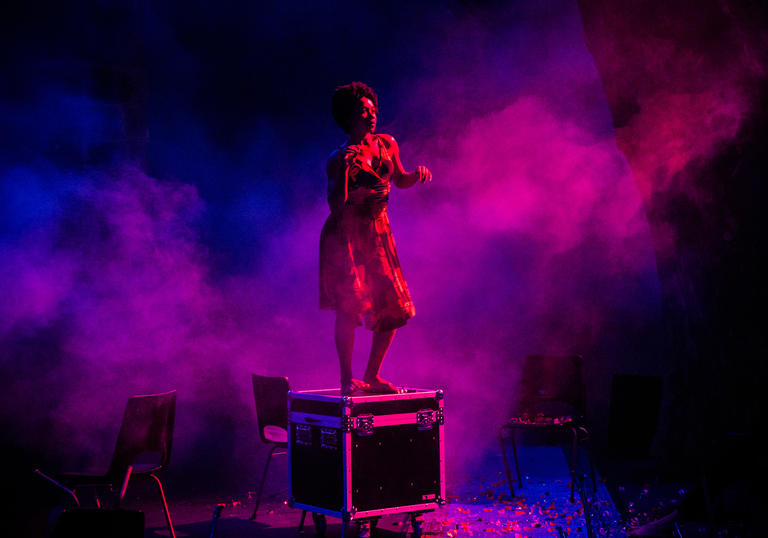 Faso Danse Théâtre & Halles de Schaerbeek/Serge Aimé Coulibaly
Kalakuta Republik 
Burkina Faso-born choreographer Serge Aimé Coulibaly makes his Barbican Theatre debut with the UK premiere of Kalakuta Republik – an intoxicating dance piece, which examines the life of Nigeria's activist, musical legend and political maverick, Fela Kuti. Following its run in the Barbican Theatre, Kalakuta Republik plays at the Lyceum Theatre in Edinburgh as part of the Edinburgh International Festival from 8 – 11 August.
In the first half of Kalakuta Republik all is monochrome. Seven dancers pulsate, whirl, plunge and vibrate, their relentless movement exploding with virtuoso energy. Projections depicting scenes of conflict serve as a backdrop for the performers, their perpetual march an urgent metaphor for the desire to keep living.
Bursts of colour propel the second half, a place reminiscent of Kuti's Shrine nightclub, where discord was confronted just as hope blossomed from solidarity and social consciousness. While provocative messages illuminate the stage to a score echoing jazz-infused Afrobeat by musician and percussionist Yvan Talbot, a decadent dance depicts the struggles of an individual.
The spirit of Kuti is ever-present in the dance, which speaks of contemporary Africa and the musical artist as freedom-loving figurehead; Kalakuta Republik reflects on the role of anti-establishment artists today.
The dancers are Adonis Nebié, Marion Alzieu, Sayouba Sigué, Serge Aimé Coulibaly, Jean-Robert Koudogbo Kiki, Ida Faho, and Antonia Naouele.
Coulibaly was born in 1972 in Bobo-Dioulasso, the economic capital of Burkina Faso. In 1993, with no prior training, he joined the company Feeren, directed by Amadou Bourou, who gave him a part in a show only two months after his arrival. A gifted dancer, he performed in many shows before starting to work on his own choreographies. In 1998, he designed the choreography for the opening ceremony of the Africa Cup of Nations.
He moved to Europe in 2001, where he joined les ballets C. de la B. in Belgium, giving remarkable performances in Alain Platel's Wolf and Sidi Larbi Cherkaoui's Tempus Fugit.
In 2002, he founded the company Faso Danse Théâtre, and created his first solo, Minimini. Since then he has created nine other shows including A Benguer (2006), Solitude d'un Homme Intègre (Loneliness of an Honest Man, 2007), and Nuit blanche à Ouagadougou (Sleepless Night in Ouagadougou, 2014). Coulibaly's shows look critically at Africa, the West, and their shared history and are undoubtedly political.
Listings information
Kalakuta Republik
Faso Danse Théâtre & Halles de Schaerbeek/Serge Aimé Coulibaly
Belgium/Burkina Faso
Conceived, Created and Choreographed by Serge Aimé Coulibaly
Co-Created by Adonis Nebié, Marion Alzieu, Sayouba Sigué, Ahmed Soura, Jean-Robert Koudogbo Kiki, Ida Faho, Antonia Naouele
Technical direction by Sam Serruys
Music by Yvan Talbot
Video by Eve Martin
Dramaturgy by Sara Vanderieck
Set and Costumes by Catherine Cosme
Lighting by Hermann Coulibaly
Thu 30 May–Sat 1 Jun 2019 (3 performances)
Barbican Theatre
7.45pm
1 hour 25 mins/including an interval
£16-28 plus booking fee
Age guidance: 12+
Press night: Thu 30 May 2019, 7.45pm
Presented by the Barbican
Produced by Faso Danse Théâtre and Halles de Schaerbeek
Co-produced by Maison de la Danse – Lyon, Torinodanza – Turin, Le Manège Maubeuge, Le Tarmac – Paris, Les Théâtres de la ville de Luxembourg, Ankata – Bobo Dioulasso, Les Récréâtrales de Ouagadougou, Festival Africologne – Cologne and De Grote Post - Ostend
Tour produced by Frans Brood Productions
Angela Dias, Senior Comms Manager for Theatre and Dance: [email protected] or 020 7382 7168
Dates: Thursday 30 May–Saturday 1 June 2019
Venue: Barbican Theatre
Press night: Thursday 30 May 2019, 7.45pm