Press room
Heavy handed, we crush the moment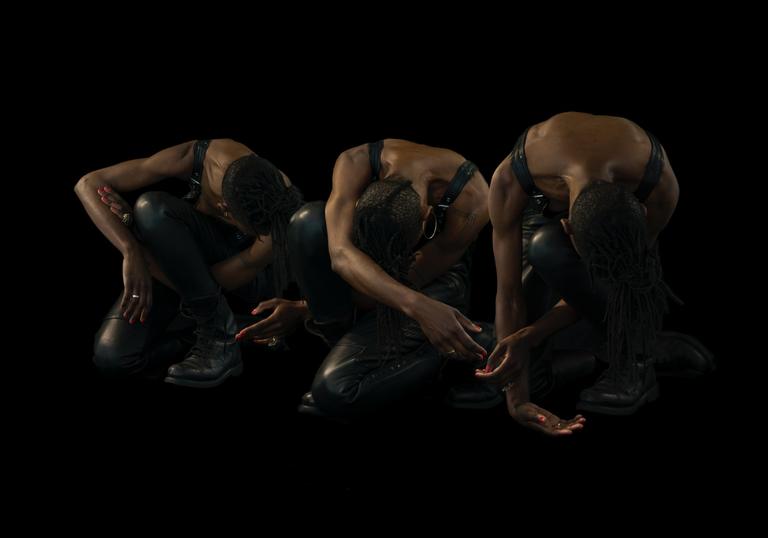 This November Barbican Art Gallery presents Heavy handed, we crush the moment, a new commission by Last Yearz Interesting Negro, the performance project of London-based artist and dancer Jamila Johnson-Small.
Dance, darkness and bass frequencies – Heavy handed, we crush the moment is an immersive experience, somewhere between a dreamscape, a meditation, a nightmare and a nightclub. Over four evenings, Last Yearz Interesting Negro presents a series of genre-blurring happenings. The Pit is transformed into a sculptural landscape – an installation created in collaboration with design collective Studio Augmenta, sound designer Josh Anio Grigg and lighting designer Jackie Shemesh.
Last Yearz Interesting Negro will stage a new choreographic work performed with Fernanda Muñoz-Newsome, with sound by Rowdy SS and set and costumes by AGF Hydra, featuring new music by +TETRA+, ABENÇOADA, Andrew Kerton & Hannah Holland, Verity Susman, Young Nettle, Rebecca Bellantoni and David Panos. This work unfolds over the course of each evening, acting as an environment to host interventions by guest artists including keyon gaskin, Antonija Livingstone & Mich Cota, musician and DJ Planningtorock and DJ Elijah*. The commission forms the final part of a trilogy of performances known as FURY (the first two works are Fury1 and FuryZ).
Focusing on the sensory impact of the live encounter for performers and audience alike, Heavy handed, we crush the moment is an invitation to reflect on boundaries, intimacy, spectacle and the inevitability of movement. Last Yearz Interesting Negro and collaborators create a charged atmosphere through sound, light, set and live performance.
Working from the potential of dance as a radical social practice, this performance commission is a contemporary response to the Barbican exhibition Into the Night: Cabarets and Clubs in Modern Art (4 October 2019 – 19 January 2020).
Last Yearz Interesting Negro/Jamila Johnson-Small said:"This constellation of encounters will offer a climate of intensities and sensation, a sonic environment that facilitates shifting states of dancing and being as performances swell, spill and subside through the course of each evening. I am thinking about a choreographic space that is both social and meditative, reflective and relational, that allows space for varying relationships to linear time and coherence; a gathering of energies - both held and unravelling - formed between the works of different artists and a public as we meet the moment."
Jane Alison, Head of Visual Arts said: "London's own Jamila Johnson-Small is undoubtedly one of the most exciting experimental performers working at the intersection of dance and art and we're delighted to have commissioned her most ambitious work yet. The gallery has a long history of exhibiting radical performance, including Trajal Harrell: Hoochie Koochie in 2017, Ragnar Kjartansson in 2016, and Laurie Anderson, Trisha Brown and Gordon Matta Clark: Pioneers of the Downtown Scene, New York 1970s in 2011. Creating a late-night event for the Barbican's studio theatre, The Pit, in association with our art gallery exhibition Into the Night: Cabarets and Clubs in Modern Art, I have no doubt that this performance will be an absolute 'must-see'."
Last Yearz Interesting Negro is the performance project of London-based artist and dancer Jamila Johnson-Small. Johnson-Small works from the idea of dance as a radical, social practice, using interior landscapes – emotional, physiological, psychic – as material and strategy for performance. In her work, bodies of public and performer(s) are navigated as object, animal, human, machine, environment and energy, noting, utilising and steering movements of power in spaces to build atmospheres created by the live unfolding of the tensions between things that create meaning.
Johnson-Small has recently presented work at Siobhan Davies Studios, London; Cabaret Voltaire, Zurich; Kaaistudios, Brussels, as part of Performatik19; Cafe Oto, London; Vooruit, Ghent; Borealis festival, Bergen; The Yard, London; Nuit Blanche, Paris; Buenos Tiempos Int., online; Konsthall C, Stockholm; Baltic Triennial, Tallinn; ImPulsTanz, Vienna; ICA, London; Block Universe, London; Tramway as part of Take Me Somewhere, Glasgow; The Showroom, London; and Silencio, Paris. In 2018 Jamila undertook residencies at Palais de Tokyo and Wysing Arts Centre. In 2019 she is recipient of the Arts Foundation Futures Award Fellowship in Visual Art and the second Torchlight Artist with Siobhan Davies Dance.
Sound equipment generously supported by Subpac and Void
Heavy handed, we crush the moment
A performance commission
by Last Yearz Interesting Negro
The Pit, Barbican, London
Thursday 28 November – Sunday 1 December 2019