Press room
Generations: Russian Cinema of Change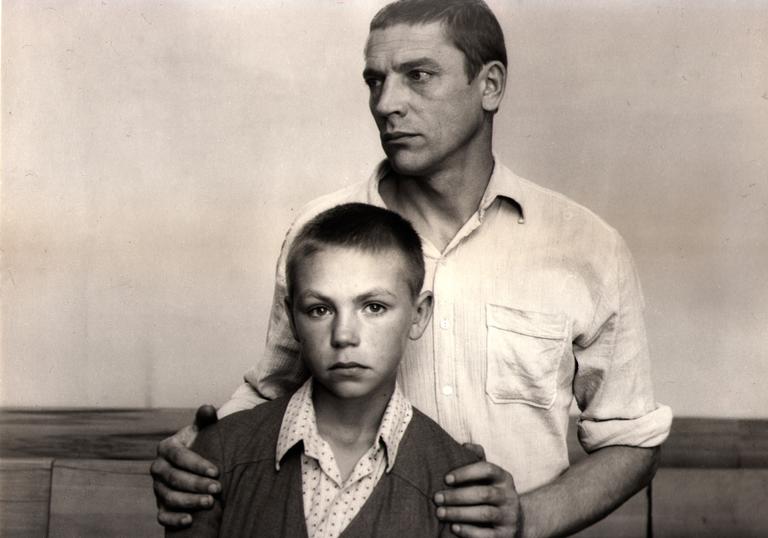 Barbican Cinema, Barbican Centre
Generations
Russian Cinema of Change
26-30 Sep
Defiant, expressive and electric - the Barbican Cinema presents a season of cult and landmark films – that chart the extraordinary century of change in Russia.
The world's largest country has undergone profound upheaval in recent history. The early idealism of the 1917 Revolution, suppressed during Stalinism, was partly revived in the relatively liberal Khrushchev's Thaw of the 60s. The following Brezhnev era of stagnation ended with perestroika, before the turbulent '90s and the current political situation.
Taking place 26-30 September, this film season explores the shifting forms of self-expression, independence and defiance through Russia's seismic cycles of reinvention.
The films follow the lives of young people at key points in Russian and Soviet history, showing how these moments raised, in new ways, old questions: what sort of person should you be? How can you lead a fulfilling life amidst such social and political change?
Generations – Russian Cinema of Change is presented in partnership with New East Cinema, a cultural collective bringing contemporary cinema from Eastern Europe and beyond to the UK.
This season is part of our 2018 season The Art of Change, which explores how the arts respond to, reflect, and potentially effect change in the social and political landscape.
Gali Gold, Head of Cinema comments:
""The power of film to influence cultural and political change was overtly recognised in Russia, where filmmaking was nationalised after the 1917 Bolshevik Revolution. Cinema's unique power was captured in Lenin's famous quote:  '… of all art forms, for us, cinema is the most important.'
In a year when the Barbican hails The Art of Change, it couldn't be more apt to dedicate a season of films that capture the seismic moments in Russian history and reflect the changes the country has undergone since the 1917 Revolution. We are delighted to bring together this rich and varied programme that celebrates the artistic expression of filmmakers who have represented, challenged and played an active part in the dramatic changes within Russian society."
Olya Sova, independent film-programmer and founder of New East Cinema says:
"Film is one of the most effective ways to communicate the different culture of another country. We thought it was important to showcase the last one hundred years of profound change in Soviet and Russian history - as captured on film - and to look at the lives of young people during times of considerable political and social change."
Film Screenings
Goodbye, Boys (15) + intro + live musical performance
Screening in 35mm in collaboration with Erased Tapes and Pushkin House
Soviet Union 1964 Dir Mikhail Kalik 82 min
26 Sep 2018, 18:30, Barbican Cinema 1,
A masterpiece commenting on the ill-fated futures of a group of boys on the eve of the WWII, from one of the great lost names in Soviet cinema.
Poetic opening scenes of summer days by the seaside portray three young friends blissfully sinking into shimmering water, completely unaware of forthcoming events that will change their world forever. As the boys learn they must fight in World War II, they talk of defending the Motherland, and bid farewell to their parents.
One of the 'unrehabilitated' Soviet directors, Mikhail Kalik juxtaposes images of innocent youth against documentary footage of war atrocities, violent destruction and concentration camps.
The score, written by the much-loved Soviet composer Mikael Tariverdiev, sparkles from the opening scenes; its light-hearted tone takes us through the story of young friends to the war and the perilous journey ahead of them.
For this specially commissioned performance, London-based singer-songwriter Douglas Dare will perform a new musical work inspired by Tariverdiev's score on piano.
The Student (15) + intro
Russia 2016 Dir Kirill Serebrennikov 118 min
27 Sep 2018, 19:45, Barbican Cinema 2
Rebellion not through dress or music, but by strictly following the religious text.
Set in contemporary Russia, a high school student becomes convinced the world has been lost to evil. He rebels not through dress or music – but by interpreting the Bible's code of conduct as rigidly as possible.
His strict orthodoxy comes up against various forces, including the high school's priest and his biology teacher – a young woman who advocates liberalism and sexual education at school. As the conflict between them develops, things become not as they seem.
Based on a recent play by German dramatist Marius von Mayenburg, The Student allegorically depicts how the once persecuted Russian Orthodox Church has gained new power and become a defining characteristic of Russian identity, following the collapse of the Soviet Union.
Currently under house arrest for allegations of masterminding a fraud involving state funding, Kirill Serebrennikov is one of the most prominent theatre directors, founder of The Gogol Centre (Russia's leading avant-garde theatre in Moscow).
Tough Kids (PG) + intro
Screening in 35mm
Soviet Union 1983 Dir Dinara Asanova 96 min
28 Sep 2018, 18:30, Barbican Cinema 2
Are bad boys beyond help? What is the nature of teen crime?
These are the questions that director Dinara Asanova asks as she investigates the lives of young offenders and the people around them in Soviet society. Her interest in realism is clear in the opening scene – a documentary-style interview with boys about good and evil.
The story follows a former athlete and graduate of the Institute of Physical Education who decides to help reform young offenders by setting up a summer camp, believing he can help the teens by setting a good example.
A Kyrgyzstani-Soviet film director, Asanova's films explore the social conditions in the Soviet Union, the world of adolescents, and their strained relations with adults. Asanova was outspoken about social issues even before perestroika, and yet none of her films were banned. They were successful and popular in the Soviet Union but remain largely unknown to Western audiences. 
A Severe Young Man (PG) + intro
Screening in 35mm
Soviet Union 1935 Dir Abram Room 100 min
29 Sep 2018, 15:00, Barbican Cinema 2
An improbable love triangle set in the 1930s, when the new communist ideology was sharpening its ideas.
A young communist, Grisha, falls in love with a woman married to a rich, world-famous surgeon. Written by one of the great Soviet modernist writers, Yury Olesha, the love triangle brings bourgeois and communist ideologies into collision – exploring what it is to be young in a new society.
Banned for deviating from socialist realism and discovered only in the '60s, this unconventional film veers towards the surreal at times. Chiselled communist athletes laze before classical statues and architecture, discussing the new morals set by the Soviet Revolution.
Brother (15*) + ScreenTalk
Russia 1997 Dir Aleksey Balabanov 96 min
29 Sep 2018, 18:00, Barbican Cinema 2
Bruising realism brings to life the story of a restless and naïve young man in lawless post-Soviet Russia.
This 90s cult classic is centered on the iconic figure of Danila Bagrov (Sergey Bodrov Jr.) as he leaves the army, arriving in St. Petersburg to meet his brother. Blazing Russian rock music serves as a fitting soundtrack to his descent into crime and immersion in the city's nightlife.
An atmosphere of hostility and emptiness arose in early post-Soviet Russia, as the fallen regime was replaced by monumental chaos, crime and poverty. Gangsters and musicians ruled, and brute force became the most valuable commodity.
Brother profoundly captures this mood – it became a huge hit in Russia and resonates with each new generation. The film, and its protagonist, has become an inspiration for young people, although many feel this is for the wrong reasons, with the film being accused of inadvertently promoting neo-nationalism.
Director Alexey Balabanov saw himself as the 'anti-establishment rock'n'roller of Russian film', telling stories about the dark underbelly and decay of early post-Soviet society.
Lenin's Guard (PG) + intro
Screening in 35mm
Soviet Union 1965 Dir Marlen Khutsiev 189 min
30 Sep 2018, 15:00, Barbican Cinema 2
Three young friends meet again in post-war Moscow and discover a new society characterised by openness, liberalisation and optimism. Meandering through everyday life of the Moscow new intelligentsia, Lenin's Guard conjures a rarely seen vision of Soviet youth, as liberated children of WWII.
The film is notable for incorporating New Wave elements: non-actors and non-staged scenes, including documentary footage of a poetry evening by Yevgeny Yevtushenko and other prominent Soviet poets living in Moscow at that time, as well as a party scene with a young Andrey Tarkovsky.
The Thaw was unprecedented time when many great writers emerged and the poets were like modern-day pop stars, holding their poetry readings in packed stadiums. Led by Nikita Khrushchev, the era was characterised by new enthusiasm about Socialist society and its achievements.
Ends
For further information please contact:
Ian Cuthbert, Communications Manager - Cinema
ian.cuthbert@barbican.org.uk 07980 925 352
Sarah Harvey, Communications Consultant for Barbican Cinema
sarah@sarahharveypublicity.co.uk 020 7732 7790
Ticket prices:
https://www.barbican.org.uk/whats-on/cinema Box Office: 0845 120 7527
Standard: £13.50 Barbican Members: £10.80 Concessions £12.50,
Young Barbican £5
Ian Cuthbert, Communications Manager - Cinema: 07980 925 352, ian.cuthbert@barbican.org.uk