Press room
European premiere of Pam Tanowitz and Simone Dinnerstein collaboration, New Work for Goldberg Variations, at the Barbican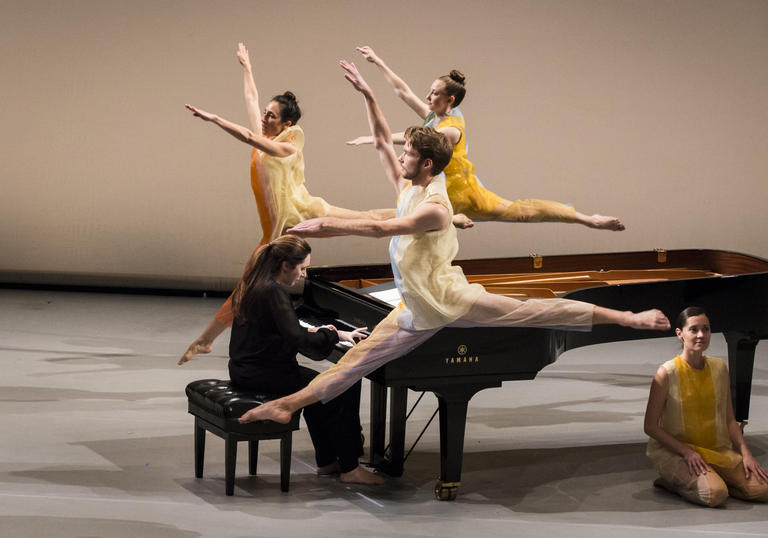 Pam Tanowitz Dance return to the Barbican Theatre following the critically acclaimed Four Quartets with the European premiere of New Work for Goldberg Variations. The production goes on sale to Barbican Members Plus on Friday 22 November, to Barbican Members on Monday 25 November and on general sale on Friday 29 November 2019.
Pam Tanowitz choreographs her seven dancers to a performance of Bach's elaborate masterpiece played live by pianist Simone Dinnerstein. Revolving around a grand piano, the dancers demonstrate the rich emotional world lying beneath the Goldberg Variations, their dynamic stage presence spontaneous yet exact, fluid yet intricate. In this unpredictable and witty interplay of rhythm, style and poetry, everything emanates from the score, the action illuminated by a shifting palette of colour and light.
New Work for Goldberg Variations premiered at Duke Performances, North Carolina in October 2017, and has since toured the United States.
Dancers are: Jason Collins, Christine Flores, Lindsey Jones, Victor Lozano, Maile Okamura, Melissa Toogood and Netta Yerushalmy.
Journalists please note: There is an opportunity to see New Work for Goldberg Variations in New York in December 2019 prior to its run at the Barbican. Please contact the Communications Office for more information.
New York based choreographer and collaborator Pam Tanowitz is known for her unflinchingly post-modern treatment of classical dance vocabulary. In 2000, she founded Pam Tanowitz Dance to explore dance-making with a consistent community of dancers. She has been commissioned by The Joyce Theater, The John F. Kennedy Center for the Performing Arts, Bard Fisher Center, Vail International Dance Festival, New York Live Arts, The Guggenheim Museum's Works & Process series, Danspace Project, Lincoln Center Out of Doors, Chicago Dancing Festival, Baryshnikov Arts Center, Jacob's Pillow Dance Festival, Duke Performances, Peak Performances, FSU's Opening Nights Series, and the Institute for Contemporary Art/Boston. Pam Tanowitz Dance made their international debut at the Barbican Theatre in 2019 with Four Quartets, recently nominated for a National Dance Award - Best Modern Choreography.. Later in 2019, Tanowitz was commissioned by The Royal Ballet to create Everyone Keeps Me, presented as part of a triple bill alongside work by Merce Cunningham and Frederick Ashton.
American classical pianist Simone Dinnerstein first attracted attention in 2007 with her self-produced recording of Bach's Goldberg Variations. The recording reached No. 1 on the Billboard Classical chart in its first week of sales and was named on the "Best of 2007" lists in the New York Times, the Los Angeles Times, and the New Yorker. The recording also received the prestigious Diapason d'Or in France. The New York Times called Dinnerstein "an utterly unique voice in the forest of Bach interpretation".
Dinnerstein performed in the Barbican Hall in 2018 with the LSO and Kristjan Järvi in a programme which included UK premieres of work by Steve Reich and Philip Glass called Divine Geometry. She has performed internationally at venues including Carnegie Hall, Boston's Symphony Hall, Vienna Konzerthaus, Berlin Philharmonie, Sydney Opera House, Seoul Arts Center, Wigmore Hall; festivals that include the Lincoln Center Mostly Mozart Festival and the Aspen, Verbier, and Ravinia festivals; and performances with the Vienna Symphony Orchestra, Dresden Philharmonic, Staatskapelle Berlin, RAI National Symphony Orchestra, Royal Scottish National Orchestra, Czech Philharmonic, London Symphony Orchestra, Danish National Symphony Orchestra, New York Philharmonic, Minnesota Orchestra, Atlanta Symphony, Baltimore Symphony, Montreal Symphony Orchestra, Melbourne Symphony Orchestra, Orquestra Sinfônica Brasileira, and the Tokyo Symphony.
New Work for Goldberg Variations
Pam Tanowitz Dance/Simone Dinnerstein
USA
Concept by Simone Dinnerstein, Pam Tanowitz
Choreography by Pam Tanowitz
Visual Design and Lighting by Davison Scandrett
Costumes by Reid Bartelme, Harriet Jung
Wed 6–Sat 9 May 2020 (4 performances)
Barbican Theatre
7.45pm
1 hour 15 mins/no interval
£16–45 plus booking fee
Age guidance 7+
Press night: Wed 6 May 2020, 7.45pm
Post-show talk: Thu 7 May 2020 (free to same-day ticket holders)
Presented by the Barbican
Commissioned by Duke Performances/Duke University and Peak Performances/Montclair State University
Co-commissioned by Opening Nights Performing Arts/Florida State University and Summer Stages Dance at the Institute for Contemporary Art/Boston
Venue: Barbican Theatre
Dates: Wednesday 6 - Saturday 9 May 2020
Press night: Wednesday 6 May 2020, 7.45pm
Freddie Todd Fordham, Communications Officer for Theatre and Dance: +44 207 382 7399 or [email protected]