Press room
Daria Martin: Tonight the World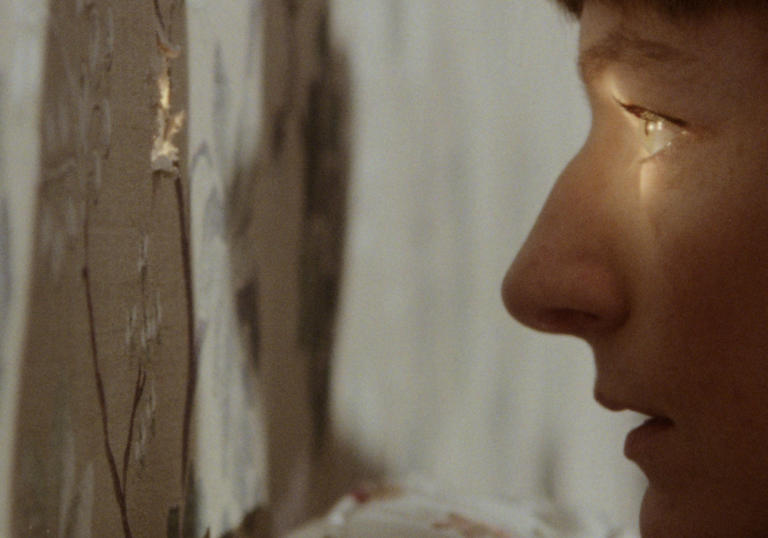 Barbican Art Gallery presents London-based artist, filmmaker and 2018 Jarman Award-winner Daria Martin's first solo commission for a major London public gallery, in The Curve. The exhibition is part of the Barbican's 2019 season, Life Rewired, which explores what it means to be human when technology is changing everything.
Using both film and computer gaming technology, Martin explores the vivid writings of her grandmother, artist Susi Stiassni who, aged 16, fled with her family from the former Czechoslovakia under the imminent threat of the Nazi occupation in 1938. Martin draws on an extensive archive of her grandmother's dream diaries amounting to over 20,000 pages. These forensically recorded accounts were created over a 35 year period, initially for the purposes of psychoanalysis and were left to Martin's family after Stiassni's death in 2005. The dreams frequently return to the traumatic history of her childhood home, a Czech modernist villa, seized by the Nazis after the family left and still standing today in the city of Brno. Although Stiassni never returned to Brno after fleeing to the United States, she often revisited the family home while dreaming.
Entering the exhibition, visitors encounter a film created in collaboration with game designers in Brno. The videogame 'play through' journeys through a virtual rendering of Stiassni's childhood home, engaging with glimpses of the diary archive and objects connected to the dreams.
Martin has augmented the gallery's architecture with a bulging wall designed as an extension of the house and punctuated with a selection of diary pages, as well as objects which unite the virtual and the physical. The exhibition ends with the 16mm anamorphic film Tonight the World (2019), shot on location inside the villa itself. Martin has reimagined the narrative of five dreams which reflect on recurring themes of anxiety and intrusion. Four actresses play Stiassni interchangeably in situations that overlap the time of the dream with the time of the dreamer. Martin envisages that the installation will become simultaneously a portrait of her ancestor, a self-portrait and an exploration of intergenerational trauma, loss, and resilience.
Daria Martin said: "I was intrigued to discover that The Curve was originally designed as a liminal space:  a sound buffer to wrap around the back of the Concert Hall.  My exhibition explores another sort of 'back room'– a lost dream diary archive.  The installation plays with the dramatic sweep of the grand, semi-circular curved wall – and in particular the way that it enables a cinematic journey of successive 'reveals'– but also with the space's more eccentric insides."
Daria Martin is an internationally exhibited artist living in London, and Professor of Art at The Ruskin School of Art, University of Oxford. Martin's films aim to create continuity between disparate media such as painting and performance, between people and objects, and between internal and social worlds.
Martin was born in 1973 in San Francisco. After studying humanities at Yale, she received her Master in Fine Arts from the University of California, Los Angeles, in 2000. Solo exhibitions include Maureen Paley, London, UK (2016); One of the Things That Makes Me Doubt, ACCA: Australian Centre for Contemporary Art, Melbourne, Australia (2013); Sensorium Tests, Milton Keynes Gallery, Milton Keynes, UK (2012); Minotaur, Touring Exhibition, MCA Chicago, Chicago, USA, New Museum, New York, USA and Hammer Museum, Los Angeles, USA (2009-10). Recent group exhibitions include The New Human, Moderna Museet Malmö, Sweden, touring to Moderna Museet, Stockholm, Sweden (2016); 14th Istanbul Biennial SALTWATER: A Theory of Thought Forms, Istanbul, Turkey (2015); 10th Shanghai Biennale, Shanghai, China (2014); In the Holocene, MIT List Visual Arts Center, Cambridge, Massachusetts, USA (2012); Dancing Through Life, Centre Pompidou, Paris, France (2011). Martin was recently awarded the 2018 Film London Jarman Award. Martin is represented by Maureen Paley, London.
Supported by Wellcome, Fundación Almine y Bernard Ruiz-Picasso para el Arte, Christie Digital and using public funding by Arts Council England.
Daria Martin: Tonight the World 
The Curve, Barbican Centre
31 Jan – 7 Apr 2019
Media View: Wed 30 Jan, 10am – 1pm
Free Admission
#DariaMartin