Press room
Dance Umbrella at the Barbican: Irish choreographer, dancer and Olivier Award-nominee Colin Dunne performs latest solo show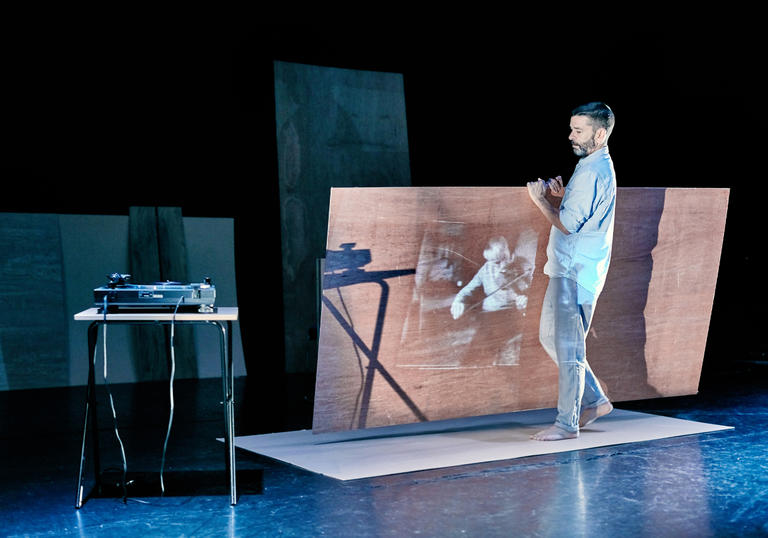 Dance Umbrella 2018
Colin Dunne
Irish contemporary dancer Colin Dunne returns to the Barbican for the UK premiere of Concert, presented as part of Dance Umbrella in its 40th year. Last seen here in 2009 with the Olivier Award and Critics' Circle Award-nominated performance Out of Time, Dunne takes on the "undanceable" music of the virtuoso fiddle player and composer Tommie Potts (1912–1988).
United by a deep appreciation of tradition yet compelled by their desire to break it apart, Dunne enters into a creative dialogue with The Liffey Banks (1972) - the only commercial recording left by the enigmatic Potts. This rhythmically deviant, melodically resplendent album presents a singular challenge to Dunne. Armed with a turntable, portable speakers and sheets of flooring, he responds physically, percussively and conversationally to the irregular, richly textured tunes. Drawing on his extraordinary technique and deep engagement with the music he illuminates it afresh in a negotiation of old and new.
Colin Dunne is a leading figure in the world of traditional Irish dance, who has crossed over into contemporary dance and theatre and is best known internationally for his performances and choreography in Riverdance and Dancing on Dangerous Ground. Ensemble works include The Yellow Room (Daghdha Dance Company/Yoshiko Chuma 2003), and The Bull (Fabulous Beast Dance Theatre/Michael Keegan Dolan 2005), which was nominated for a Critics' Circle Dance Award in 2007. In 2008 Dunne premiered his first solo show,Out of Time in Glór Theatre, Ennis which toured internationally at festivals and venues in London, New York, Paris, Brazil and Singapore. Recent collaborations include; eRikm (What is Ours, Centre National de la Danse, Paris), The Irish Chamber Orchestra/Linda Buckley (The Turn, Fall for Dance Festival New York), Boris Charmatz/Musée de la danse (20 Dancers for the xx century, Tate Modern, London), and Edges of Light(with David Power, Maeve Gilchrist and Tola Custy, commissioned by Music Network 2016). Concertpremiered at the Centre National de la Danse, Paris in 2017, and has since toured to Ireland, The Netherlands and Scotland.
Dance Umbrella is London's international dance festival, celebrating 21st century choreography across the capital. Since 1978, Dance Umbrella has been bringing outstanding contemporary dance to London, presenting more than 751 artists from 35 countries to over one million people. The first to present Mark Morris, Anne Teresa De Keersmaeker, Michael Clark and many more in the UK, Dance Umbrella has commissioned over 80 new works at 81 different venues ranging from Smithfield Market to the British Library, from canal long boats to Alexandra Palace Ice Rink, from car park rooftops to outer London parks.
Listings information
Concert
Colin Dunne
Dance Umbrella
Ireland
Created by Colin Dunne, Sinéad Rushe and Mel Mercier
Choreography by Colin Dunne
Directed by Sinéad Rushe
Sound by Mel Mercier
Lighting by Colin Grenfell
Film by Jeffrey Weeter
Wed 17–Sat 20 Oct 2018 (4 performances)
The Pit
7.45pm
1 hour/no interval
£18 plus booking fee
Age guidance: 12+
Press night: Wed 17 Oct 2018, 7.45pm
BSL-interpreted performance and post-show talk: Thu 18 Oct 2018 (free to same-day ticket holders)
Presented by the Barbican and Dance Umbrella
Original co-production by Once Off Productions, CND Centre National de la Danse Paris, MA Scène Nationale-Pays de Montbéliard, La Comète Scène Nationale de Châlons-en-Champagne and Dublin Dance Festival
Supported by Culture Ireland as part of GB18: Promoting Irish Arts in Britain
Dates: Wednesday 17-Saturday 20 October 2018, 7.45pm
Press night : Wednesday 17 October 2018, 7.45pm
Venue: The Pit, Barbican Centre
Freddie Todd Fordham, Communications Officer for Theatre and Dance: freddie.todd-fordham@barbican.org.uk or 020 7382 7399