Press room
Barbican Shop announces exclusive new collection created by Tom Pigeon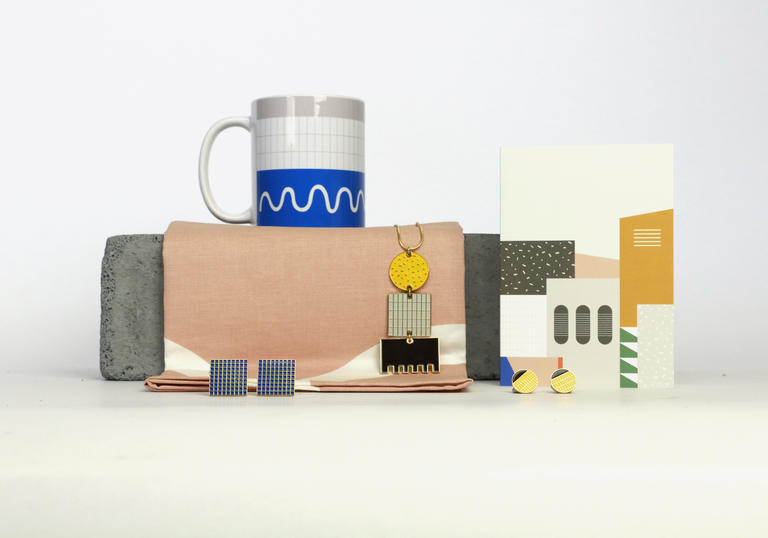 Barbican Shop announces a new collection of jewellery, homeware and accessories created by design studio Tom Pigeon exclusively for the Barbican, inspired by the building's iconic architecture. Incorporating elements of the geography of the Barbican estate, the Surface collection is a playful celebration of colour, pattern, shape and texture.
The range includes gold plated earrings, necklaces and pins, mugs and tea towels for the kitchen, a tote bag, a selection of greeting cards, and an A3 print featuring a Surface design.
Tom Pigeon is a creative studio founded by Pete and Kirsty Thomas in 2014. As Tom Pigeon they design simple things for people to enjoy from their studio in Cellardyke on the east coast of Scotland, with their pieces then exhibited and sold across the world. The inspiration behind creating the Tom Pigeon studio was to make the kind of things they would like to own and live with, a design ethos that has been applied across the Surface collection.
Kirsty Thomas of Tom Pigeon said: 'The Barbican is one of my favourite spaces in London, both socially and architecturally. I love the melting pot of its public spaces and I am continually excited by the shapes, textures, colours and patterns found around every corner. I wanted to explore the forms and layers of the Barbican estate in a playful way; how one texture or colour overlays another and how the shapes of buildings intersect to create interesting planes and angles.'
The range is now available instore at the Barbican Shop on Level G of the Barbican and also online at shop.barbican.org.uk
John Kelly, Communications Assistant: 0207 382 2389, john.kelly@barbican.org.uk