Press room
Barbican presents UK premiere of stage adaptation of Alice Oswald's Memorial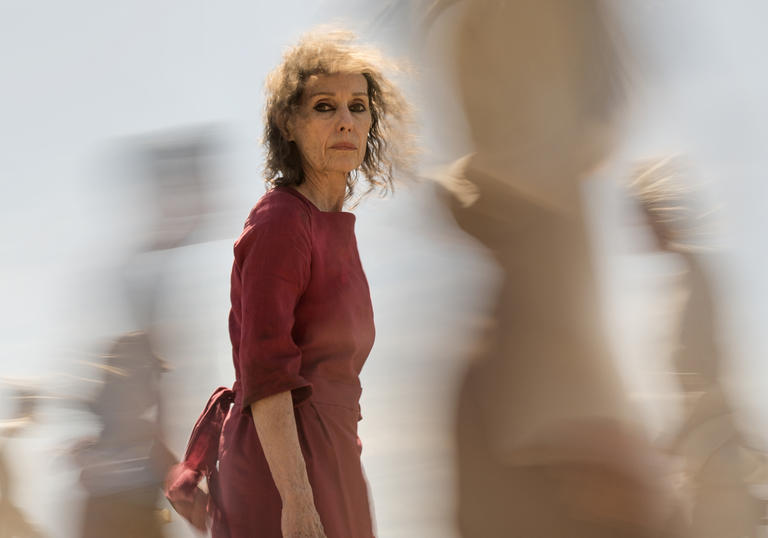 Brink Productions
Memorial
by Alice Oswald
Barbican Theatre, Barbican Centre, Silk Street, London, EC2Y 8DS
Thursday 27 –Sunday 30 September 2018
Press night: Thursday 27 September 2018, 7.45pm
Priority booking for Barbican Members opens on Wednesday 24 January and public booking opens on Tuesday 30 January. Journalists wishing to request press tickets should click here from midday on Monday 22 January.
Brink Productions and the Barbican present a theatrical adaptation of Alice Oswald's brilliantly original reimagining of Homer's Iliad by a poet who is also a classicist. The concept for the production and direction comes from Brink Production's Artistic Director, Chris Drummond and Artistic Director of Circa, Yaron Lifschitz, with music by Jocelyn Pook. The UK premiere is presented at the Barbican as part of 14-18 NOW, the UK's official arts programme for the First World War centenary.
In Memorial, Alice Oswald strips away Homer's narrative and attends to its atmosphere, its enargeia, or "bright unbearable reality" with a memorialising of every soldier named in the Iliad, juxtaposed with exquisite similes describing vast movements in time and nature. The result is a concentrated, intense elegy in which each soldier's death characterises the man and each death is different, a compelling litany of the war-dead.
Oswald conceived Memorial as a poem to be spoken out loud in the spirit of the Greek oral tradition, believing that the Iliad is an invocative poem, a lament, speaking directly to the dead. In a fusion of music, choreography and theatre, the celebrated Australian actress Helen Morse will perform Memorial, her lone voice embodying the voice of the gods, of the elements, of time itself and of lives arrested in visceral moments of war. The stage will be populated with men and women drawn from a wide cross-section of the community to create a choric presence simultaneously evoking the 215 soldiers named in the poem and their connections to home and loved ones. Reflective, meditative and dynamic, the show stands as a requiem to all those who have made the ultimate sacrifice during conflict and war.
Jocelyn Pook's original live score provides a counter voice to the text, weaving an unbroken thread throughout the piece with a vocal and musical ensemble including soprano and composer, Melanie Pappenheim, Macedonian vocalist, Tanja Tzarovska, counter tenor, Jonathan Peter Kenny, singer and multi-instrumentalist, Belinda Sykes, cellist/singer Laura Moody and violinist/singer, Kelly McCusker.  Using old and new instruments, the score draws on an eclectic array of inspirations from Macedonian folk to chamber music, field recordings and electronic music.
Alice Oswald's second collection of poetry, Dart, won the T.S. Eliot Prize in 2002. Her third collection, Words etc. won the Geoffrey Faber Memorial Prize in 2006 and in 2009 she was awarded the Hawthornden Prize for A Sleepwalk on the Severn, a night piece for several voices set on the Severn Estuary.
Alice Oswald said: "The Iliad is an important poem to me because I believe the soldiers it mentions were real people. It has always, I think, been read as a heroic epic rather than a lament. It would be wonderful if we could bring out this other, quieter Iliad in a performance which commemorates the 14-18 war as well as the wars at Troy and elsewhere."
Toni Racklin said: "Memorial is a powerful tribute to all those who have sacrificed their lives in conflict, whether ancient or modern. The Barbican is delighted to be the co-commissioner, with 14-18 NOW, of Alice Oswald's extraordinary dramatic poem, and to present work of this epic nature on the Barbican stage, with 215 participants from community choirs representing each of the deaths depicted in the poem. We are thrilled to continue our relationship with Circa's Yaron Lifschitz and to further our celebration of Australian work through this commission from Brink Productions. We welcome further collaboration with 14–18 NOW following the success of The Forbidden Zone in 2016 and Beware of Pity in 2017."
Jenny Waldman, Director of 14-18 NOW, said: "We are delighted to be partnering with the Barbican once again for this powerful commemoration of the First World War. Memorial, by Alice Oswald, and this new production, connect today's audiences to the history and sacrifices made by those who lived it 100 years ago. This commission is a highlight of our final 14-18 NOW season, in which we continue to engage audiences in the centenary through the lens of art."
Chris Drummond – Director
Chris Drummond is Artistic Director of Brink Productions. His productions have been presented by most major theatre companies in Australia.  Credits include Ancient Rain, Long Tan, Tartuffe, The Aspirations of Daise Morrow, Thursday, Land & Sea, Skip Miller's Hit Songs, Harbinger, The Hypochondriac, When the Rain Stops Falling, Beetle Graduation, The Clockwork Forest, This Uncharted Hour and Drums in the Night. Chris' production of When the Rain Stops Falling won multiple awards including 2010 ACT Green Room Award - Production; 2009 Sydney Theatre Awards: Best New Australian Work; 2009 Victorian Green Room Awards (Production, Set Design, Lighting Design, New Writing for Stage); and 2008 Ruby Award (Best Work). Chris was Associate Director at the State Theatre Company of South Australia between 2000 and 2004 and his credits include Babyteeth, Art, The Dying Gaul, The Merchant of Venice, drowning in my ocean of You and Night Letters. Other directing credits include The Flying Dutchman for the State Opera Company of South Australia (Helpmann Award nomination for best direction) and a devised work entitled The Dissolving Self for NIDA in association with Brink and Carriageworks. In 2010 the ABC's Limelight magazine nominated Chris as one of the top 50 players in the arts in Australia.
Yaron Lifschitz - Choreographer
Yaron Lifschitz is a graduate of the University of New South Wales, University of Queensland, and National Institute of Dramatic Arts (NIDA), where he was the youngest director ever accepted into its prestigious graduate director's course. Since graduating Yaron has directed over 60 productions including large-scale events, opera, theatre, physical theatre, and circus. His work has been seen in 39 countries and across six continents by over one million people and has won numerous awards including six Helpmann Awards and the Australia Council Theatre Award. His productions have been presented at major festivals and venues around the world including BAM, the Barbican, Les Nuits de Fourvière, Chamaleon and all the major Australian festivals. His film work was selected for the Berlin and Melbourne Film Festivals. He was founding Artistic Director of the Australian Museum's Theatre Unit, Head Tutor in Directing at Australian Theatre for Young People and has been a regular guest tutor in directing at NIDA. He is currently Artistic Director and CEO of Circa, Creative Director of Festival 2018: the arts and cultural program of the 21st Commonwealth Games. In 2018, Yaron will direct four new Circa creations and a new production of Idomeneo which will open in Lisbon at The Teatro Nacional de São Carlos.
Jocelyn Pook is one of the UK's most versatile composers, having written extensively for stage, screen, opera house and concert hall. Often remembered for her film score to Eyes Wide Shut, which won her a Chicago Film Award and a Golden Globe nomination, Pook has worked with some of the world's leading directors, musicians, artists and arts institutions including Stanley Kubrick, Martin Scorsese, the Royal Opera House, BBC Proms, Andrew Motion, Peter Gabriel, Massive Attack and Laurie Anderson. Her first opera Ingerland was commissioned and produced by ROH2 for the Royal Opera House's Linbury Studio in June 2010. The BBC Proms and The King's Singers commissioned her to collaborate with the Poet Laureate Andrew Motion on a work entitled Mobile. Pook won an Olivier Award for the National Theatre's production of St Joan, and a British Composer Award for her music-theatre piece Speaking in Tunes. She won a second British Composer Award for her soundtrack to DESH, which accompanies Akram Khan's dance production of the same name. In 2014 Pook composed the score for a new dance piece Lest We Forget choreographed by Akram Khan for English National Ballet to mark the centenary of the First World War, as well as the score for Mike Bartlett's play, King Charles III.
About 14-18 NOW
14-18 NOW is a programme of extraordinary arts experiences connecting people with the First World War, as part of the UK's official centenary commemorations. It commissions new work by leading contemporary artists across all art forms; the programme has included over 200 artists from 35 countries, with commissions taking place in 160 locations across the UK. Over 30 million people have experienced a project so far, including 7.5 million children and young people. 16.7million people took part in LIGHTS OUT in 2014, and 63% of the population were aware of Jeremy Deller's 2016 work 'We're here because we're here'. The UK tour of the iconic poppy sculptures by artist Paul Cummins and designer Tom Piper have been seen by over 3.5 million people to date. 14-18 NOW has won many awards for its work, including the National Lottery Heritage Award 2017, a Museums Heritage Award and the Chairman's Awards at The Drum Social Buzz Awards 2016. It is supported by the National Lottery through the Heritage Lottery Fund and Arts Council England, by the Department for Digital, Culture, Media and Sport, and by additional fundraising.  
ENDS
Press information
For further information please contact:
Bridget Thornborrow, PR consultant, 07802 166594 or bridget.thornborrow@barbican.org.uk
Public information
Box office: 0845 120 7511
barbican.org.uk/theatre
Listings information
Memorial
by Alice Oswald
Brink Productions
Australia
Concept by Chris Drummond and Yaron Lifschitz
Directed by Chris Drummond
Composition by Jocelyn Pook
Movement by Yaron Lifschitz
Design by Michael Hankin
Costumes by Renate Henschke
Lighting by Nigel Levings
Sound by Jane Rossetto
Associate Director Benjamin Knapton
Music Director Jonathan Peter Kenny
Producer Lee-Anne Donnolley
Thu 27–Sun 30 Sep 2018 (4 performances)
Barbican Theatre
7.45pm; 3pm only on Sun 30 Sep 2017
1 hour 30 minutes/no interval
£16–40 plus booking fee (Young Barbican tickets available at £10 plus booking fee)
Age guidance: 12+
Press night: Thursday 27 September 2018, 7.45pm
#Memorial
Co-commissioned by the Barbican and 14-18 NOW: WW1 Centenary Art Commissions
With assistance from the Australia Council for the Arts and the Australian Government's Major Festivals Initiative, in association with the Confederation of Australian International Arts Festivals, Adelaide Festival, Brisbane Festival and Melbourne Festival, and with support from the Australian Government's Anzac Centenary Arts and Culture Fund
Bridget Thornborrow, PR consultant: 07802 166594 or bridget.thornborrow@barbican.org.uk