Press room
Barbican Presents: Fiona Shaw joins Casals Quartet at Milton Court, 1 February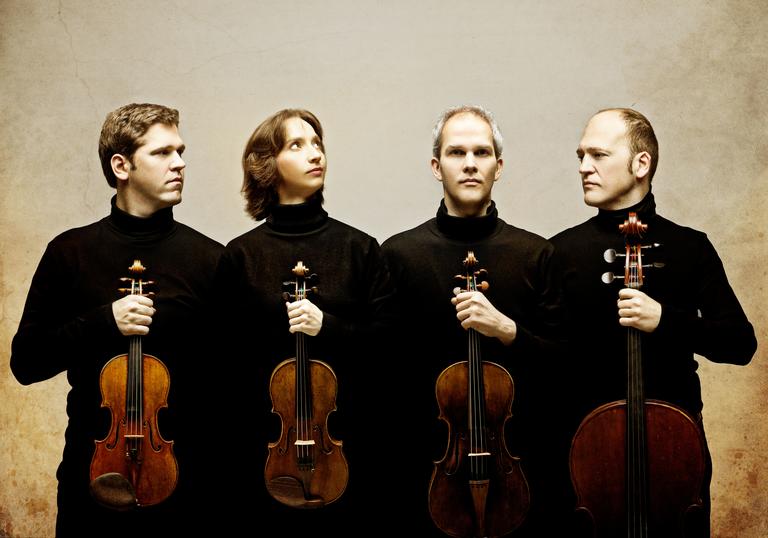 Internationally renowned string quartet, Cuarteto Casals, returns to the Barbican for two Milton Court projects in February 2019 demonstrating the breadth of its repertoire. First, the quartet will perform Haydn's Seven Last Words of Christ, alongside live readings by Fiona Shaw of excerpts from Colm Tóibín's novella The Testament of Mary (1 Feb 2019). For the second performance, Cuarteto Casals is joined by pianist Tamara Stefanovich for Hungariana (3 Feb 2019). This will be a day of music, curated by creative director Gerard McBurney, celebrating the music of a towering trio of Hungarian composers, Bartók, Ligeti and Kurtág, as well as the country's rich artistic heritage.
Actor Fiona Shaw has just been confirmed to take part in the first project on 1 February which features Haydn's Seven Last Words of Christ, written as a powerful meditation on suffering, loss - and redemption. The concert will feature extracts from Colm Tóibín's novella The Testament of Mary, interspersed throughout the quartet's performance. Passages from this confessional account of Jesus' life, and death, by his mother Mary will be performed by Shaw, who delivered a powerful solo performance in a critically-acclaimed, Barbican-produced stage adaptation of the work at the Barbican Theatre in 2014. Of this 2014 production, The Times wrote "The brilliant Shaw compels throughout. Extraordinary in her ordinariness allowing for moments of despair and irony alike", whilst The Observer commented "[Shaw] has us spellbound… listening to her is absorbing".
Having previously collaborated on the Barbican's Shostakovich Day with creative director Gerard McBurney in 2015, Cuarteto Casals reunites with him for a project entitled Hungariana on 3 February. This day-long celebration will feature the music of three eminent Hungarian composers whose works spanned the entirety of the 20th century, navigating periods of great change within the country: Béla Bartók (1881-1945), György Ligeti (1923-2006), and György Kurtág (b. 1926). Performed alongside audio-visuals, including evocative imagery from and inspired by famed Hungarian photographers such as Moholy-Nagy and Brassaï, Cuarteto Casals will perform works of these three composers whose distinct and individual sounds contributed significantly to modern classical music. Divided into three concerts, Hungariana will give Cuarteto Casals a platform to show their versatility as they perform on stage with pianist Tamara Stefanovich, a specialist in the music of the 20th century who, like Cuarteto Casals, has also worked closely with the composer György Kurtág. The visuals for this performance are designed by Amelia Kosminsky from the Guildhall School of Music & Drama's BA Video Design for Live Performance degree programme.
Annikaisa Vainio-Miles, Senior Communications Manager : +44 (0)20 7382 7090, annikaisa.vainio-miles@barbican.org.uk
Sabine Kindel, Communications Manager: +44 (0)20 7382 6199, sabine.kindel@barbican.org.uk
Edward Maitland Smith, Communications Officer: +44 (0)20 7382 6196, Edward.MaitlandSmith@barbican.org.uk
Rose Jamieson, Communications Assistant: +44 (0)20 7382 6138, rose.jamieson@barbican.org.uk