Press room
Barbican Presents: Ada Lovelace - Imagining the Analytical Engine featuring four world premiere compositions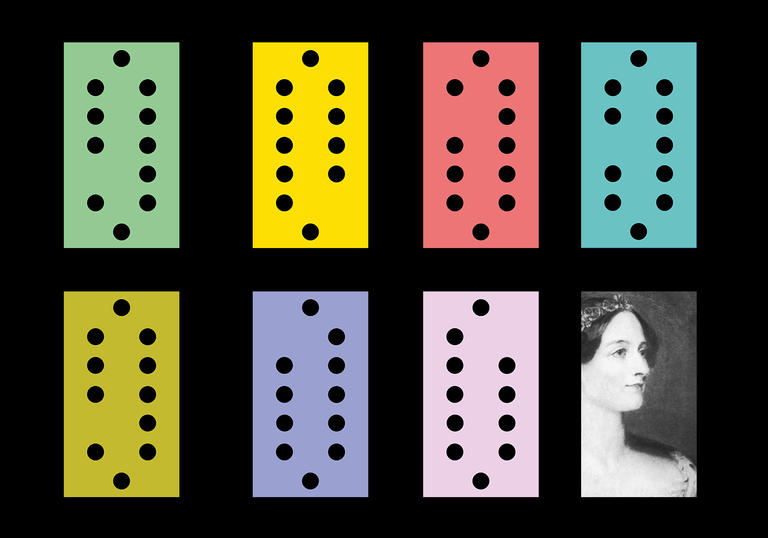 Barbican Presents:
Ada Lovelace: Imagining the Analytical Engine - featuring four world premiere compositions
Sat 2 Nov 2019, 6.30pm, Milton Court Concert Hall
Emily Howard curator, Marta Fontanals-Simmons mezzo-soprano, Britten Sinfonia
Supported by PRS Foundation's Open Fund for Organisation
This performance is part of Life Rewired - a Barbican programmed cross-arts season exploring what it means to be human when technology is changing everything.
Four Barbican-commissioned world premieres written using or taking creative inspiration from artificial intelligence
Newly-created instruments on stage, inspired by both Ada Lovelace and Charles Babbage's Analytical Engine and machine-learning techniques
Expert panellists, including Ursula Martin and Sydney Padua, and musicians bringing together words and music to celebrate and illuminate Ada Lovelace's legacy and achievements
On 2 November, composer Emily Howard, whose inspirations range from geometry and magnetism to the human brain and neural networks, curates an evening of new music and discussion inspired by the life and work of Ada Lovelace, an early pioneer of the computer. Howard, who has a background in mathematics and computer science, pays tribute to a woman who united the worlds of 19th-century romanticism and cutting-edge science. Ada Lovelace (1815-1852) explored far-reaching mathematical concepts and worked with Charles Babbage on his revolutionary Difference Engine, writing what is now recognised to be the world's first computer programme. 
The evening at Milton Court Concert Hall will combine words and music to offer a perspective on Lovelace's legacy and achievements, featuring expert panellists Ursula Martin, Sydney Padua and Emily Howard, with a compere for the evening to be announced. Britten Sinfonia performs the programme of world premieres of Barbican commissioned works by Patricia Alessandrini and Shiva Feshareki as well as Ada sketches and the world premiere of a new work by Emily Howard herself. The evening will also feature a further tribute to Lovelace created by the team at PRiSM (the interdisciplinary research centre for Practice & Research in Science & Music at the RNCM conservatoire in Manchester) led by Robert Laidlow who prepared the piece using and working with machine learning.
Across the four premieres, each will explore themes of human replacement in the face of technology, beauty and poetry through mathematics, the relationship between Ada Lovelace's vision and the modern-day reality as well as celebrating Lovelace's life. Knowing that Lovelace predicted machines and artificial intelligence capable of attempting and perhaps even achieving beautiful composition, Emily Howard, Shiva Feshareki, Patricia Alessandrini and the PRiSM team with Robert Laidlow will explore this prediction through their respective works. In addition, the evening will feature some of the physicality of artificial intelligence anticipated by Ada Lovelace, with the PRiSM team presenting a newly developed percussion instrument: the Lovelace Engine – built to echo the unrealised Analytical Engine. As part of Alessandrini's composition, a piano machine will feature too – developed at Goldsmiths University with her colleague Konstantin Leonenko – which will not only learn, imitate and emulate the notes being played by the ensemble on stage, but also, importantly, the way that they are played. Through Alessandrini's piece and the compositions by Howard, Feshareki and the PRiSM team with Laidlow, the evening will shine a light on the ever-present concerns of human replacement, and technology's place alongside humans – notions we have continued to question long since they were explored by Lovelace herself.
Appendix:
Please see below for further detail on the individual compositions and their backgrounds.
Emily Howard
But then, what are these numbers?, 2019
Alongside her composition Ada sketches, Emily Howard, who has a background in mathematics and computer science, will also present a Barbican-commissioned new composition: But then, what are these numbers? The piece takes its name from a previously unpublished letter written by Ada Lovelace to her mother, towards the end of Lovelace's life (Ada Lovelace died aged just 36 years old from uterine cancer). The letter reveals much of Lovelace's state of mind at the time – exploring questions of order, disorder, and technological progression – as well as her courage in her own conviction. In her composition, Howard will celebrate these aspects of Ada Lovelace, as well as her humanity – bringing the playfulness, joviality and wit demonstrated in much of her writing into the music as it develops. Forming the foundation of the piece, the text from Lovelace's letter has been dissected by Howard and randomised and reordered through myriad variations using algorithms from the earliest days of computing that form the very foundation of modern artificial intelligence. Underpinned by music moving through similar variations and progressions, the iterations will culminate finally in the letter's correct order and, paraphrasing Lovelace's own words to her mother, harmonious discipline in the final act. 
Howard's composition  - a piece of both mischievousness and complexity – will examine the interdisciplinarity of Ada Lovelace whilst also shining a light onto early programming techniques and Lovelace's own ability as a musician, with the music moving in computational fashion from disorder to order. In a piece representative of the entire evening, Howard celebrates Ada Lovelace as mathematician, musician, and, importantly, human. 
Patricia Alessandrini
Ada's Song, 2019
Taking direct influence from Ada Lovelace's prediction that an "analytical machine" - a precursor of computer technology and artificial intelligence - would at some point be capable of composition, composer and sound artist Patricia Alessandrini's work will pay homage to the pioneer of computer programming. With a work that will emulate human performative techniques, Alessandrini will also celebrate the miracle of human expressivity – and explore what it means for a machine to learn from humans. 
In the performance of her piece, Alessandrini combines pre-curated machine-written bars of composition with live machine-learnt composition. A piano machine, developed by Alessandrini while at Goldsmiths University with her colleague Konstantin Leonenko, will not only learn, imitate and emulate the notes being played by the ensemble on stage, but also the way that they are played. With her project examining what makes us human when we perform, Alessandrini shines a light on the ever-present concerns of human replacement, and technology's place alongside humans – notions we have continued to question since they were explored by Lovelace herself.
Shiva Feshareki
Perpetual Motion, 2019
In her writings on the unrealised Analytical Engine, computer pioneer and mathematician Ada Lovelace wrote that 'I feel not doubt if I continue my studies I shall in due time be a Poet'. With this statement, Lovelace demonstrated her acknowledgement of the power of mathematics as a language, capable of creative expression and even beauty. In the preface to composer Shiva Feshareki's piece Perpetual Motion, her collaborator and co-researcher Amina Abbas-Nazari writes that "Feshareki's composition comments on the contemporary perpetual motion of technological culture, but as Lovelace would have implored us to do so. Today technology consumes itself with mechanising and replicating human labour, thought and even creativity without digressing to find beauty and poetry, both within our human capabilities and technologies we've created."
Across two movements, Feshareki both reinforces the mechanical nature of performance whilst expressing the poetry that sound affords us by not reducing notation to pure information, and, in the second movement, "explores Lovelace's intention of 'I shall in due time be a Poet', digitally shaping Lovelace's words, spoken by Feshareki, into new poetic formations, through a process of departing from speech into sound; making malleable and manipulating the original recorded phrase. Feshareki offers her own voice to complete Lovelace's augury that 'poetry in conjunction with musical composition' would be her 'destiny'".
PRiSM Team and Robert Laidlow
Alter, 2019
In a Barbican commission for the team at PRiSM led by composer Robert Laidlow, PRiSM's piece will trace the slow forming of an artificial intelligence across three stages – as a swirling consciousness trapped in negative space moving through phases of self-awareness, recognition, and finally reaching and questioning broader philosophical themes of existence and sentience. The piece utilises AI developed by the PRiSM team and Christine Payne of OpenAI throughout, to different degrees – with sections written entirely by AI, or integrated and interweaving machine-written music into human notation – all curated and edited by Laidlow. The piece also uses text which will be sung as part of the performance, developed entirely by an AI and built using datasets coded by David de Roure of Oxford University, at The Alan Turing Institute. During the performance, the datasets will develop with each phase of the composition: the first trained solely on Lovelace's correspondences, the second expanded with wider 19th century writings, and the third and final model with text from throughout human history, using OpenAI's GPT-2 AI which pulls written information from the entire web – including everything human-created from Wikipedia articles, to novels and historical texts, to YouTube comments. This trio of datasets, implemented at different stages in the piece, have enabled the PRiSM team to instil the narrative with a real sense of an increasingly intelligent AI as it develops throughout the work.
Laidlow and the PRiSM team have also developed a new percussion instrument, the Lovelace Engine – inspired by the physical appearance and functionality of Babbage's Difference Engine, and the design of the Analytical Engine written about at length by Lovelace. Laidlow comments that 'It's so exciting to present this dazzling and unique new instrument at the Barbican. We love the idea of linking Lovelace-era computing– i.e., a very physical notion of cylinders doing mathematics, all powered by steam – with what high-level computing (AI) actually is today.'
PRiSM is the interdisciplinary research centre for Practice & Research in Science & Music at the Royal Northern College of Music conservatoire in Manchester.