Press room
Barbican Conservatory announces extra opening times for August and September 2019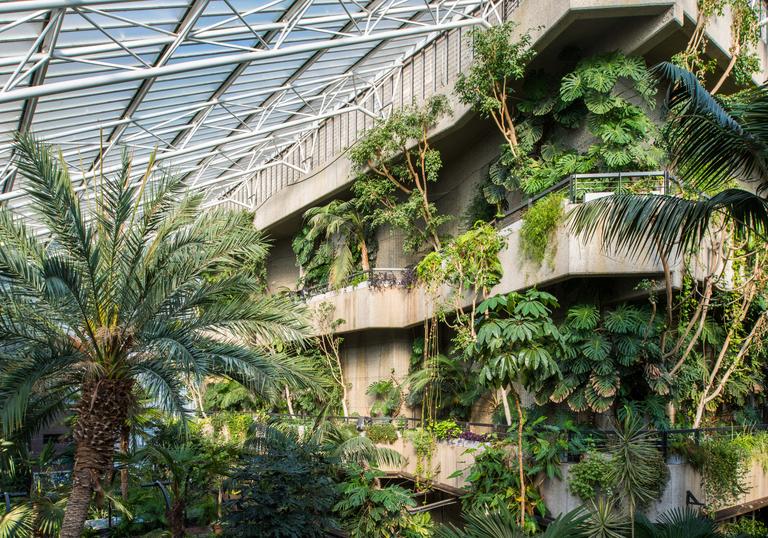 Providing an idyllic oasis in the centre of the city, the Barbican Conservatory announces extra opening times for August and September 2019 with even more opportunities to visit the second largest conservatory in London.
In addition to its regular Sunday openings, the Barbican Conservatory will also open on selected Saturdays in the coming weeks, with a late Saturday opening until 10pm offering the chance to see the tropical space from a whole new perspective with atmospheric lighting and a bar to enjoy an evening drink at with friends and family. There will also be a pop-up café in the daytime from 12pm to 5pm on Saturdays serving coffee, tea and cakes.
The Conservatory will continue to open between 12pm and 5pm on selected Sundays and the August bank holiday. Visitors can pre-book a unique afternoon tea through the Barbican website, with a selection of handmade cakes and savouries each inspired by a fruit, flower or herb grown in the Conservatory. And for those wanting to learn more about the history and hidden secrets of the Conservatory, a tour takes place on selected Sundays led by the Barbican's resident gardeners.
Designed by the Barbican's architects Chamberlin, Powell and Bon, the Barbican Conservatory is bursting with lush and varied plant life and three indoor ponds. The Conservatory houses around 2,000 species of plants and trees, some of which are rare and endangered in their native habitat. The species are a vibrant mix of temperate and arid types ranging from areas as diverse as the rocky deserts and bushland of South Africa to the coastline of Brazil. A varied assortment of the extraordinary flora from around the world includes the iconic tree fern, date palm, the Swiss cheese plant, and coffee and ginger plants all under one roof. Meanwhile, the ponds are home to koi, ghost, and grass carp from Japan and America, with an additional pool providing a safe haven for terrapins.
For full details on upcoming opening dates and times please check the Conservatory page on the Barbican website: barbican.org.uk/conservatory. Admission is free and on a first come first served basis. Additional opening dates may be added later in the Autumn.