Press room
Barbican Cinema: Oscar Week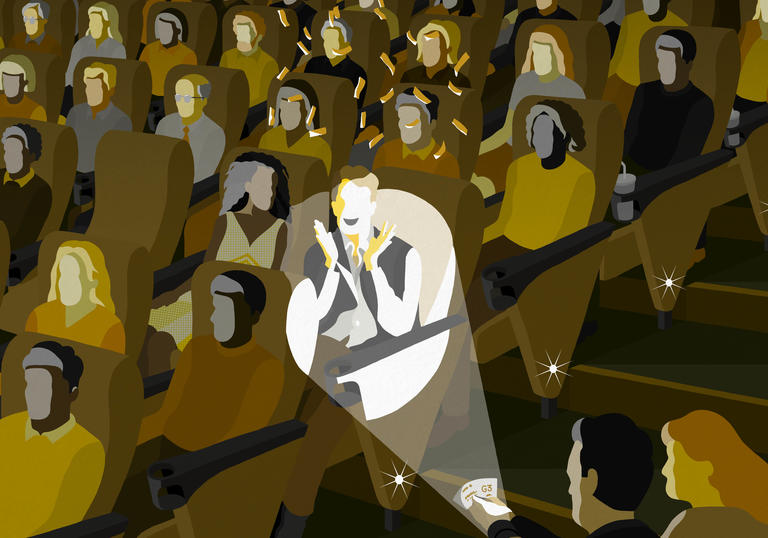 Barbican Cinema, Barbican Centre
Oscar® Week
Fri 2 - Thu 8 March 2018, Cinema 2 & 3
barbican.org.uk/whats-on/cinema
For one week only, in celebration of the 90th year of the Academy Awards, the Barbican screens all the films nominated for Best Picture in 2018, along with a showing of all the nominated Live Action Shorts. From historical dramas, to surreal love stories, social critiques, and satires, the series offers an overview of the wide range of works running up for the world-famous award.
In partnership with the Academy of Motion Picture Arts and Sciences
Get Out (15)
Fri 2 Mar 8.45pm, Cinema 3
US/Japan 2017 Dir Jordan Peele 104 min
A genre-defying film embracing horror, comedy, and social critique, Get Out is an impressive debut. When Rose (Allison Williams) invites her boyfriend Chris (Daniel Kaluuya) for a weekend getaway upstate with her parents, Chris reads the family's overly accommodating behaviour as nervous attempts to deal with their daughter's interracial relationship. But as the weekend progresses, a series of increasingly disturbing discoveries lead him to a truth that he never could have imagined.
Nominated for 4 Academy Awards including Best Director and Best Actor for Daniel Kaluuya
Darkest Hour (PG)
Sat 3 Mar 5.40pm, Cinema 3
UK 2017 Dir Joe Wright 125 min
Within days of becoming Prime Minister of Great Britain, Winston Churchill (Gary Oldman) must face one of his most turbulent and defining trials. With an unprepared public, a sceptical King, and his own party plotting against him, Churchill must withstand his darkest hour, rally a nation, and attempt to change the course of world history.
Nominated for 6 Academy Awards including Best Actor for Gary Oldman
Call Me By Your Name (15)
Sat 3 Mar 8.20pm, Cinema 3
Italy 2017 Dir Luca Guadagnino 132 min
Set during a hot Italian summer in 1983, the film follows 17-year-old Elio (Timothée Chalamet) on holiday with his translator mother (Amira Casar) and college professor father (Michael Stuhlbarg). When research assistant Oliver (Armie Hammer) comes to visit, he and Elio find themselves drawn to each other. Featuring two new tracks by Sufjan Stevens, Guadagnino's adaptation of André Aciman's coming-of-age novel is a transcendent romance.
Nominated for 4 Academy Awards including Best Director, Best Actor for Timothée Chalamet and Best Original Song
The Square (15)
Sun 4 Mar 11am, Cinema 3
Sweded/Germany/France/Denmark 2017 Dir Ruben Östlund 142 min
The respected curator of a contemporary art museum in Stockholm, Christian (Claes Bang) wants his gallery to make a splash, and he arrives at the idea of 'The Square', an installation inviting passersby into a space where they are encouraged to behave responsibly. But before this can happen Christian has his own sense of civic duty tested when his phone is stolen.
Nominated for Best Foreign Language Film
Young Barbican Screening
Sun 4 Mar 11.15am, Cinema 2
Screening of a Best Picture nominee as chosen by the Young Barbican members.
The Post (12A)
Sun 4 Mar 3.15pm, Cinema 3
US 2017 Dir Steven Spielberg 116 min
A timely and gripping exploration of press freedom and political accountability, Spielberg's drama tells the story of how, in 1971, Post editor Ben Bradee (Tom Hanks) and publisher Katharine Graham (Meryl Streep) fought the law, the government — and in Graham's case, open sexism — to publish key parts of the Pentagon Papers, which exposed the truth about US involvement in the Vietnam War. 
Nominated for 2 Academy Awards including Best Actress for Meryl Streep
Phantom Thread (15)
Sun 4 Mar 5.45pm, Cinema 3
US 2018 Dir Paul Thomas Anderson 130 min
In his final movie performance, Daniel Day Lewis plays fashion designer Reynolds Woodcock, living a contained life. When he meets young waitress Alma (Vicky Krieps), his controlled life is challenged by their powerful new love.
Nominated for 6 Academy Awards including Best Director and Best Actor for Daniel Day-Lewis
Live Action Shorts Programme (15*)
Mon 5 Mar 6.30pm, Cinema 3
The programme showcases this year's Oscar-nominated live action shorts from around the world, representing some of the best new filmmakers and emerging talent. Works included are:
Dekalb Elementary
US 2017 Dir Reed Van Dyk 20 min 
Inspired by a 911 call placed during a school shooting incident in Atlanta, Georgia.
My Nephew Emmett 
US 2017 Dir Kevin Wilson Jr 20 min
In 1955, a Mississippi preacher tries to protect his 14-year-old nephew, Emmett Till from two racist killers out for blood.
The Eleven O'Clock
Australia 2016 Dir Derin Seale 13 min
The delusional patient of a psychiatrist believes he is actually the psychiatrist. As they each attempt to treat each other, the session gets out of control.
The Silent Child 
UK 2017 Dir Chris Overton 20 min 
A deaf girl named Libby is born into a middle class family and lives in a world of silence, until a caring social worker teaches her the gift of communication.
Watu Wote/All of Us
Germany/Kenya 2017 Dir Katja Benrath 23 min
For almost a decade, Kenya has borne terrorist attacks of the Al-Shabaab. Anxiety and mistrust between Muslims and Christians grows, until Muslim bus passengers show solidarity. 
Dunkirk (12A)
Mon 5 Mar 8.45, Cinema 3
UK/Netherlands/France, US 2017 Dir Christopher Nolan 106 min
Nolan's war film tells history from three points of view - land, sea, air- as events unfold with a sense of dread and tension, evoking the very human and immediate desire to survive. The work features an all-star supporting cast that includes Tom Hardy, Cillian Murphy and Mark Rylance, as well as British newcomer Fionn Whitehead.
Nominated for 8 Academy Awards including Best Picture, Best Director and Original Score.
The Shape of Water (15)
Tue 6 Mar 8.30pm, Cinema 3
US 2018 Dir Guillermo del Toro 123 min
Guillermo del Toro returns with this unusual aquatic love story between an amphibian man (Doug Jones) and a shy, mute cleaner (Sally Hawkins) working at a top secret government facility.
Nominated for 13 Academy Awards including Best Director, Best Screenplay and Best Actress for Sally Hawkins
Three Billboards Outside Ebbing, Missouri 
Wed 7 Mar 8.40pm, Cinema 3
US 2016 Dir Martin McDonagh 115 min
McDonagh's award-winning drama follows Mildred (Frances McDormand) as she puts up three provocative billboards in her hometown after underwhelming investigations on the killing of her own daughter, forcing Chief Willoughby (Woody Harrelson) to look at the case anew.
Nominated for 7 Academy Awards including Best Actress for Frances McDormand
Lady Bird (15)
Thu 8 Mar 8.45pm, Cinema 3
US 2018 Dir Greta Gerwig 93 min
Gerwig's directorial debut focuses on young Christine a.k.a. Lady Bird (Saoirse Ronan), as she constantly butts up against the     constraints of teenage life, with big (somehow unrealistic) dreams clashing with her reality at a catholic school in Sacramento in 2002.
Nominated for 5 Academy Awards including Best Director and Best Original Screenplay
ENDS
Notes to Editors
For further information contact:
Sarah Harvey Publicity 020 7732 7790
Sarah Harvey: sarah@sarahharveypublicity.co.uk
Eleonora Claps: shpr@sarahharveypublicity.co.uk
Ticket prices:
https://www.barbican.org.uk/whats-on/cinema Box Office: 0845 120 7527
* Local Classification
Sarah Harvey Publicity: 020 7732 7790; Sarah Harvey: sarah@sarahharveypublicity.co.uk