Press room
Barbican April 2018 highlights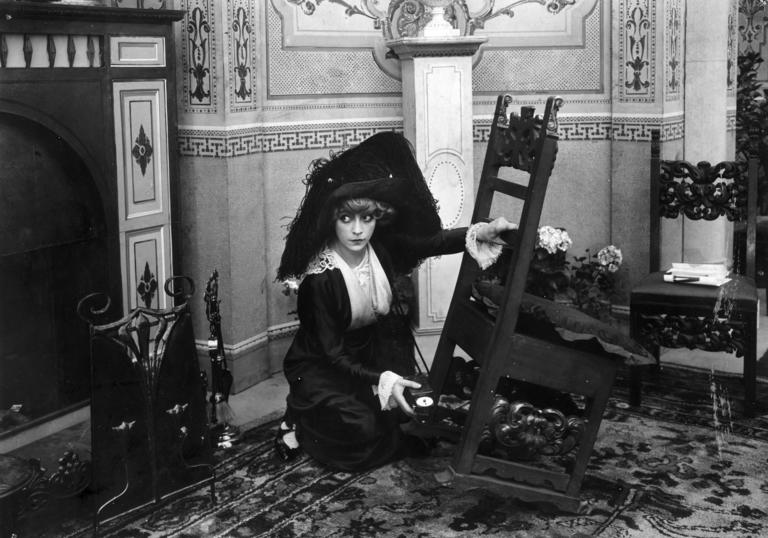 Barbican April 2018 highlights
Barbican Cinema presents Nevertheless She Persisted: Suffrage, cinema and beyond, a series of film screenings focusing on the global struggle for women's equality, inspired by the 100-year anniversary of (some) women gaining the right to vote in the UK and part of the Barbican's 2018 The Art of Change season.
The Royal Opera perform Coraline in the Barbican Theatre, presenting a new operatic adaptation by Mark-Anthony Turnage and the return of Complicité's award-winning The Encounter.
The Architecture Foundation and the Barbican's Architecture on Stage programme sees Sir Norman Foster discuss the challenges of urbanisation and sustainability.
Concerts including Simian Mobile Disco performing music from their forthcoming album Murmurations, Kyle Dixon and Michael Stein performing music from hit Netflix original series Stranger Things and Maxim Vengerov performing all three of Brahms' violin sonatas.
Another Kind of Life: Photography on the Margins continues at the Art Gallery and Yto Barrada's Agadir remains in the Curve.
Barbican Shop presents a number of demonstrations and workshops as part of Make!, a season of contemporary craft.
CINEMA
Nevertheless, She Persisted: Suffrage, cinema and beyond
18–24 Apr 2018, Cinema 1, 2 & 3
Part of The Art of Change
Inspired by the 100-year anniversary since women gained the right to vote in the UK (and named after last year's social media hashtag created after US Senate leader Mitch McConnell prevented colleague Elizabeth Warren from finishing reading out a letter by Coretta Scott King), Barbican Cinema presents a timely season of feature films and documentaries looking at women's rebellious and often dangerous efforts to gain equality, as captured in selected cinematic journeys from around the world. 
Screenings include: Shola Lynch's Chisholm '72 - Unbought and Unbossed, documenting the brave rise of Shirley Chisholm, who ran to be the first black female presidential candidate of the United States in 1972; Rakhshan Bani Etemad's Our Times portraying the stories of Iranian women campaigning and standing for change in their country's 2001 elections; The Divine Order, by Petra Volpe, focusing on Swiss women campaigning for the vote in the early 70's; for aspiring feminists, the Disney classic  Mulan; Annie Goldson and Peter Wells's Georgie Girl about Georgina Beyer, the first trans woman to be elected to national office in New Zealand in 1999; Heiny Srour's Leila and the Wolves, a feminist story of Arab women through several decades of the 20th century; a double bill including 1913 silent film The Suffragette, featuring silent screen diva Asta Nielsen playing a militant British suffragette, and highlights from Make More Noise! (BFI National Archive) with live musical accompaniment by Wendy Hiscocks as part of the Silent Film and Live Music series; Eva Mulvad's Enemies of Happiness – a portrait of Afghan activist and former politician Malalai Joya; and Be Pretty and Shut Up, by French actress and activist Delphine Seyrig, featuring a series of interviews with French and American actresses in 1976 and depicting women's experiences in the film industry at the time. Nevertheless She Persisted: Suffrage, cinema and beyond is part of the Barbican's 2018 The Art of Change season, which explores how the arts respond to, reflect, and potentially effect change in the social and political landscape.
Conversations with Women in Film
Even When I Fall (12A) + ScreenTalk with directors Sky Neal and Kate McLarnon, and producer Elhum Shakerifar
Mon 9 Apr 2018, 6.30pm, Cinema 2
UK 2017 Dirs Kate McLarnon & Sky Neal 79 min
The incredible story of Saraswoti and Sheetal, trafficking survivors who reclaim skills that once came at a high cost: they were slaves in Indian circuses – sold as children. Now freed, together they form Nepal's first circus. An intimate, beautiful film that harnesses the visual power of circus to give a unique perspective into the complex world of human trafficking.
In partnership with Women in Film & TV (UK)
MUSIC
Simian Mobile Disco with Deep Throat Choir
+ Fatima Al Qadiri presents Ja7eem
Wed 4 Apr 2018, Barbican Hall, 8pm
Making a long-awaited debut at Convergence, music producers James Ford and Jas Shaw (aka Simian Mobile Disco) take to the Barbican stage to present a pre-release live performance of music from their forthcoming album Murmurations (Wichita Recordings) featuring the Deep Throat Choir. Murmurations features a return to traditional arrangements and extensive use of vocals, some as lead but also as instruments, tones and textures. This special one-off show will feature the full choir on stage with SMD performing the record in its entirety.
The Deep Throat Choir formed in 2013, packing out venues on the indie circuit before being invited to appear at festivals across the country and collaborating with the likes of Matthew E White, Stealing Sheep, and Dillon (the latter as part of the Barbican's programme in 2016). Their debut album Be Ok (Bella Union) was released in February 2017 to much acclaim.
Their set will be preceded by a new show from Berlin-based Kuwaiti conceptual artist and composer Fatima Al Qadiri, entitled Ja7eem, meaning 'hell-fire' in Arabic. Fatima's thought-provoking work touches upon themes of socio-cultural identity, war and memory: this 35-minute live AV set, with visuals presented and performed by Emmanuel Baird, explores the theme of hell-fire using archive footage of burning oil fires during the First Gulf War.
Kyle Dixon & Michael Stein performing the music of Stranger Things
Sat 7 Apr 2018, Barbican Hall, 8pm & 11.30pm
Kyle Dixon and Michael Stein, half of American experimental synth band S U R V I V E, bring the music of Netflix original series Stranger Things to the Barbican on 7 April 2018. Dixon and Stein's score for season one of the series won a Primetime Emmy Award for Outstanding Main Title Theme Music, as well as two Grammy nominations. For Stranger Things' latest series they have added new elements and styles of composition to support the continuing story.
Stranger Things 2 – Original Netflix Series Soundtrack is available digitally via Lakeshore Records and Invada Records. Dixon and Stein, both Texas natives, were born in the early 1980s when the inspirations for Stranger Things were being made. They met as teenagers and both gravitated towards the analogue, electronic tones of their childhoods.
Piotr Anderszewski plays Beethoven Diabelli Variations
Wed 11 Apr 2018, Barbican Hall, 7.30pm
Polish pianist Piotr Anderszewski is regarded as one of the outstanding musicians of his generation, recognised for the intensity and originality of his interpretations. He has been singled out for several high profile awards throughout his career, including the prestigious Gilmore award, given every four years to a pianist of exceptional talent. In this concert he performs Beethoven's Diabelli Variations, described by conductor and pianist Hans von Bülow as 'a microcosm of Beethoven's art', and a piece with which Anderszewski has a long relationship: his early reputation was in fact built around his confrontation with this intimidating opus. The deep engagement between masterwork and consummate performer has been explored in an ARTE documentary Piotr Anderszewski plays the Diabelli Variations (2001). The concert programme also includes a selection of six Preludes and Fugues from Bach's The Well-Tempered Clavier, Book 2.
Thurston Moore: 12x12
Music for Twelve 12-String guitars (Acoustic + Electric)
Sat 14 Apr 2018, Barbican Hall, 7.30pm
Arch-experimentalist and founder of Sonic Youth Thurston Moore leads a symphony of 12-string guitars in this two-part programme – the first half acoustic, the second electric.
This isn't a Rock band – it's an orchestra, with Moore as conductor and composer. Twelve guitarists are arranged as if one single instrument, exploring the depths and possibilities present in 12 steel strings. Contemplative acoustic meditations give way to all-out electric onslaughts, recalling the visceral ensemble compositions of Moore's legacy through No Wave, Noise Rock and the avant-garde continuum of Sonic Youth and its contemporaries. Separating the two contrasting halves of the concert is a screening of films selected by Moore himself.
Thurston Moore has described himself as not 'a real guitar player', but his impact upon the vernacular of guitar music is more than almost any other player to emerge from the Post-Punk era. With Sonic Youth, he manipulated guitars using unconventional tunings, and everything from drumsticks to screwdrivers to expand the instrument's voice and potential. This spirit of innovation continues across his solo work, most recently on 2017's Rock n Roll Consciousness.
Vengerov plays the Brahms Violin Sonatas
Mon 16 Apr 2018, Barbican Hall, 7.30pm
Grammy award winner Maxim Vengerov, one of the greatest violin virtuosos of our time, visits the Barbican to perform all three of Brahms' violin sonatas. The lyrical expansiveness of the first sonata in G major, written in 1879, carries across into the second sonata in A major, completed seven years later. Both were probably intended for intimate, domestic performances and differ in tone and breadth from Brahms' turbulent and intense third sonata in D minor, completed in 1888.
The Rite of Spring & Rachmaninov's Symphonic Dances
Fri 27 Apr 2018, Milton Court Concert Hall, 7.30pm
American pianists Timo Andres and David Kaplan perform much-loved works of symphonic repertoire – Rachmaninov's Symphonic Dances and Stravinsky's Rite of Spring – in arrangements for two pianos. Rachmaninov wrote this version concurrently with the orchestral version, and gave its first performance with Vladimir Horowitz in 1942. Stravinsky originally scored his Rite for piano four-hands, and 'auditioned' it with Debussy for its first presenter, Sergei Diaghilev. Andres and Kaplan re-engage with these versions, offering fresh approaches to well-loved music in their inimitable way.
Further highlights of the April 2018 music programme include a live performance  from American DJ, producer and Grammy nominated composer Carl Craig, of his project Synthesizer Ensemble (Friday 6 April, Barbican Hall). This month also sees two concerts that form part of La Linea Festival: Sonorama, a big brass and electronic reinvention of the Golden age of Latin American composers in Hollywood, including Juan García Esquivel and Lalo Schifrin (Friday 20 April, Barbican Hall); and Mexrrissey's debut of their new live show, La Reina is Dead ­- a complete 'mexterpretation' of The Smiths' critically acclaimed 1986 album The Queen is Dead (Sunday 29 April, Barbican Hall). In an evening of ambient electronic performances at Milton Court, Italian musician Alessandro Cortini presents his project AVANTI, with support from Canadian composer and performer of electroacoustic music Sarah Davachi (Monday 30 April, Milton Court).
London Symphony Orchestra highlights
Two world premieres from alumni of one of the LSO's development programmes for young composers take place at the Barbican in April. Woven Space by Helen Grime is conducted by Sir Simon Rattle (Thursday 19 April, Barbican Hall), the first in a series of Barbican-commissioned works from British composers which will appear in each of Simon Rattle's upcoming LSO seasons. A fanfare by Grime launched the series at Simon Rattle's inaugural concert as LSO Music Director at the Barbican last September. On Sunday 15 April Susanna Mälkki conducts the LSO in Sibelius' Symphony No 5 and a new LSO-commissioned work by Patrick Giguère who, like Helen Grime, is an alumnus of the Panufnik Composers Scheme. And an LSO-commissioned work is performed on Sunday 22 April when Sir Simon Rattle conducts the LSO in Tippett's final orchestral piece, The Rose Lake, 23 years after the Orchestra gave its world premiere, at the Barbican in 1995.
THEATRE
The Royal Opera – Coraline
Thu 29 Mar–Sat 7 Apr 2018, Barbican Theatre
Press night: Thu 29 Mar 2018, 7pm
Fantasy and the imagination run wild in this new operatic adaptation by Mark-Anthony Turnage, a leading light in British music.
Neil Gaiman has transformed the landscape of children's literature with his highly inventive, atmospheric and otherworldly narratives. Packed with astonishing imagery, Coraline is an engrossing yarn, a much-loved story about a girl who discovers a door in her parent's home, leading to an entirely different place and family.
Coraline is Turnage's fourth opera, staged for families by Aletta Collins with Sian Edwards conducting the Barbican Associate Ensemble, Britten Sinfonia.
Cheek by Jowl – Pericles (Périclès, Prince de Tyr)
Fri 6–Sat 21 Apr 2018, Silk Street Theatre
Press night: Mon 9 Apr 2018, 7.30pm
Featuring Cheek by Jowl's French ensemble, last seen here in the explosive Ubu Roi in 2014, Pericles (Périclès, Prince de Tyr) is directed by Declan Donnellan, awarded the Golden Lion of Venice for his lifetime achievement in theatre. In collaboration with Nick Ormerod, this is their first French Shakespeare production.
To save his life, Pericles must navigate stormy seas, pirates, brothels, incest, shipwrecks, human traffickers and tournaments. But as the fireworks dim, and chaos resolves, loss and love reveal themselves.
Astute, arresting and vital, Cheek by Jowl's Shakespeare productions have inspired audiences around the world.
Pericles (Périclès, Prince de Tyr) is performed in French with English surtitles.
Complicité/Simon McBurney – The Encounter
Sat 14 Apr–Sat 5 May 2018, Barbican Theatre
Press night: Tue 17 Apr 2018, 7.30pm
First presented here in 2016 and following a hit Broadway run and international tour, The Encounter, inspired by the novel Amazon Beaming by Petru Popescu, returns to the Barbican.
This true story of National Geographic photographer Loren McIntyre lost in a remote area of Brazil in 1969 leads to a startling encounter that is to change his life forever. Simon McBurney's solo performance threads scenes of his own life with details of McIntyre's hallucinogenic journey.
Garnered with Drama Desk, Evening Standard, Outer Critics Circle and Tony Awards, this extraordinary tour de force combines virtuosic storytelling and ground-breaking binaural sound transmitted direct to the audience through headphones.
Viviana Durante Company – Kenneth MacMillan: Steps Back in Time
Wed 18–Sat 21 Apr 2018, The Pit
Press night: Wed 18 Apr 2018, 7.45pm
In honour of Kenneth MacMillan, the hugely influential and ahead-of-his-time choreographer, the legendary ballerina Viviana Durante directs a programme from his enthralling earliest works.
Tearing up convention and turning staid ideas on their head, MacMillan began creating his own ballets in the 1950s. Believing that dance had the power to explore the human condition, he made potent stories with an emotional quality that invited audiences to become caught up in the fate of his characters.
As an artist whose association with MacMillan dates back to their time at The Royal Ballet, Durante has both danced and revived his creations. To celebrate his legacy and to mark 25 years since his death, she selects extracts from House of Birds and Danses Concertantes and presents Laiderette in full. Together, they highlight the boldness, insight, complexity, wit and relevance of MacMillan's choreography. Performed by artists from Ballet Black, Scottish Ballet and The Royal Ballet, including Principals Lauren Cuthbertson, Francesca Hayward and Thiago Soares, each contains a passionate pas de deux, another famous MacMillan forte.
VISUAL ARTS
Yto Barrada: Agadir
Wed 7 Feb–Sun 20 May 2018, The Curve
Media view: Tue 6 Feb, 10am–1pm
Free Admission
Part of The Art of Change
Yto Barrada's first solo exhibition in a public gallery in London transforms the sweeping form of the Curve with a dramatic site-specific installation – including a mural, a new film commission, several sculptures, and a series of live and recorded performances – to consider how a city and its people might address the process of reinvention following disaster. She takes as her starting point the hybrid novel-play by Moroccan writer Mohammed Khaïr-Eddine – Agadir (1967) – which reflects on the devastating earthquake that destroyed much of the modernist city of Agadir, Morocco, in 1960. Weaving together personal narratives and political ideals, Barrada presents a complex portrait of a city in transition, resonating with many of the challenges we face in contemporary society.
Over the past two decades, Barrada's multimedia practice has explored questions ranging from migration to abstraction, from fossils to botany. She examines the strategies of resistance employed every day in her native Morocco and traces the 'hidden transcripts' of objects and people in her work, guiding us through the overlapping realities and fictions of these narratives.
Performances
Throughout the run of the exhibition, actors from the Guildhall School of Music & Drama will perform extracts from Agadir live in the Curve. These will take place on the following Saturdays and are free of charge: 24 February (12–4.30pm); 3 & 31 March; 21 & 28 April; 5 & 12 May (11am–8pm).
Another Kind of Life: Photography on the Margins
Wed 28 Feb–Sun 27 May 2018, Barbican Art Gallery
Media view: Tue 27 Feb 2018, 10am–1pm
Part of The Art of Change
Another Kind of Life: Photography on the Margins looks at the continuing fascination of artists with those on the margins of society through the photographic medium. Some of the most powerful images of the 20th and 21st century are the result of a determined and often prolonged engagement with communities seemingly at odds with, or on the fringes of, the mainstream. Another Kind of Life explores photography's relationship with this compelling subject through the work of 20 exceptional image-makers, including Bruce Davidson, Paz Errázuriz, Casa Susanna, Larry Clark, Mary Ellen Mark, Boris Mikhailov, Daido Moriyama and Dayanita Singh.
Architecture on Stage: Norman Foster
Tue 17 Apr 2018, Barbican Concert Hall, 7.30pm
The Architecture Foundation and the Barbican in partnership, present Architecture on Stage – a programme of talks by the world's leading architects. In April, award winning British architect Norman Foster will address the challenges of urbanisation and sustainability, looking at how a philosophy of 'doing more with less' can help generate design solutions. Using examples from around the world he will discuss the nature of innovation and the power of advocacy.
BARBICAN SHOP
Bike Building demonstration by The Bicycle Academy
Sun 1 Apr 2018, 12–5pm, Barbican Shop
Andrew Denham from The Bicycle Academy will provide a series of demonstrations throughout the day on how to build a bicycle frame. The Bicycle Academy specialises in teaching framebuilding and providing courses for novices, enthusiasts and professionals. The Bicycle Academy also design and produce a range of framebuilding tools and offer fully equipped workshop hire for enthusiast builders.
Bookbinding Workshops with London Centre for Book Arts
Sun 8 Apr 2018, 10.30am–12.30pm and 1–3pm (The 1pm workshop is a Barbican Members event), Barbican Shop
A workshop on the art of bookbinding with experts from the London Centre for Book Arts. Participants will learn the basics of bookbinding, how it can be done simply at home, variations on the pamphlet notebook, and will take home at least three distinct hand-made notebooks with their choice of materials. London Centre for Book Arts is an artist-run, open-access studio providing workshop programmes for the community and access to resources for artists and designers.
Ring Carving Workshops with The Workbench London
Fri 13 Apr 2018, 4–6pm (Barbican Members event), Barbican Shop
Sat 14 Apr 2018, 10.30am–12.30pm, Barbican Shop
Sun 15 Apr 2018, 10.30am–12.30pm, Barbican Shop
Participants can learn to carve their own silver ring from jeweller's wax, which will then be cast into solid silver by The Workbench following the workshop, professionally polished, and delivered back to them. The Workbench is an east London collective established in 2014 that run original, fun and creative jewellery craft nights.
Paper Folding Workshops with Kate Colin
Fri 20 Apr 2018, 2–5.30pm, Barbican Shop
Sat 21 Apr 2018, 10.30am–2pm and 3–6.30pm, Barbican Shop
Participants can learn how to transform a flat piece of paper into amazing three dimensional forms, and the process of folding their own unique lamp shade to take home. Kate Colin is a Glasgow based designer/maker who works with paper to create handmade, sculptural lighting with a focus on colour and geometric form.
ENDS
Tom Vine, Communications Officer: 0207 382 7321, tom.vine@barbican.org.uk