Press room
Barbican announces Topic Records 80th Anniversary (7 Jun) and Holly Herndon PROTO (16 Oct)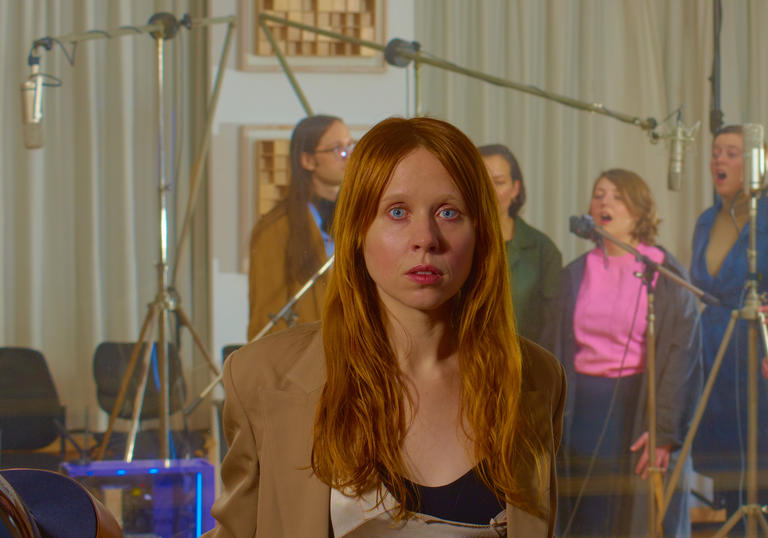 Topic Records 80th Anniversary
Fri 7 Jun 2019, Barbican Hall, 8pm
Tickets £17.50 – 25 plus booking fee
Topic Records – the oldest independent label in the World – celebrates its 80th birthday in 2019. To coincide with the anniversary, the label releases a new landmark album entitled Vision and Revision: The First 80 Years Of Topic Records on 31 May, featuring an array of British folk royalty, each interpreting a song of their choice from Topic's vast back catalogue. The special celebratory Barbican live date on 7 June 2019 will feature many of the artists on the album.
Music Director for the celebrations at the Barbican will be Eliza Carthy, leading an especially assembled house band and a variety of guest artists, performing solo, in small groups and ensembles and bringing in elements of dance, in a programme that will reflect the diversity of the label and geographic spread across the UK.
The full line up will be announced in due course, but confirmed artists include: Martin Carthy, Emily Portman, Lisa Knapp, Sam Lee, Alasdair Roberts, Olivia Chaney, Boss Morris and Chris Wood.
With its origins in the Workers' Music Association, through the mid-20th century folk revival to the present day, Topic Records has established itself as the pre-eminent British folk music label, which is widely respected throughout the world. Topic has released some of the most influential folk recordings of modern times by a host of revered artists, from Anne Briggs to Peggy Seeger to June Tabor to Ewan MacColl and more. The label has withstood wars, shortages, austerity, economic disaster, the vagaries of fashion, corporate onslaught and various cataclysmic shifts in the fortunes of the recording industry.
Produced by the Barbican
On sale to Barbican members on Thursday 28 March 2019
On general sale on Friday 29 March 2019
Find out more here and here
Holly Herndon: PROTO
Wed 16 Oct 2019, Barbican Hall, 8pm
Tickets £17.50 – 22.50 plus booking fee
Holly Herndon's vision of a digital future, and technology's potential to guide our experience through this, is distinct and her own. This autumn she returns to the Barbican's music programme with a specially assembled ensemble following the release of her third album PROTO (out on 10 May 2019 on 4AD). 
A hybrid of studio project and touring band, Herndon's Barbican presentation incorporates an expanded vocal ensemble, reflections and refractions of Spawn (a nascent machine intelligence, housed in a modified gaming PC), and a newly developed A/V experience. 
For the album and PROTO live shows, Holly, artist/philosopher Matthew Dryhurst and ensemble developer Jules LaPlace have developed custom, and unprecedented AI processes for sound generation, vocal processing and visual manipulation, exploring new forms of communion that continually evolve further.
So far, hundreds of people have already inputted and helped to teach Spawn how to identify and reinterpret unfamiliar sounds in group call-and-response singing sessions; a contemporary update on the religious gathering Holly was raised amongst during her upbringing in East Tennessee. The 2018 release of Holly Herndon's Godmother was created by Spawn reimagining a composition by long-time collaborator Jlin.   
The forthcoming album PROTO makes reference to what Holly refers to as the protocol era, where rapidly surfacing ideological battles over the future of AI protocols, centralised and decentralised internet protocols, and personal and political protocols compel us to ask ourselves who are we, what are we, what do we stand for, and what are we heading towards?
'There's a pervasive narrative of technology as dehumanizing,' says Holly. 'We stand in contrast to that. It's not like we want to run away; we're very much running towards it, but on our terms. Choosing to work with an ensemble of humans is part of our protocol. I don't want to live in a world in which humans are automated off stage. I want an AI to be raised to appreciate and interact with that beauty.'
Holly Herndon last appeared as part of the Barbican's music programme at Oval Space in November 2015 where she curated an evening of experimental electronic music with an expanded A/V show also featuring Mat Dryhurst and Colin Self + Jam City and Claire Tolan.
Holly Herndon: PROTO is part of the Barbican's 2019 season, Life Rewired, which explores what it means to be human when technology is changing everything.
Produced by the Barbican
On sale to Barbican members on Thursday 28 March 2019
On general sale on Friday 29 March 2019
Find out more