Press room
Barbican announces The Piano Live in Concert and Apparat dates for 2019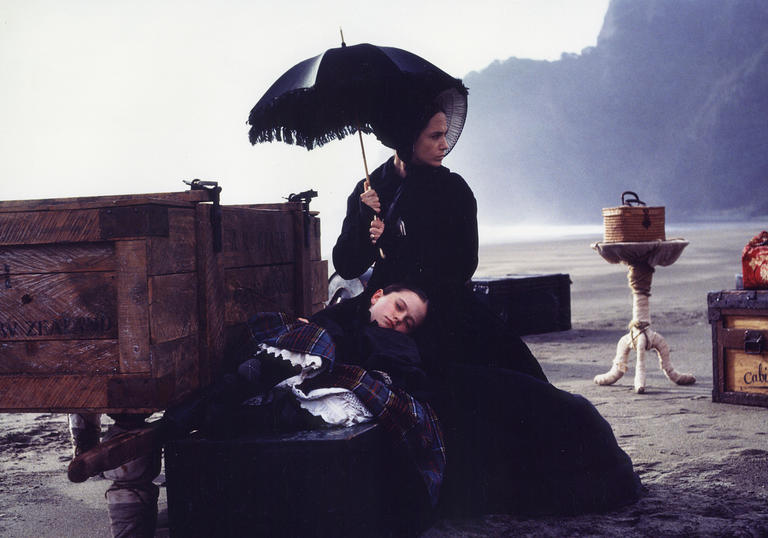 The Piano – Live in Concert
with the London Contemporary Orchestra
Tue 26 February 2019, Barbican Hall, 8pm
Tickets £20 – 30 plus booking fee
The Piano – Live in Concert at the Barbican sees the world premiere of a special screening of the 1993 Academy-Award-winning Jane Campion film The Piano with Michael Nyman's popular score played live in synchronisation with the film by members of the London Contemporary Orchestra.  
Winner of three Academy Awards (Best Actress, Best Supporting Actress, Best Original Screenplay), Jane Campion's The Piano has been widely hailed as a masterpiece since it was first released 25 years ago.
Ada (Holly Hunter) is a mute Scot, sold into marriage to a New Zealand frontiersman (Sam Neill), who arrives with her young daughter Flora (Anna Paquin) and beloved piano. Ada hasn't spoken since she was six, expressing herself through her piano playing and with sign language interpreted by Flora. Forced to sell the piano, Ada is made an offer by a local, Baines (Harvey Keitel) – to buy it back, one key at a time, in exchange for personal favours that get more intense and intimate as the two become entwined in a love affair that puts them both, and the piano, in danger.
Michael Nyman's original music for The Piano remains one of the most popular soundtracks ever written for the screen; a huge hit at the time, the recording sold millions around the world and the main themes from the film continue to be performed and recorded by major artists.
The Barbican's music programming regularly seeks to explore the innovative ways in which film and music can interact and recent film and live music events at the Centre have included the UK Premiere of the movie Mountain in live concert – a cinematic and musical collaboration between the Australian Chamber Orchestra and BAFTA-nominated director Jennifer Peedom; a screening of Ari Folman's Waltz With Bashir with the score performed live by Chineke! Orchestra and a special screening of Barry Jenkins' Moonlight featuring the London Contemporary Orchestra playing Nicholas Britell's score live.
Big Screen Live has also brought many films to audiences in this way, including North By Northwest, Interstellar and Planet of the Apes, in major international venues.
The Piano – Live in Concert is produced by the Barbican in association with Big Screen Live/Nigel Barr and licensed by StudioCanal.
On sale to Barbican members on Thursday 1 November 2018
On general sale on Friday 2 November 2018
Find out more
Apparat
Sat 27 April 2019, Barbican Hall, 8pm
Tickets £20 – 25 plus booking fee
Berlin-based electronic musician Apparat, aka Sascha Ring, returns to the Barbican on 27 April 2019 as part of a European live tour – his first since the 2013 soundtrack live dates supporting Krieg Und Frieden, the album based on music Apparat produced for Sebastian Hartmann's theatre production of Tolstoy's War and Peace.
As a member of Moderat, whose last album III was released on Monkeytown (Mute in North America) in 2016, working alongside Ellen Allien (Orchestra of Bubbles) or as a solo performer, Apparat seeks to transcend the dance floor and the concert hall alike. Recently he has also been focused on cinema, TV and theatre production, gaining recognition and awards for work such as Capri – Revolution (dir. Mario Martone, 2018), which won Best Soundtrack at the Venice Film Festival. Apparat has also collaborated with artist group Transforma, and two of their collaborations were staged at the Barbican: 2015 saw a performance of Apparat's scores for film and theatre, and more recently, in September 2018, Transforma and Apparat presented the UK premiere of MANUFACTORY, which combined live video, physical theatre and music, reflecting the rhythms and physicality of labour and repetitive action, as part of the Barbican's 2018 season The Art of Change, exploring how artists respond to, reflect and can potentially effect change in the social and political landscape.
Produced by the Barbican in association with Dollop
On sale to Barbican members on Thursday 1 November 2018
On general sale on Friday 2 November 2018
Find out more
RECENTLY ANNOUNCED
Barbican OpenFest: Art 50
Presented with Sky Arts
Sat 23 Feb 2019, admission free  
Barbican OpenFest: Art 50 on Saturday 23 February is a day of free activities showcasing works created as part of Art 50, a collaboration between Sky Arts, the Barbican, Sage Gateshead and the BALTIC Centre for Contemporary Arts.
This groundbreaking project commissioned 50 artists from a variety of artistic disciplines to examine the question of what it means to be British today from the varied perspectives of people in cities, towns and rural communities across the UK. Commissions being showcased at the Barbican range across art forms and include two music commissions:   
The premiere of Nitin Sawhney's 'BREXIT' – A rational anthem for a national tantrum, reflects the highs and lows of 'Brexit Britain', composed and performed by Nitin Sawhney, members of his band, the National Youth Orchestra of Great Britain (NYO) and choirs from the British Songbook project.
In this new commission British Indian musician Sawhney considers the state of the nation, focusing on its modern-day elements of multiculturalism, diversity and people. Using his findings from a tour of UK towns and cities, Sawhney will showcase a new 'anthem' that he has devised to look away from the past and truly reflect our current society – both in its lyrics and music. Sawhney decided that the piece would be brought to life by the teenage musicians of the NYO – who represent those who will shape the society of tomorrow.
The second music commission performed at the Barbican will be When We Collide: A British Songbook, by Hanbury & Groves, which brings to life Britain's passion for music. When We Collide: A British Songbook transforms interviews with choir members from across the country into a musical piece performed live at the Barbican and Sage Gateshead, with the aim of uniting communities through shared ideas and song. The interviews touch on the subject of what it means to be British today, focusing on why people have different views and images of Britain.
Supported by Sky Arts: Art 50.
Delivered in partnership with the Barbican Centre, Sage Gateshead and BALTIC Centre for Contemporary Art.
COMING UP SOON
London Contemporary Orchestra: Other Worlds
Wed 31 Oct 2018, Barbican Hall, 8pm
Tickets £15 – 25 plus booking fee 
Find out more   
Connan Mockasin
Sat 3 Nov 2018, Barbican Hall, 8pm
Tickets £17.50 – 25 plus booking fee
Find out more
Neko Case
+ Kathryn Joseph
Thu 8 Nov 2018, Barbican Hall, 8pm
Tickets £22.50 – 27.50 plus booking fee
Find out more
The Nest Collective Campfire Club
Greenhouse Gig: This is How we Fly + special guests
Sat 17 Nov 2018, Barbican Conservatory, 7.30pm 
Tickets £15 plus booking fee
Find out more 
Anthony Joseph & friends - Windrush: A Celebration
Part of EFG London Jazz Festival 2018
Sat 17 Nov 2018, Barbican Hall, 7.30pm
Tickets £20 – 35 plus booking fee
Find out more 
amiina: Fantômas
Sun 18 Nov 2018, LSO St Luke's, 7.30pm  
Tickets £20 plus booking fee
Produced by the Barbican
Find out more 
Bobby McFerrin
Part of EFG London Jazz Festival
Sun 18 Nov 2018, Barbican Hall, 7.30pm  
Tickets £20 – 45 plus booking fee
Find out more
Archie Shepp - Art Songs and Spirituals
Featuring Amina Claudine Myers and the UK Vocal Assembly led by Carleen Anderson
Part of EFG London Jazz Festival 2018
Mon 19 Nov 2018, Barbican Hall, 7.30pm
Tickets £20 – 40 plus booking fee
Find out more
Jóhann Jóhannsson: Last and First Men
Sat 1 Dec 2018, Barbican Hall, 8pm
Tickets £20 – 35 plus booking fee
Find out more
Richard Reed Parry: Quiet River of Dust
Sat 8 Dec 2018, St John on Bethnal Green, 7pm
Tickets £16
Find out more
COMING UP IN 2019
 
Pantha Du Prince: Conference of Trees
Sat 19 Jan 2019, Barbican Hall, 8.30pm£17.50–£22.50 plus booking fee
Find out more
Part of Life Rewired
Low
Fri 1 Feb 2019, Barbican Hall, 7.30pm 
Tickets £25 – 30 plus booking fee
Find out more
Irreversible Entanglements
Sat 2 Feb 2019, Milton Court Concert Hall, 7.30pm
Tickets £10 – 20 plus booking fee
Find out more
Le Trio Joubran
Sun 3 Feb 2019, Barbican Hall, 7.30pm
Tickets £20 – 40 plus booking fee 
Find out more 
Joshua Redman – Still Dreaming
With Ron Miles, Scott Colley, Brian Blade
+ support (tba)
Mon 18 Feb 2019, Barbican Hall, 7.30pm
Tickets £15 – 35 plus booking fee
Find out more
Tony Allen & Jeff Mills
Thu 21 Feb 2019, Barbican Hall, 8pm 
Tickets £20 – 30 plus booking fee
Find out more 
Marcus du Sautoy, Mahan Esfahani, Rob Thomas, Ben Kreukniet, Victoria Gould – Strange Loops
Mar 2019, Various Barbican Venues
Find out more
Part of Life Rewired
The Branford Marsalis Quartet
with Joey Calderazzo, Eric Revis, Justin Faulkner
Fri 1 Mar 2019, Barbican Hall, 8pm
Tickets £15 – 35 plus booking fee
Find out more
Anouar Brahem – Blue Maqams
with Dave Holland, Django Bates, Nasheet Waits
Fri 15 Mar 2019, Barbican Hall, 8pm  
Tickets £20 – 35 plus booking fee
Find out more
 Brad Mehldau with Britten Sinfonia
Sat 16 Mar 2019, Barbican Hall, 8pm  
Tickets £25 – 35 plus booking fee
Find out more
Rizwan-Muazzam Qawwali
Sat 30 Mar 2019, Barbican Hall, 8pm
Tickets £20 – 27.50 plus booking fee
Find out more
MINIMALIST DREAM HOUSE
Featuring Katia & Marielle Labèque, Bryce Dessner and David Chalmin
Works by Steve Reich, David Lang, Caroline Shaw, Sufjan Stevens, Bryce Dessner, David Chalmin and a new work by Thom Yorke
Tue 9 April 2019, Barbican Hall, 7.30pm
Tickets £25 – 35 plus booking fee
Find out more
Hauschka
Fri 12 April 2019, Milton Court Concert Hall, 7.30pm
Tickets £10 – 22.50 plus booking fee
Find out more
Kronos Quartet & Trevor Paglen: Sight Machine
Thu 11 Jul 2019, Barbican Hall, 8.30pm
Tickets £20 - £35 plus booking fee
Find out more
Part of Life Rewired
Icebreaker: Apollo
Sat 20 Jul 2019, Barbican Hall, 7.30pm
Tickets £17.50 – 22.50 plus booking fee
Find out more
Max Cooper: Yearning For The Infinite
Sat 28 Sep 2019, Barbican Hall, 8.30pm
Tickets £17.50 - £22.50 plus booking fee
Find out more
Part of Life Rewired
Orange Juice for the Ears: From Space Beams to Anti-Streams
An evening of film, live performance and conversation with Beatie Wolfe
Tue 8 Oct 2019, Cinema 1, 7.30pm
Tickets £12.50 plus booking fee
Find out more
Part of Life Rewired