Press room
Barbican announces Senyawa date; Mulatu Astatke as guest artist and On Vanishing Land set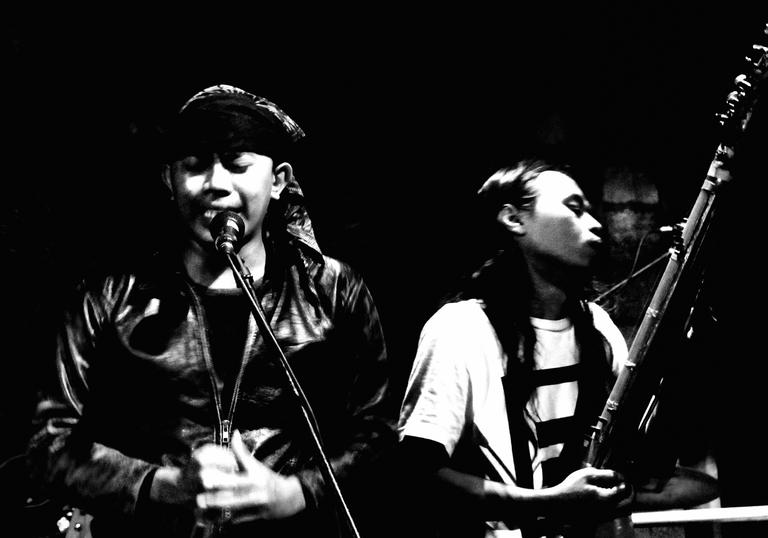 Experimental band from Jogjakarta, Java in Indonesia, Senyawa make their Barbican programme debut at LSO St Luke's this autumn. They embody the aural elements of traditional Indonesian music whilst exploring the framework of experimental music practice, pushing the boundaries of both traditions. Their music strikes a perfect balance between their avant-garde influences and cultural heritage to create new contemporary Indonesian music.
Their sound is comprised of Rully Shabara's deft extended vocal techniques punctuating the frenetic sounds of instrument builder, Wukir Suryadi's modern-primitive instrumentation. Inventions like his handcrafted 'Bamboo Spear' – a thick stem of bamboo strung up with percussive strips of animal skin alongside steel strings. Amplified it fuses elements of traditional Indonesian instrumentation with electric guitar distortion. Sonically dynamic, the instrument can be rhythmically percussive on one side whilst being melodically bowed and plucked on the other.
Senyawa have performed at many notable festivals and underground clubs across Asia, Australia and Europe and they have collaborated and performed with many notable musicians such as Yoshida Tatsuya, Otomo Yoshihide, Lucas Abela, KK Null, Keiji Haino, Rabih Beaini, Greg Fox, Arrington de Dionyso, Melt-Banana, Jon Sass, Damo Suzuki, Jerome Cooper, Justin Vernon, Oren Ambarchi, David Shea, Trevor Dunn and Kazu Uchihashi. In 2012 they completed Calling The New Gods • Senyawa Live in Java – a short film in collaboration with French filmmaker Vincent Moon. Their latest record Sujud was released in 2018 on the renowned esoteric music label Sublime Frequencies.
Produced by the Barbican in association with I-D.A Projects
Sun 27 Oct 2019, LSO St Luke's, 7.30pm 
Tickets £17.50 – 20 plus booking fee 
On sale to Barbican members on Thursday 25 July 2019
On general sale on Friday 26 July 2019
Further Line Up Details Announced
Hackney Colliery Band: Collaborations
Sat 5 Oct 2019, Barbican Hall, 7.30pm 
Tickets £17.50 – 22.50 plus booking fee 
This special Barbican autumn date sees the Hackney Colliery Band perform in collaboration with a host of key guest artists including father of Ethio-jazz Mulatu Astatke, Hip-Hop DJ and producer DJ Yoda, British jazz funk legend James Taylor, writer and performer Rob Auton, artist and writer YVA, composer and pianist Tom Rogerson and the Roundhouse Choir. Here they will present material from their recent album Collaborations: Volume One (featuring Mulatu Astatke and Angélique Kidjo) – their first new material since the critically-acclaimed Sharpener in 2016.
Produced by the Barbican
Find out more
Hannah Peel & Will Burns: Chalk Hill Blue
+ On Vanishing Land
Sat 26 Oct 2019, Milton Court Concert Hall, 7.30pm 
Tickets £20 plus booking fee 
Poet Will Burns and electronic composer Hannah Peel (who has just been nominated for an Emmy Award for her score for HBO's Game of Thrones: The Last Watch in the category for outstanding music composition for a documentary series) will bring their collaborative project Chalk Hill Blue to the Barbican's contemporary music programme in October. Released March 2019 (Rivertones) and recorded with producer/artist Erland Cooper, the album is a moving and original record exploring the troubled landscapes of England and the mind. Inspired by the chalk heaths of Buckinghamshire and the iridescent disappearing butterfly, poetry alongside Peel's analogue compositions, weave in and out of one another to entrancing and unsettling effect.
Their Milton Court date sees an expanded version of their collaboration and both artists will be joined on stage by a larger ensemble and special guest artists.   
Will Burns is poet-in-residence for arts-meets-nature-uptown phenomenon Caught by the River, while versatile solo artist Hannah Peel has released four solo albums to date including her 2017 recording Mary Casio: Journey to Cassiopeia. She recently toured this synth-based, experimental album with a full 30-piece brass band in sold out venues around the UK. 
Burns and Peel first met around the time of Peel's 2016 LP Awake But Always Dreaming, due to the shared explorations of dementia, memory loss and family in their respective work.
On Vanishing Land will be opening this evening's performance. This project can be described as an audio-essay, which was the second audio-work collaboration by Justin Barton and the late Mark Fisher which will be released on Hyperdub's new sub-label, Flatlines on 26 July 2019. The work evokes a walk that the authors took along the Suffolk coastline in 2006, from Felixstowe container port to the Anglo-Saxon burial ground at Sutton Hoo. It features music haunted by wider levels of reality, narrations about rarely visited zones and potentials, voices of dreams and stories, including newly composed tracks by John Foxx, Gazelle Twin, Baron Mordant, Raime, Pete Wiseman, Farmers of Vega, Skjølbrot, Eerie Anglia, Ekoplekz and Dolly Dolly. The work also explores connections between the ghost stories of M.R. James's Oh Whistle and I'll Come to You My Lad (1904), Joan Lindsay's Picnic at Hanging Rock (1967), and Brian Eno's On Land (1982).
Justin Barton (b.1962) is a philosopher, sound artist, and the author of Hidden Valleys: Haunted by the Future (2015).
Mark Fisher (1968-2017) was a teacher, cultural theorist, and the author of Capitalist Realism (2009), Ghosts Of My Life: Writings on Depression, Hauntology and Lost Futures (2014) and The Weird and the Eerie (2017). An anthology, k-punk: The Collected and Unpublished Writings of Mark Fisher (2004-2016), was published by Repeater Books in November 2018.
Produced by the Barbican
Find out more