Press room
Barbican announces Robert Henke, Lee Ranaldo & Raül Refree and Shards dates for 2020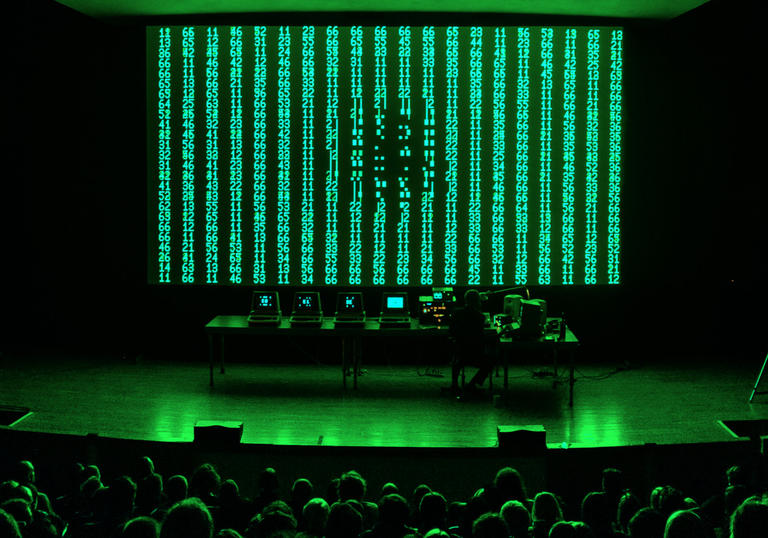 Robert Henke: CBM 8032 AV
Thu 23 Jan 2020, Barbican Hall, 7.30pm & 9.30pm
Tickets £12.50 – 15 plus booking fee
German sound and laser artist, composer and software developer (Ableton Live), Robert Henke returns to the Barbican's contemporary music programme for two performances on 23 January 2020. Here he will present CBM 8032 AV – his latest computer graphics and sound project, which received its premiere at Unsound Festival in October 2019.
In this project, vintage hardware produces an audio-visual experience that is completely modern in its complexity and fluidity. It explores the beauty of simple graphics and sound, using five carefully restored computers from the early 1980's, running custom software developed by the artist and his team. The work is about the ambivalence between a contemporary aesthetic and the usage of obsolete and limited technology from 40 years ago. 'Everything presented within the project could have been done in 1980,' says Henke, 'but it needed the cultural backdrop of 2019 to come up with the artistic ideas driving it.'
Robert Henke, who is also known for his ground-breaking techno productions under the Monolake moniker, returns to the Barbican following on from his presentations of Lumière I as part of the Barbican's Digital Revolution exhibition in 2014 and Lumière III
in 2017.
Created by Robert Henke with Anna Tskhovrebov, Mark J-K, Ralf Suckow and Sebastian Wolf.
Produced by the Barbican.
On sale to Barbican members on Wednesday 13 November 2019
On general sale on Friday 15 November 2019
Lee Ranaldo & Raül Refree
Tue 7 Apr 2020, Milton Court Concert Hall, 7.30pm 
Tickets £25 plus booking fee
Singer, songwriter, guitarist, poet, visual artist and co-founder of Sonic Youth, Lee Ranaldo and renowned producer Raül Refree will bring their new creative partnership to the Barbican's music programme in April 2020. In the intimate setting of Milton Court Concert Hall the duo will present material from their forthcoming new album Names of North End Women (out on Mute on 21 Feb 2020).
Considering that Ranaldo is ranked as one of the greatest guitarists of his generation and Refree is an artist who has been reinventing traditional flamenco guitar (his album with Rosalía continues to grow internationally), Names of North End Women was recorded with surprisingly little or no guitar. Using marimba and vibraphone, as well as analogue sounds from old cassette tapes, the new album is a collection of songs and spoken word pieces alive with experimentalism, loosely themed around the lives that pass in and out of one's own over course of time.
Ranaldo and Refree first worked together on Ranaldo's last solo album, Electric Trim (Mute, 2017), and soon after the pair returned to the studio to record the follow-up, they realised would become what Ranaldo describes as "the beginning of a new partnership, a new configuration'".
Produced by the Barbican
On sale to Barbican members on Wednesday 13 Nov 2019
On general sale on Friday 15 Nov 2019
Shards 
Fri 17 Apr 2020, Milton Court Concert Hall, 7.30pm 
Tickets £15 plus booking fee
London based vocal group Shards led by singer, composer and producer Kieran Brunt returns to the Barbican's contemporary music programme in April 2020, presenting material from their debut album Find Sound which was released on Erased Tapes on 30 Aug 2019.
Combining voices, synths and percussion, Find Sound is an exploration of the human voice; using the concepts of sound and light as simple metaphors for gaining understanding. The album's pieces are intended to be miniature sonic paintings, with each adding to an overall picture of the emotional confusion of early adulthood: the uncertainty, the excitement, the terror and relief.
Shards was conceived in 2016 in collaboration with the Barbican and debut at the Nils Frahm curated marathon weekend Possibly Colliding, which led to further collaborations on the choral arrangements for Frahm's 2018 album All Melody. Shards has since gone on to collaborate with other notable artists, including Michael Price on his recent LP Tender Symmetry.
Shards is Kieran Brunt, Lucy Cronin, Sarah Latto, Bethany Horak-Hallett, Kate Huggett, Chris Huggon, Jack Lawrence-Jones, Rose Martin, Augustus Perkins Ray, Oli Martin-Smith, Josephine Stephenson and Héloïse Werner.
Produced by the Barbican
On sale to Barbican members on Wednesday 13 Nov 2019
On general sale on Friday 15 Nov 2019
 
Full line-up details announced
The Art Ensemble of Chicago 
Part of EFG London Jazz Festival 2019
Sat 23 Nov 2019, Barbican Hall, 7.30pm 
Tickets £25 – 40 plus booking fee 
The Art Ensemble of Chicago has been at the forefront of creative improvised and African diasporic music – what they have long-termed "Great Black Music" – since 1969. This year the ensemble celebrates its 50th Anniversary at the Barbican with a tribute to its founder members Lester Bowie, Joseph Jarman and Malachi Favors Maghostut as part of the EFG London Jazz Festival 2019. This evening's line-up sees a 50th Anniversary exclusive large ensemble featuring a variety of artists including bassist Junius Paul and cellist Tomeka Reid, with special guest artists from the UK scene, saxophonist Shabaka Hutchings and cellist Abel Selaocoe.
The ensemble that evolved from founder Roscoe Mitchell's musical vision, explorations and adventurous collaborations in Chicago, is renowned for its integration of musical styles that span the history of jazz and multi-instrumental group improvisations.  
Their live performances of original compositions, written by all the members, are visual, auditory and sensual spectacles with elaborate costumes, face paint, props, theatre, poetry, dance and more. Currently with a rotating group of 13 to 18 members, the ensemble appears as a completely new constellation in the creative scene and they recently released two-disc masterpiece We are on the Edge, after a studio recording hiatus of 15 years, to celebrate their 50th anniversary. The Barbican band line-up features:
Roscoe Mitchell - saxophones
Famoudou Don Moye - drums, congas, djembè & percussion
Hugh Ragin - trumpet, flugelhorn & piccolo trumpet
Simon Sieger - tombone
Brett Carson - piano
Jean Cook - violin
Eddy Kwon - viola
Silvia Bolognesi - double bass
Jaribu Shahid - double bass
Junius Paul - double bass
Enoch Williamson - African drums, percussion
Kikanju Baku - drums, percussion
Tomeka Reid - cello
Produced by the Barbican in association with EFG London Jazz Festival