Press room
Barbican announces Nik Bärtsch, Herbie Hancock, and The Art Ensemble of Chicago dates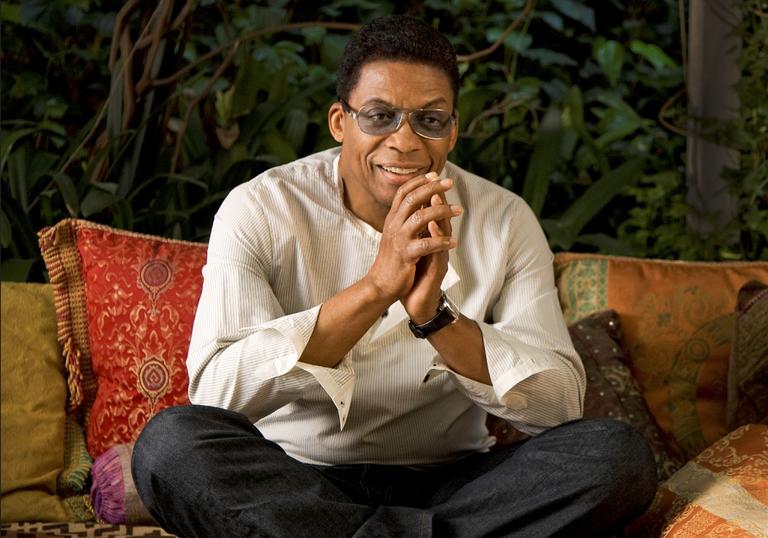 Brilliant Corners
Thu 25 Jul 2019, Art Gallery, 7pm
Tickets: £15, £13 Over 60s, £11 students / unwaged, £5 young Barbican, includes same-day entry to the exhibition
As part of the accompanying events series for Barbican Art Gallery exhibition Lee Krasner: Living Colour, Mark Kavuma leads a musical response to one of Lee Krasner's favourite jazz records – Thelonius Monk's 1957 album Brilliant Corners.
Mark Kavuma is a prominent young trumpet player on the British jazz scene who leads his own quartet, the 'Floor Rippers' house band and 'The Banger Factory'. Kavuma also plays with Jean Toussaint's Young Lions, Jazz Jamaica and is one of the brass leaders at London based carnival band Kinetika Bloco. 
Produced by the Barbican in association with Church of Sound
Find out more
Nik Bärtsch & Sophie Clements: When The Clouds Clear
A Light and Sound Poem
Part of EFG London Jazz Festival 2019
Fri 15 Nov 2019, Barbican Hall, 8.30pm 
Tickets £20 – 25 plus booking fee 
Pianist and composer Nik Bärtsch's and visual artist Sophie Clements' new collaborative audio-visual performance When The Clouds Clear is a meditation on elemental forces and cycles, featuring amplified solo piano, sculpture, film and installation design.
Inspired by a Zen poem entitled The Moon in the Water, the performance uses elements of water, light, reflections and music, all combined into one dramatic art and sound installation. The piano seemingly floats on top of a water tank on stage and a large screen behind shows filmed material of water in its various states, intercut with sharp graphical light effects.
Both artists began working together in 2015, drawing upon influences in Asian philosophy, fine art, theatre, science and minimalism, resulting in When The Clouds Clear, which is an extension of both Bärtsch's and Clements' artistic practices and their mutual focus on simple forms.
ECM artist Nik Bärtsch is a Zurich-based composer, pianist and producer and label, club and festival co-founder. He is internationally known for his modular Ritual Groove Music, which is influenced by funk, new classical music, Jazz and Japanese aesthetics.
Sophie Clements is a London-based artist whose work occupies a space between filmmaking, sculpture and sound. Her output ranges from solo gallery work to large-scale collaborative pieces with composers/musicians.
Commissioned by Enjoy Jazz Festival and co-commissioned by the Barbican.
Produced by the Barbican. Part of EFG London Jazz Festival  
Find out more
Herbie Hancock 
Part of EFG London Jazz Festival 2019
Sun 17 Nov 2019, Barbican Hall, 7.30pm 
Tickets £40 – 65 plus booking fee 
American jazz pianist Herbie Hancock, his trademark keytar and band return to the Barbican and the EFG London Jazz Festival, following their appearance at the Centre in 2017, performing selections of his classic music from his extensive back catalogue.  
Hancock is a true icon of modern music. Throughout his explorations, he has transcended limitations and genres while maintaining his unmistakable voice. With an illustrious career spanning over five decades and 14 Grammy™ Awards, including Album of the Year for River: The Joni Letters – an honour which only a handful of jazz musicians ever received – he continues to amaze audiences across the globe.
Herbie Hancock will also collaborate in a concert with the Los Angeles Philharmonic and Artistic Director Gustavo Dudamel on Tue 19 Nov, as part of the EFG London Jazz Festival and the orchestra's Barbican residency (18 – 20 Nov), celebrating the LA Phil's centenary. Herbie Hancock is the Philharmonic's Creative Chair for Jazz.
Produced by the Barbican by arrangement with Marshall Arts and Serious, part of EFG London Jazz Festival.
Find out more
The Art Ensemble of Chicago 
Part of EFG London Jazz Festival 2019
Sat 23 Nov 2019, Barbican Hall, 7.30pm 
Tickets £25 – 40 plus booking fee 
The Art Ensemble of Chicago has been at the forefront of creative improvised and African diasporic music – what they have long-termed "Great Black Music" – since 1969. This year the ensemble celebrates its 50th Anniversary at the Barbican with a tribute to its founder members Lester Bowie, Joseph Jarman and Malachi Favors Maghostut as part of the EFG London Jazz Festival 2019. The evening will also feature some very special guest soloists tba.
The ensemble that evolved from founder Roscoe Mitchell's musical vision, explorations and adventurous collaborations in Chicago, is renowned for its integration of musical styles that span the history of jazz and multi-instrumental group improvisations. 
Their live performances of original compositions, written by all the members, are visual, auditory and sensual spectacles with elaborate costumes, face paint, props, theatre, poetry, dance and more. Currently with 18 members, the group appears as a completely new constellation in the creative scene and they recently released two-disc masterpiece We are on the Edge, after a studio recording hiatus of 15 years, to celebrate their 50th anniversary.
Produced by the Barbican in association with EFG London Jazz Festival
Find out more