Press room
Barbican announces Marcel & Rami Khalifé date (29 Sep 2019)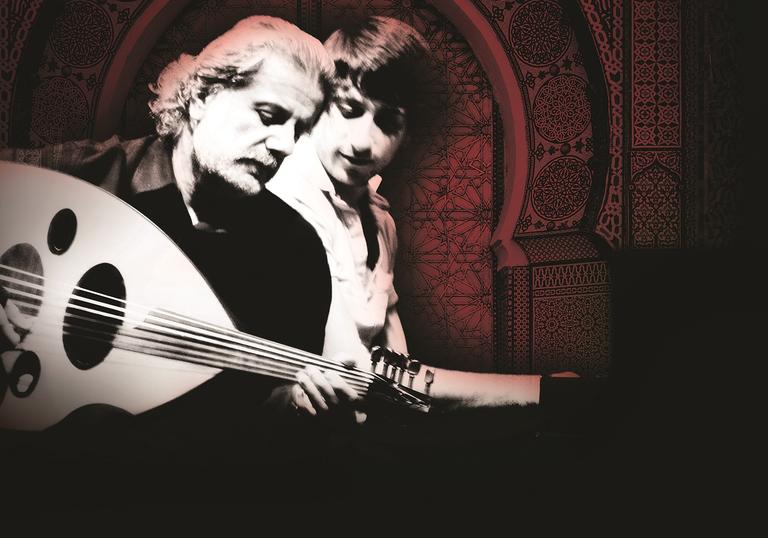 Marcel & Rami Khalifé
featuring Aymeric Westrich
Sun 29 Sep 2019, Barbican Hall, 7.30pm
Tickets £20 – 40 plus booking fee
Revered Lebanese composer, singer and oud master Marcel Khalifé makes a welcome return to the Barbican this autumn. Stripped back from his Al Mayadeen Ensemble he usually performs with, he will be joined only by his son Rami Khalifé on piano and French jazz drummer Aymeric Westrich, reinterpreting his familiar music in a new way as a trio.
Inspired by contemporary poetry and promoting traditional Arabic arts and culture, Marcel Khalifé 's work has been critically acclaimed in the Arab World and beyond. His creativity and innovations as well as his educational and humanitarian concerns and contributions have earned him numerous awards.
An exciting young composer, virtuoso pianist and a graduate of The Juilliard School in New York City, Rami Khalifé has performed internationally as part of Aufgang – a duo with drummer Aymeric Westrich, blending piano, drums and techno inspired music. He has also written piano concertos which he performed with the Belgian National Orchestra, Antwerp Symphony Orchestra, Orchestre National de France, The Chamber Orchestra of Philadelphia and the Qatar Philharmonic Orchestra alongside other orchestral works.
Marcel and Rami Khalifé return to the Barbican following their appearances at the Centre with the Al Mayadeen Ensemble in June 2013 and April 2016.
Produced by the Barbican in association with Marsm
Find out more
Icebreaker: Apollo
Sat 20 Jul 2019, Barbican Hall, 7.30pm
Tickets £17.50 – 22.50 plus booking fee
12-piece contemporary music group Icebreaker return to the Barbican with their Apollo project to mark the 50th anniversary (to the day) of spaceflight Apollo 11's moon landing on 20 July 1969.
Their multi-media reworking of Brian Eno's Apollo album will be performed by Icebreaker, also featuring renowned pedal steel guitarist BJ Cole alongside excerpts of Al Reinert's film of the Apollo space missions, For All Mankind.
Widely regarded as Brian Eno's most significant ambient album, Apollo was composed by Brian Eno, Roger Eno and Daniel Lanois, and matches the beauty and tranquil mystery of the moon and earth, the scale and feat of engineering involved, and the banality and the humour of the astronauts as they skitter about the moon's surface.
The concert programme is completed by new arrangements of tracks by Anna Meredith and footwork artist JLin; plus two classics from Icebreaker's repertoire - part 4 of Michael Gordon's Trance, and a rare performance of Gavin Bryars' The Archangel Trip; and as a special tribute to the late Scott Walker, the programme will now also include Icebreaker's version of Epizootics! featuring Scott's original vocals accompanied by the film commissioned for the track and directed by Olivier Groulx.
Icebreaker return to the Barbican following their autumn 2016 appearance, which included the group's Kraftwerk Uncovered project.
Founded in 1989 by James Poke and John Godfrey, Icebreaker's characteristically individual repertoire includes some of the best known and most influential composers in contemporary music (Andriessen, Glass, Wolfe, Nyman – to name but a few) as well as new interpretations of music by Brian Eno, Scott Walker and Kraftwerk. Icebreaker's trademark unusual instrumental combination of guitars, electric strings, keyboards, pan-pipes, saxes, accordion, drums and percussion gives them a distinctive amplified sound.
Produced by the Barbican
Find out more
Annikaisa Vainio-Miles, Senior Communications Manager: 020 7382 7090, annikaisa.vainio-miles@barbican.org.uk
Sabine Kindel, Communications Manager: 020 7382 7090, sabine.kindel@barbican.org.uk
Edward Maitland Smith, Communications Officer: 020 7382 6196, edward.maitlandsmith@barbican.org.uk
Rose Jamieson, Communications Assistant: 020 7382 6138, rose.jamieson@barbican.org.uk