Press room
Barbican announces MANUFACTORY Transforma – Sascha Ring (Apparat), and Ryoji Ikeda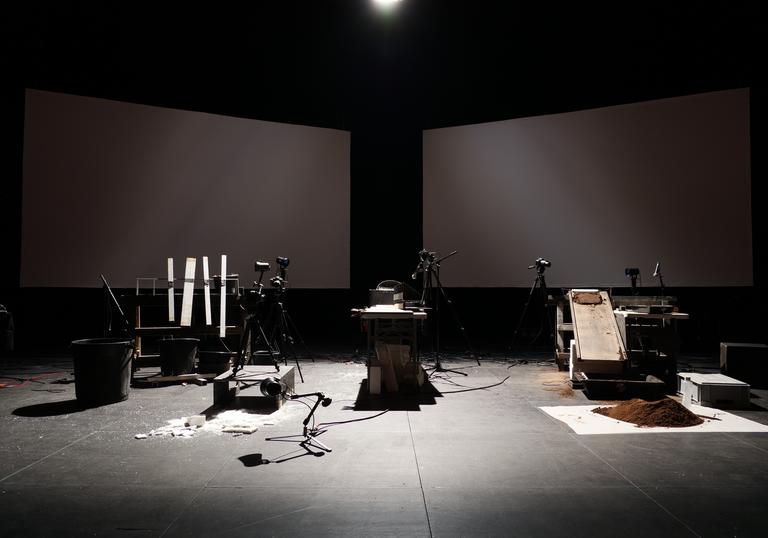 MANUFACTORY
Transforma – Sascha Ring (Apparat)
Tue 25 Sep 2018, Barbican Hall, 7.30pm
Tickets £17.50 – 22.50 plus booking fee
Directed by Transforma, with a score written and presented by Sascha Ring (Apparat), and choreographic assistance by Johanna Hwang, MANUFACTORY combines live video, physical theatre and music, which reflects the rhythms and physicality of labour and repetitive action. This will be the work's UK premiere performance.
Situated within a functional stage design, an ensemble of dancers perform a choreography of process, inspired by the actions and outcomes of working practices. In their signature style, Transforma document and condense single scenes into stylised vignettes while Ring's original score takes the form of a series of phasing loops that both respond to and trigger the performers' actions. A modular synthesiser system, developed by Sascha Ring will provide the score to MANUFACTORY. This unit will produce sound cycles which will react to the workers' actions - each cycle never repeating due to varying production styles and speed of work. In turn, the score will trigger cues for the performers to follow. The resulting series of phasing loops will dictate the core tempo of the piece and create a system of interdependence.
With its exploration of industrial processes and human elements of a bygone era of manufacturing, this project forms part of the Barbican's The Art of Change season. The Art of Change explores how artists respond to, reflect and can potentially effect change in the social and political landscape.
The Artist Group Transforma and Berlin-based electronic musician Sascha Ring – aka Apparat – last took to the Barbican stage in 2015 with a performance of his scores for film and theatre.
Produced by the Barbican
Find out more
Ryoji Ikeda – datamatics and music for percussion 
Sun 30 Sep 2018, Barbican Hall, 7.30pm
Tickets £15 – 25 plus booking fee
Japan's leading electronic composer and visual artist Ryoji Ikeda returns to the Barbican for a double bill of datamatics - an art project that explores the potential to perceive the invisible multi-substance of data that permeates our world - and music for percussion with Swiss collective, Eklekto.
In music for percussion, Ikeda works with pure acoustic sounds. The instruments played on stage however sound very different from the expected rhythmic beats, instead conventional instruments are used to isolate the purity of a sound, and produce textures which are close to electronic music. In this way, the piece has an aural continuity with Ikeda's body of work. This new creation is a landmark for Ikeda's research on acoustic music, which was previously developed through his compositions for string instruments "op." (2000-02).
Using pure data as a source for sound and visuals, datamatics combines abstract and mimetic presentations of matter, time and space. At this performance Ikeda will present the second audio-visual format of the datamatics series. Projecting dynamic computer-generated imagery in pared down black and white with striking colour accents, the intense yet minimal graphic renderings of data progress through multiple dimensions. A powerful and hypnotic soundtrack reflects the imagery through a meticulous layering of sonic components to produce immense and apparently boundless acoustic spaces.
Ryoji Ikeda previously appeared at the Barbican in 2013 in a performance titled superposition.
This performance will contain strobe lighting.
Produced by the Barbican
Find out more
Annikaisa Vainio-Miles, Senior Communications Manager: 020 7382 7090, annikaisa.vainio-miles@barbican.org.uk
Sabine Kindel, Communications Manager: 020 7382 7090, sabine.kindel@barbican.org.uk
Rachel Coombes, Communications Officer: 020 7382 6196, rachel.coombes@barbican.org.uk
Rose Jamieson, Communications Assistant: 020 7382 6138, rose.jamieson@barbican.org.uk