Press room
Barbican announces Low date for 1 February 2019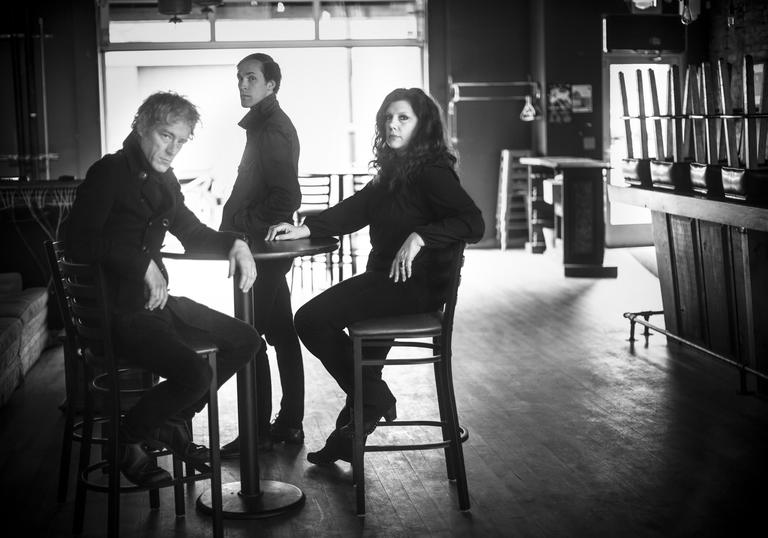 Low
Fri 1 Feb 2019, Barbican Hall, 7.30pm 
Tickets £25 – 30 plus booking fee
Low returns to the Barbican in early 2019, presenting material from their forthcoming 12th studio album Double Negative (out on Sub Pop on 13 Sep 2018). Founded in 1993, the band turns 25 in 2018. Over the course of Low's constantly evolving career, their exploration of minimalist soundscapes and divine harmonies have garnered an array of praise from critics, inspired covers by the likes of Robert Plant and Mavis Staples and pushed sonic boundaries with collaborators like Warren Ellis and Nels Cline. Alan Sparhawk and Mimi Parker—the married couple whose heaven-and-earth harmonies have always held the band's centre—have pioneered a subgenre, shrugged off its strictures, recorded a Christmas classic, become a magnetic onstage force, and emerged as one of music's most steadfast and vital vehicles for pulling light from our darkest emotional recesses.
To mark their anniversary, Low will release its most brazen, abrasive (and, paradoxically, most empowering) album yet. Double Negative is an unflinching eleven-song quest through snarling static and shattering beats that somehow culminates in the brightest pop song of Low's career.
Produced by the Barbican in association with Eat Your Own Ears
On sale to Barbican members on Thu 6 Sep 2018
On general sale on Fri 7 Sep 2018
Find out more
RECENTLY ANNOUNCED
12 ensemble
REBORN: music reimagined through time
Sun 16 Sep 2018, Milton Court Concert Hall, 7.30pm
Tickets £10 – 20 plus booking fee
The influential 12 ensemble and solo violist Jennifer Stumm present historic and contemporary music on the themes of death, tears and sleep, reimagined as music for string orchestra, with the programme including:
Tansy Davies Residuum
Britten Lachrymae
John Woolrich Ulysses Awakes
Schubert arr Mahler Death and the Maiden
Dowland Lachrimae
12 ensemble's debut album Resurrection featuring works by Lutoslawski, Woolrich, Whitley and Dessner will be released on Sancho Panza Records on 14 September 2018.
This concert is supported by Resonate, a PRS Foundation initiative in partnership with ABO, BBC Radio 3 and Boltini Trust.
Produced by the Barbican
Find out more
Tim Hecker with Gagaku ensemble
+ Kara-Lis Coverdale
Sat 6 October 2018, Barbican Hall, 7.30pm
Tickets £17.50 – 22.50 plus booking fee
Canadian sound artist and experiential composer Tim Hecker will return to the Barbican this autumn for the first time since 2016 with a special ensemble concert, featuring material from his forthcoming ninth official full-length record Konoyo ("the world over here"). The night will be a celebration of his forthcoming project, fusing electronic production with traditional Japanese gagaku court music, performed here with members of the Gagaku ensembles on shō, ryuteki and hichiriki.
Hecker has released a number of records exploring intersections between noise, dissonance, and melody. In his varied and celebrated works, digital and organic sources tightly intertwine. The result is a hybrid aesthetic that recalls electronic abstraction and psychedelic American minimalism.
Opening the evening, regular collaborator Kara-Lis Coverdale creates colourful and dense arrangements with a unique approach to melody, harmony and sonic detail.
Produced by the Barbican in association with Bird on the Wire
Supported by the Great Britain Sasakawa Foundation
Find out more
NEW Darbar Festival – Dr. Trichy Sankaran: Carnatic Beats Unwrapped
Sun 28 Oct 2018, Fountain Room, 12noon
Tickets £10 plus booking fee
Percussionist, composer and scholar Dr Trichy Sankaran is one of the leading exponents of the mridangam – an Indian percussive instrument of ancient origin that acts as the primary rhythmic accompaniment to Carnatic music. In this performative lecture Barbican audiences will get an insight into the foundations of the Carnatic tradition. For his immense contribution to Carnatic music Dr Sankaran has been awarded many of India's most prestigious awards including the Sangeet Natak Academy and the Sangita Kalanidhi. During his lecture he will be supported by Giridhar Udupa playing the Ghatam – a large, narrow-mouthed earthenware water pot used as a percussion instrument in South Indian music.
Find out more
Part of Darbar Festival
Archie Shepp - Art Songs and Spirituals
Featuring Amina Claudine Myers and the UK Vocal Assembly led by Carleen Anderson
+ Simon Purcell's RED CIRCLE with Cleveland Watkiss
Part of EFG London Jazz Festival 2018
Mon 19 Nov 2018, Barbican Hall, 7.30pm
Tickets £20 – 40 plus booking fee
Free Jazz pioneer and civil rights activist Archie Shepp returns to the Barbican, presenting his new project Art Songs and Spirituals as part of this year's EFG London Jazz Festival, featuring contributions from jazz pianist and vocalist Amina Claudine Myers and Mercury-nominated and Worldwide FM Lifetime Achievement Award winner Carleen Anderson.
Archie Shepp – one of the most articulate and original voices to emerge from the maelstrom of jazz in the 60s – revisits a time where he explored both his connections to Africa and the civil rights movement that swept America. Joining him for this journey is a band that includes regular collaborator Amina Claudine Myers, drummer Hamid Drake and soul singer Carleen Anderson, who leads the UK Vocal Assembly featuring Cleveland Watkiss, Beverley Skeete, Gina Foster, Sylvia Mason-James, Janet Ramus, Gail Evans and Daniel Bishop.
Archie Shepp's last Festival appearance at the Barbican in front of a packed audience in November 2013 saw him revisit his classic album Attica Blues. Carleen Anderson returns to the Barbican following a presentation of her Cage Street Memorial project – poetry and songs chronicling over a century of her family heritage – earlier this year.
Simon Purcell's opening set sees him re-unite with vocalist Cleveland Watkiss, rekindling the spirit of a collaboration forged amidst the energy of the London jazz scene of the 80s.  Chris Batchelor, Julian Seigel, Steve Watts and Gene Calderazzo complete the line-up in this opening set.
Produced by the Barbican in association with EFG London Jazz Festival
Find out more
Annikaisa Vainio-Miles, Senior Communications Manager : 020 7382 7090, annikaisa.vainio-miles@barbican.org.uk
Sabine Kindel, Communications Manager: 020 7382 6199, sabine.kindel@barbican.org.uk
Therese Ramstedt, Interim Communications Officer: 020 7382 6196, therese.ramstedt@barbican.org.uk
Rose Jamieson, Communications Assistant: 020 7382 6138, rose.jamieson@barbican.org.uk