Press room
Barbican announces Karine Polwart date and line-up for Boiler Room x Total Refreshment Centre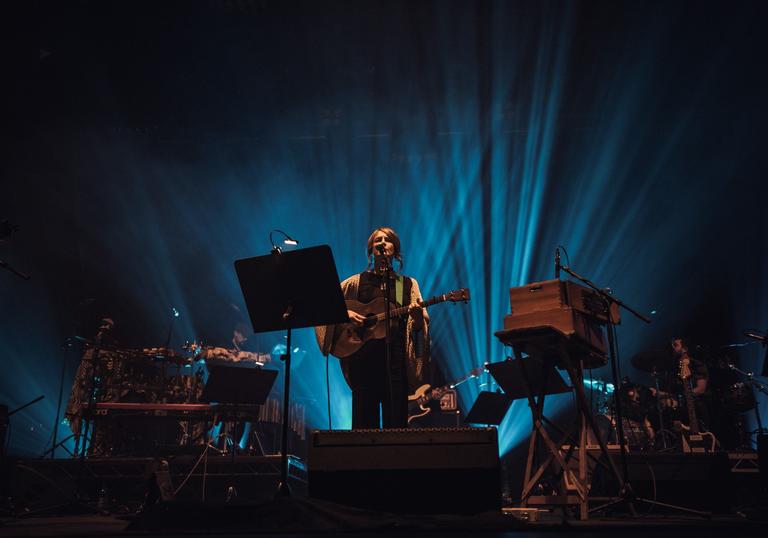 Karine Polwart's Scottish Songbook
Wed 27 Nov, Barbican Hall, 8pm
Tickets £17.50 – 25 plus booking fee
A sell-out hit at 2018's Edinburgh International Festival and Celtic Connections in 2019, singer-songwriter and BBC Radio 2 Folk Singer Of The Year 2018 Karine Polwart brings her Scottish Songbook project to the Barbican this autumn.
Polwart will be joined on stage by long-term collaborators Steven Polwart (guitars) and Inge Thomson (accordion & percussion) alongside an extended band line-up also featuring Graeme Smillie (bass and keys), Calum McIntyre (kit and percussion) and Louis Abbott of Admiral Fallow (vocals, guitar & percussion). 
Reimagining songs from across fifty years of Scottish pop, the evening includes eighties classics from Deacon Blue, The Waterboys and Big Country, stadium balladry of Biffy Clyro, and maverick Ivor Cutler's songs will be rubbing shoulders with the electro-pop of Chvrches and the song craft of John Martyn.
Karine Polwart says: To me, these are songs of resilience and resistance, cries of despair and dreams of something better. They're pop songs, but also love songs to people and places we all recognise. They totally fill my heart up.
Produced by the Barbican
On sale to Barbican members on Thursday 14 March 2019
On general sale on Friday 15 March 2019
Find out more
Boiler Room x Total Refreshment Centre
Dreaming The City
Sat 13 April. Barbican Hall, 8pm
Tickets £17.50 – 22.50 plus booking fee
The Barbican, Boiler Room and Total Refreshment Centre will host Dreaming The City on 13 April 2019 – a concert which sees over 30 musicians paying tribute to the past, present and future of London's vibrant jazz scene which has drawn and continues to draw from an international melting pot of inspiration and influence.
Blurring the lines of what jazz is, the concert sees new, exclusive and unexpected collaborations, tracing the contemporary lineage of jazz music between London, West Africa, the Caribbean and continental Europe, connecting club culture with jazz influences and showcasing old classics and new compositions alike. 
The line-up includes:
Cherise Adams-Burnett (vocals)
Dylema Amadie (vocals)
Kwake Bass (drums)
Patrick Boyle (drums)
Leon Brichard (bass)
Joe Bristow (trombone)
Calabashed (Joshua Idehen x Alabaster DePlume new project)
Chelsea Carmichael (tenor sax, flute)
Mutale Chashi (bass)
Alabaster DePlume (sax)
Mary B Feliciano (dancer)
Deschanel Gordon (piano)
Miguel Gorodi (trumpet)
James Howard (guitar, vocals)
Joshua Idehen (vocals)
Tyrone Isaac-Stuart (Dance & Choreography)
Oscar Jerome (guitar)
Rio Kai (bass)
Yohan Kebede (keys)
Cassie Kinoshi (alto sax, composer)
Sheila Maurice-Grey (trumpet)
Noriko Okaku (visual artist)
Yahael Camara Onono (percussion)
Maria Osuchowska (harp, vocals)
Rozi Plain (bass, vocals)
Idris Rahman (flute, sax)
Crispin Spry Robinson (percussion)
Orphy Robinson (vibraphone)
Seed Ensemble
Tom Skinner (drums)
Shirley Tetteh (guitar)
Emma-Jean Thackray (trumpet)
Donna Thompson (percussion, vocals)
Wildflower 
Rai Wong (tape loops)
+ Secret special guests 
Total Refreshment Centre is part of east London's music history. The building began life as a Caribbean social club, evolved into an influential venue and studio, and played an integral role in the upsurge of the new London jazz scene. Boiler Room – the revered global music broadcasting platform – will broadcast this Barbican concert live across its large online community.
Produced by the Barbican in association with Boiler Room and Total Refreshment Centre
Find out more
Annikaisa Vainio-Miles, Senior Communications Manager : 020 7382 7090, annikaisa.vainio-miles@barbican.org.uk
Sabine Kindel, Communications Manager: 020 7382 6199, sabine.kindel@barbican.org.uk
Edward Maitland Smith, Communications Officer : 020 7382 6196, edward.maitlandsmith@barbican.org.uk
Rose Jamieson, Communications Assistant : 020 7382 6138, rose.jamieson@barbican.org.uk