Press room
Barbican announces Joshua Redman, Branford Marsalis Quartet and Anouar Brahem dates for 2019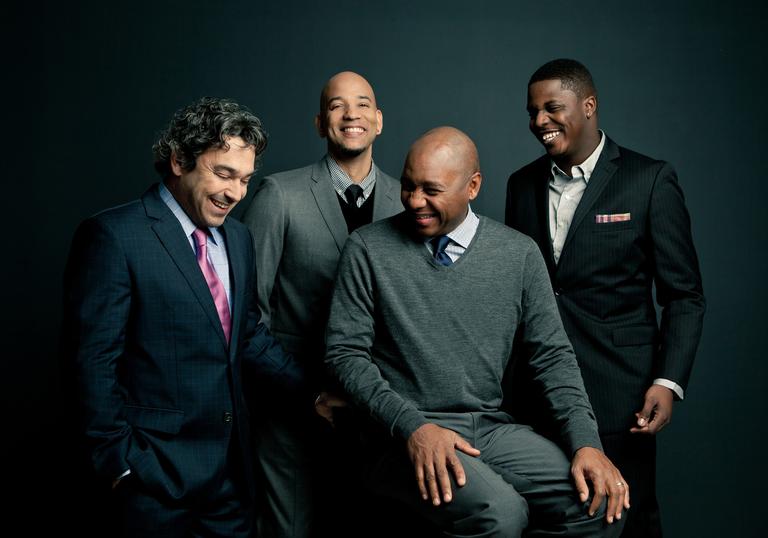 Joshua Redman – Still Dreaming
With Ron Miles, Scott Colley, Brian Blade
+ support (tba)
Mon 18 Feb 2019, Barbican Hall, 7.30pm
Tickets £15 – 35 plus booking fee
Revered saxophonist Joshua Redman presents material from his latest album Still Dreaming (Nonesuch) with an ensemble featuring trumpeter Ron Miles, bassist Scott Colley and drummer Brian Blade – three of the most imaginative voices in contemporary jazz today.
The recording evokes memories of the landmark group Old and New Dreams that featured Joshua Redman's father Dewey Redman back in the 1970s and 80s, alongside an all-star line-up of jazz game-changer Ornette Coleman alumni – Don Cherry, Charlie Haden and Ed Blackwell.
With a repertoire that combines freshly minted originals alongside music from the Old and New Dreams legacy, Still Dreaming explores Joshua Redman's heritage, adding a new perspective to a continuum of jazz history, and summoning up the spirits of his father, Don Cherry, Charlie Haden, and of course, Ornette Coleman himself.
Produced by the Barbican in association with Serious
Find out more
Branford Marsalis Quartet
with Joey Calderazzo, Eric Revis, Justin Faulkner
Fri 1 Mar 2019, Barbican Hall, 8pm
Tickets £15 – 35 plus booking fee
In this special Barbican date, audiences can sample the artistry and instrumental brilliance of the Branford Marsalis Quartet, which embodies the essence of jazz in their ability to move effortlessly from individual virtuosity to remarkable interaction. 
Featuring saxophonist Branford Marsalis, pianist Joey Calderazzo, bassist Eric Revis and drummer Justin Faulkner, the group's cohesion is the outcome of many years together – on the road and in the studio. This is a band that patently enjoys playing together, maintaining a musicality and dynamic on stage that sets it apart as one of the great live experiences in today's jazz.
Produced by the Barbican in association with Serious
Find out more
Anouar Brahem – Blue Maqams
with Dave Holland, Django Bates, Nasheet Waits
Fri 15 Mar 2019, Barbican Hall, 8pm
Tickets £20 – 35 plus booking fee
This rare London live date at the Barbican sees the haunting music of Tunisian composer and oud master Anouar Brahem in a setting that draws together Brahem's profound insight into Arab music alongside his fascination with a broader canvas. 
Brahem has a long and distinguished history of playing with jazz musicians.  Here he will present material from his latest recording Blue Maqams (ECM), alongside pianist Django Bates, drummer Nasheet Waits and master bassist Dave Holland – no stranger to east-west collaboration himself, recently touring with Zakir Hussain as well as an association with Brahem that stretches back 20 years, on the acclaimed Thimar album. Maqams in the title of the album refers to the sophisticated modal system of Arab music, perhaps rendered kind of blue by three stellar improvisers. 
Anouar Brahem said: The aesthetics of jazz are very different to those of Arab music, but I am attracted by this music that took me into a completely different world, one I felt close to as well. Undoubtedly there is a kind of spontaneity in Arab music, a way of playing that allows musicians to go deep into their own feelings and take some liberties with the original score through improvisation; and perhaps this somehow echoes what happens in jazz.
Produced by the Barbican in association with Serious
Find out more
FURTHER LINE-UP DETAILS ANNOUNCED
Anthony Joseph & friends - Windrush: A Celebration
Part of EFG London Jazz Festival 2018
Sat 17 Nov 2018, Barbican Hall, 7.30pm
Tickets £20 – 35 plus booking fee
70 years on from the HMT Empire Windrush's arrival in Essex, British/Trinidadian poet, novelist and musician Anthony Joseph celebrates the seismic impact the Caribbean diaspora has had on UK culture.
For this Barbican concert Joseph brings together an array of musicians and artists, who will be celebrating the Windrush generation and the triumph of the Caribbean spirit through song and spoken word. At the centre of the show will be a newly commissioned Windrush Suite, composed by Musical Director, composer and saxophonist Jason Yarde and performed by Joseph alongside a pan-Caribbean ensemble made up of artists drawn from the Jazz, Roots and spoken word scenes here in the UK, featuring Byron Wallen (trumpet), Ayanna Witter-Johnson (cello, voice), Samuel DuBois (steel pan), Harry Brown (trombone), Phil Ramacon (keyboards), Eric Appapoulay (guitar), Andrew John (bass, vocals), David Bitan (drums) and Richard Olatunde Baker (percussion).  
Joining Joseph on the night will be feminist icon and Calypso queen Calypso Rose, Calypso singer Mighty Sparrow and rhythm poet and musician Brother Resistance.
Visuals specially created by Derek Richards, whose work has recently been seen at the Barbican on Carleen Anderson's Cage Street Memorial project, and the Basquiat and Jazz event featuring Black Top and guests at LSO St. Luke's during the 2017 EFG London jazz Festival.
In this Windrush anniversary year, Anthony Joseph has put together a series of events focussing on the positive influence this group of people have had on British multiculturalism, with this Barbican concert acting as the centre piece.
Produced by the Barbican in association with EFG London Jazz Festival
Find out more
Archie Shepp - Art Songs and Spirituals
Featuring Amina Claudine Myers and the UK Vocal Assembly led by Carleen Anderson
Part of EFG London Jazz Festival 2018
Mon 19 Nov 2018, Barbican Hall, 7.30pm
Tickets £20 – 40 plus booking fee
Free Jazz pioneer and civil rights activist Archie Shepp returns to the Barbican, presenting his new project Art Songs and Spirituals as part of this year's EFG London Jazz Festival, featuring contributions from jazz pianist and vocalist Amina Claudine Myers and Mercury-nominated and Worldwide FM Lifetime Achievement Award winner Carleen Anderson.
Archie Shepp – one of the most articulate and original voices to emerge from the maelstrom of jazz in the 60s – revisits a time where he explored both his connections to Africa and the civil rights movement that swept America. Joining him for this journey is a band that includes regular collaborator Amina Claudine Myers, drummer Hamid Drake and soul singer Carleen Anderson, who leads the UK Vocal Assembly featuring Cleveland Watkiss, Beverley Skeete, Gina Foster, Sylvia Mason-James, Janet Ramus, Gail Evans and Daniel Bishop.
Archie Shepp's last Festival appearance at the Barbican in front of a packed audience in November 2013 saw him revisit his classic album Attica Blues. Carleen Anderson returns to the Barbican following a presentation of her Cage Street Memorial project – poetry and songs chronicling over a century of her family heritage – earlier this year.
Produced by the Barbican in association with EFG London Jazz Festival
Find out more
Annikaisa Vainio-Miles, Senior Communications Manager: 020 7382 7090, annikaisa.vainio-miles@barbican.org.uk
Sabine Kindel, Communications Manager: 020 7382 6199, sabine.kindel@barbican.org.uk
Rose Jamieson, Communications Assistant: 020 7382 6138, rose.jamieson@barbican.org.uk